Thermostat
One of the most important things in a bedroom might be the easiest to not see; the thermostat control. Normally a small box near the bedroom door, this controls hot water to heat the floor and sometimes hot water for sinks and showers. Central air conditioning does not exist in Korea. If your residence has air conditioning, it will be room specific and controlled by an individual remote control. This means there are no air ducts and consequently no duct tape.
Traditional residential architecture had an empty space under homes designed for wood to be burned and the resulting heat to transfer to the floor. The name of this system is ondol (온돌, 溫突/溫堗) and can refer to the wood burning type or the hot water pipe version in use today. A warm floor means warm feet, warm beds, and warm seats as people commonly sat on mats on the floor. And as heat rises, the entirety of rooms are heated in winter months. The wealthier a family was the more land they owned and the farther away were the adjoining chimneys.
Illustration of a traditional ondol system

Creative Commons copyright Wikipedia, source.
Downsides of the food burning variant were people going into the winter cold to control the heating, uneven heating, and risk of smoke asphyxiation if there was a leak. The 1960's was a turning point in construction methods and today the only non-water pipe ondols you'll see will be deep in the countryside or at historical sites. To read more about ondols, check out the ondol page on Wikipedia and their page on underfloor heating as well.
Hot water is generated one of two ways; a shared source heated at an apartment complex which can sometimes be viewed as what looks like a large smoke stack, or a tankless water heater mounted on a wall in a veranda. If your apartment complex generates hot water at a single source, simply turn on the hot water tap at a sink or shower and it will arrive after a minute or so. In these homes, thermostats will only controls the floor heater. Here is an example of one. When the light is on, hot water is flowing to the pipes under the floor to the celsius temperature of your choosing. The word at the knob setting all the way to the left reads 정지 (停止 , jeongji) which can be translated as "off". The other side of the knob control reads 연속 (連續, yeonsok) which can be translated as "continuous (heat)".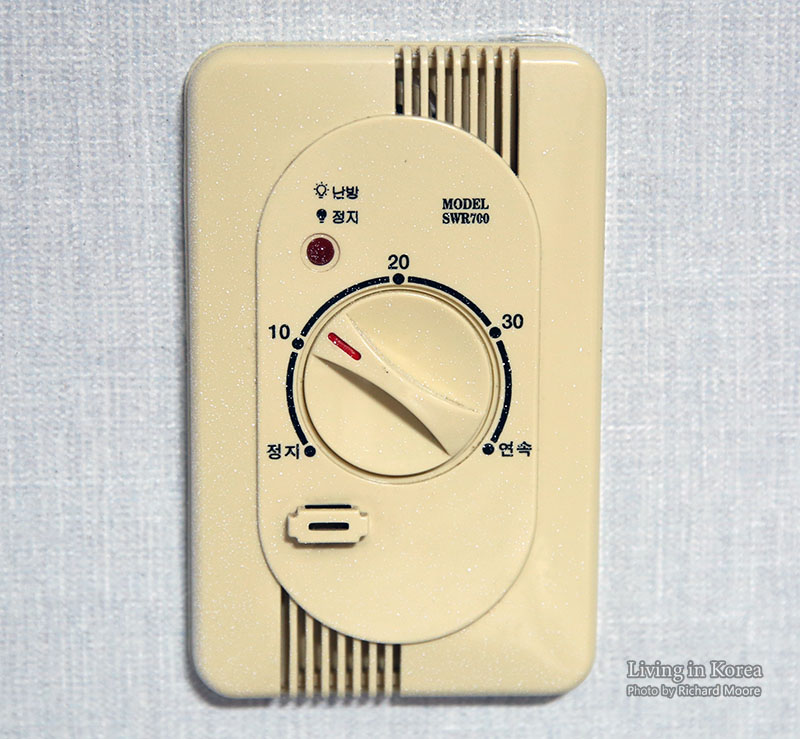 If your home is equipped with a gas-based tankless water heater, you'll need to turn on the setting of hot water for sinks/showers, then turn on the tap, and then and only then will the water heater turn on and start generating hot water. As tankless systems are designed for on demand only, it will stop heating water if hot water faucets are turned off. This means you can turn on, and leave on, the setting for hot water for your faucets if you so wish without wasting gas.
Below is an example of a thermostat for a tankless water heater. Labeled 작동/연소 (作動/燃燒, jakdong/yeonso), there is a light at the top right which comes on when the unit is generating hot water. Under it are three buttons. The first is 전원 (電源, jeonwon which is a power button. The middle button is 난방 (煖房·暖房, nanbang) which turns the floor (ondol) heating on and off. The bottom button is 온수 (溫水, onsu) which turns on/off hot water to your sink and shower.
There are two rows of bottoms on the bottom left of the control. Let's look at the top row going left to right. 난방물온도/실내온도 (煖房·暖房물溫度/室內溫度, nanbangmunondo/sillaeondo ) which is to set the room temperature. 외출 (外出,oechul) is used during the middle on winter when you'll leave the home for a few days and don't need the floor heated but also want to make sure the pipes don't burst. Turning this on will make sure the pipes don't freeze. 빠른온수 (빠른溫水,ppareunonsu) is to be used when you want hot water to your sink and shower to come quickly.
Now let's look at the bottom row, again going left to right. 타이머/시계 (타이머/時計, taimeo/sigye) is used if you want to set the system on a timer. 설정/시 (設定/時,seoljeong/si) is pressed to access the "setup" or change the hour setting of the clock. 해제/분 (解除/分,haeje/bun) is used to clear the setting or change the minute setting of the clock.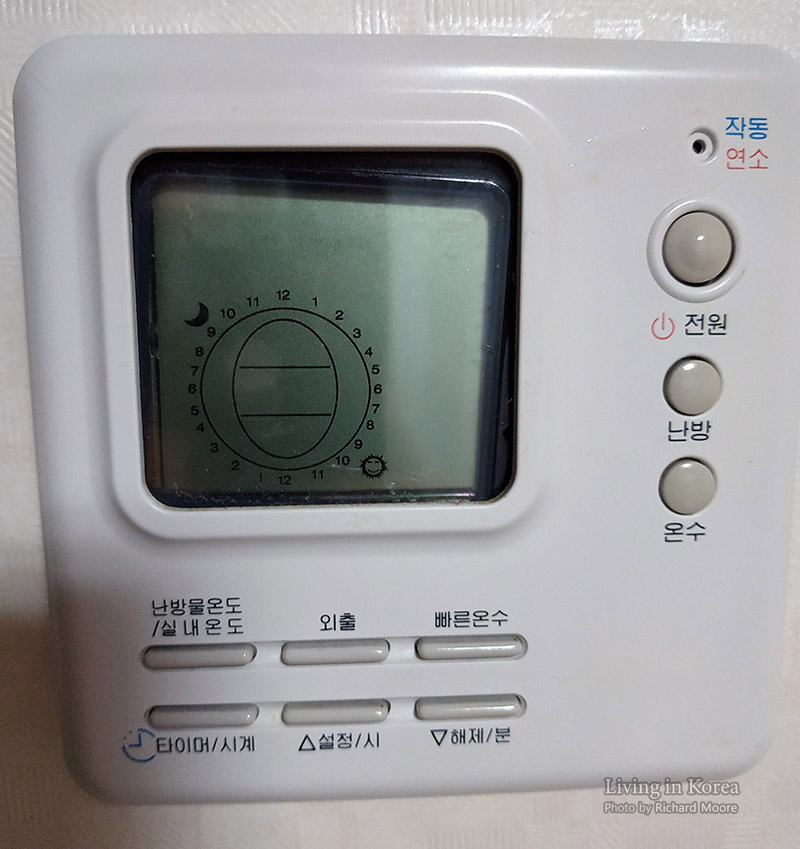 Here is an air conditioning control located inside the Institute for Basic Science (IBS) HQ. The sticker above the control state that the temperature range should be between 26-28 degrees for summer (여름, yeoreum) and 18-20 degrees for winter (겨울, gyeoul).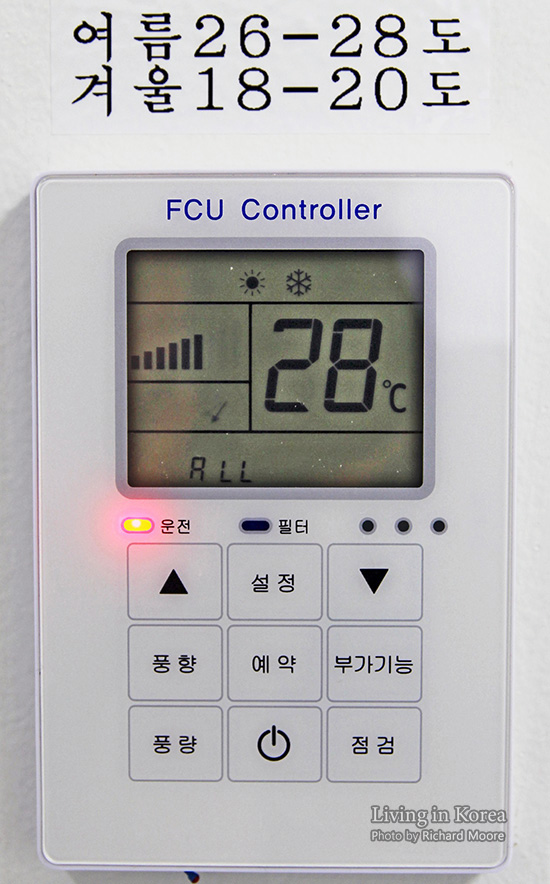 운전 - Unit is on if light is on
필터 - Filter needs changing
설정 - Setup
풍향 - Direction air blows
예약 - Schedule
부가기능 - Additional functions
풍량 - Speed of air blowing out
점검 - Inspection
Much like some office buildings or universities state a range of acceptable temperatures to set the thermostat at, some subway systems have similar philosophy. You might see these stickers on subway car doors explaining the temperature range they aim for in summer and winter. The left shows summer and aims for a temperature between 18C and 20 C. The right shows winter and aims for a temperature between 26C and 28C. Image taken in Daejeon.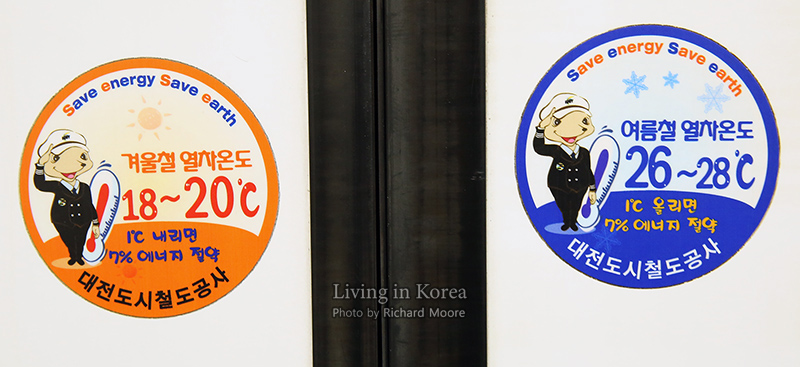 In case you are not used to Celsius, here is a quick conversion guide from the coldest setting for an air conditioner to what might be the hottest setting for a floor heater.
Celsius conversion guide

| Celsius | Farenheit |
| --- | --- |
| | |
| | |
| | |
| | |
| | |
| | |
If your bedroom has an air conditioner, it will be a horizontal unit mounted on the wall. Just as in the living room, make sure the hole the insulated pipe goes through has been filled with silicon.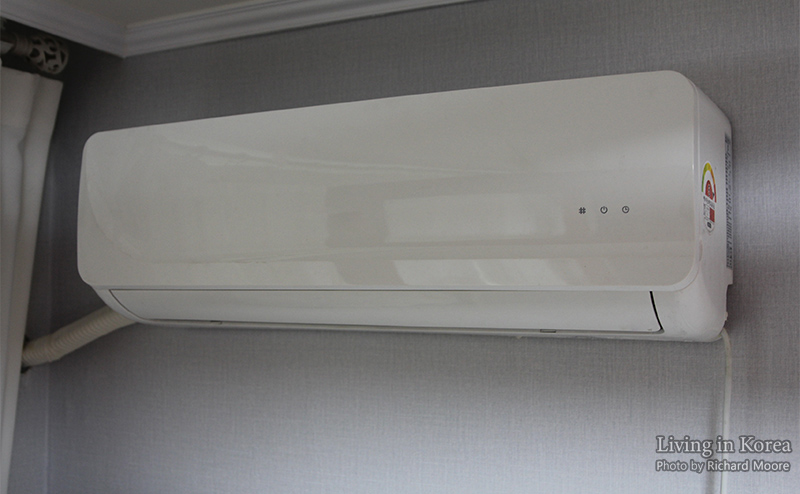 Standing air conditioners have buttons on the front and can largely be operated independently of remotes. Usually bedroom sized units don't have any buttons and need their matching remote control in order to function or do more than turn on and off. Replacement remotes can be purchased but can be a hassle. Despite different makes and models having different designs and different remote controls, you will see common buttons. This includes the remotes for motels which sometimes combine buttons for the air conditioner, TV, and lights all into one very long remote control. If you want a closer look at the image below, click it to see a larger size.
운전/정지 - (運轉/停止, unjeon/jeongji) On and off
온도조절 - (溫度調節, ondojojeol) Temperature up or down. Degrees are in Celsius and the lowest is normally 18.
풍량선택 - (風量選擇, pungnyang seontaek) Strength of wind.
강…약 – (强...弱, gang...yak) Strength of wind from strong (강, gang) to light (약, yak)
풍향선택 - (風向選擇, punghyang seontaek) Direction of wind.
공기정화 - (空氣淨化, gonggi jeonghwa) Air purifier function.
운전선택 - (運轉선택, unjeon seontaek) Select other options.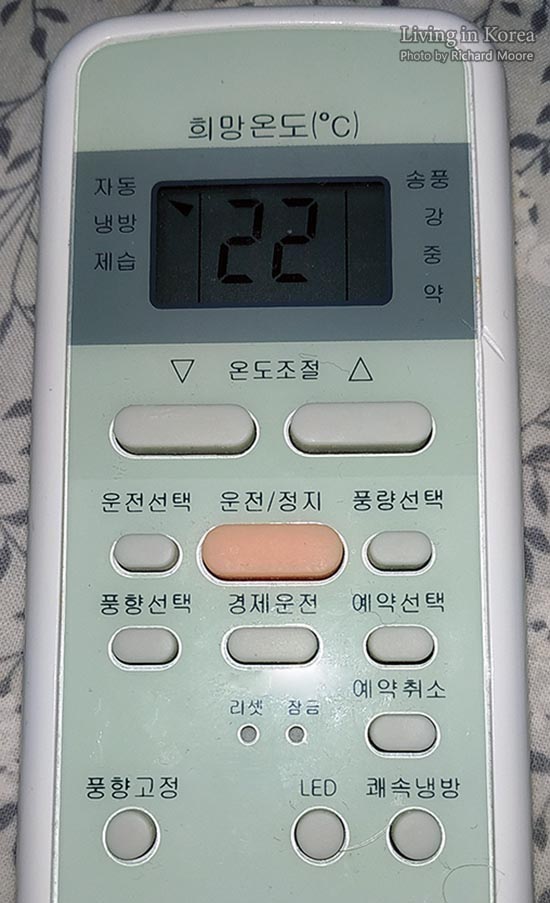 Different makes and models will have different controls. If yours is radically different from the thermostat controls shown here, please send us some pictures and we'll add them to the site.
Beds and Mattresses
As mattresses in Korea were traditionally thick pads which could be folded and placed to the side of a room along with the bedding in order to reclaim floor space, when Western style mattresses entered the vernacular the term mattress entered as a loanword – 매트리스 and the same is true for sheets - 시트. Blankets are nothing new here so the term 이불 (ibul) is not a loanword. The names of all mattress sizes are also loanwords, but their sizes might not be what you expect. Before you bring over bed sheets or blankets from your home country, make sure they will fit as different countries have different standards for mattress sizes. A good global overview of standardizations is available on Wikipedia. Also double check before getting sheets at stores which might import them, for example Ikea, whose mattress and sheet sizes are not the same as Korean standards.
Mattress and sheet sizes in Korea
Mattress and sheet sizes in Korea

| Korean | English | Size (mm) |
| --- | --- | --- |
| | | |
| | | |
| | | |
| | | |
| | | |
Koreans traditionally slept on thick floor mats called 요 (yo). They are placed directly on the floor which is great for conducting heat when an ondol is turned on. As rooms used to be more multipurpose, it made sense for bedding to be laid down when needed, and then folded up and set to the side during daylight hours. While their usage has greatly diminished as generations change, they still are used for when guests spend a night and are also in use in some hotel rooms. While they are on the floor, and people walk on the floor, be careful not to walk on one of these sleeping mats, even with socked feet, as it can be seen as a sign of disrespect or an uncultured person. When not in use, reclaim floor space by folding it and all other bedding up into squares or rectangles and store in a wardrobe or at the side of a room.
Standard pillows (베개, begae) are easy to find but there are some more unique pillows you may occasionally see. If you want more neck or head support you can get ones filled with red beans (팥베개, patbegae) and lesser common are ones with uncooked rice (쌀베개, ssalbegae). Some pillows have bamboo placed on the outside (대나무 베개, daenamu begae) which help cool the user in summer months.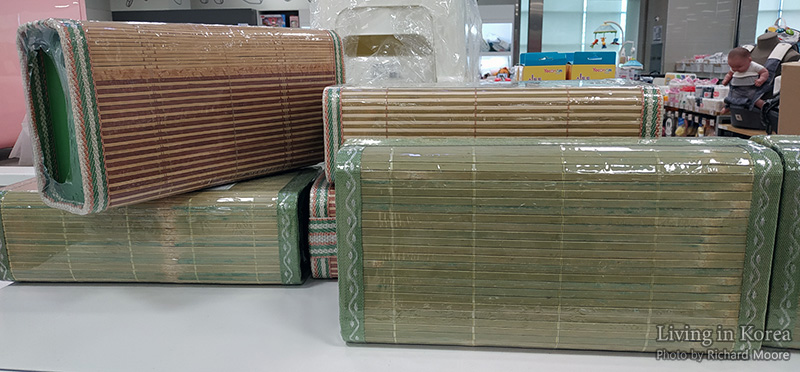 A bamboo wife (죽부인, 竹夫人, jukbuin) sometimes called Dutch wife is also used in summer months. It is constructed of bamboo weaved into a long pill shape which is big enough to hug much like a sleeping companion. The bamboo is cool and the opening help to aid in air flow all in efforts to cool the user. They are available in large supermarkets when the temperature starts going up.

The most expensive beds sold in Korea are physically the hardest as they are made of a solid piece of stone. Called 돌침대 (돌寢臺, dolchimdae), they are quite pricy and are preferred by older generations. Sometimes a heating element is included to warm the stone.
You don't need to sleep on granite to have a heater in your bed. Called 전기요 (電氣요, jeongiyo) or 전기장판 (電氣壯版, jeongijangpan) for use in beds or on floors, these heated underblankets are sold in several sizes with larger ones having several controls; one for each user. Place it between your mattress and your sheet to get nice and warm in winter.
Wardrobes
Closets are very uncommon in Korea, instead you'll have access to wardrobes. Wooden wardrobes as they are heavier, more prone to get damaged in moves, and are mainly sold online. Easier to purchase offline are plastic units which extend their height and width as necessary. They stretch to the ceiling and use the ceiling as support. Simple units will have one horizontal pole while more expensive units will have several sections. They commonly have a curtain built-in so the clothes can quickly be hidden and the room has a cleaner look before guests come over. The picture below is a larger model displayed in a store towards the ceiling.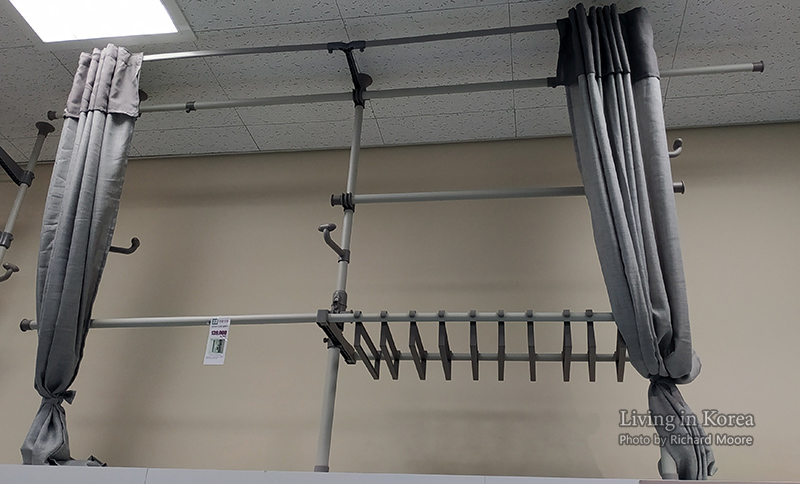 Much more rare to see are traditional wardrobes. Composed of two or three individual sections, they are placed together to show intricate images designed out of mother of pearl. Purchased new these are very expensive and were frequently bought in time for a wedding. As times and tastes have changed they are less common and can sometimes be found for free from families trying to get rid of them. Black and white are the most common colors.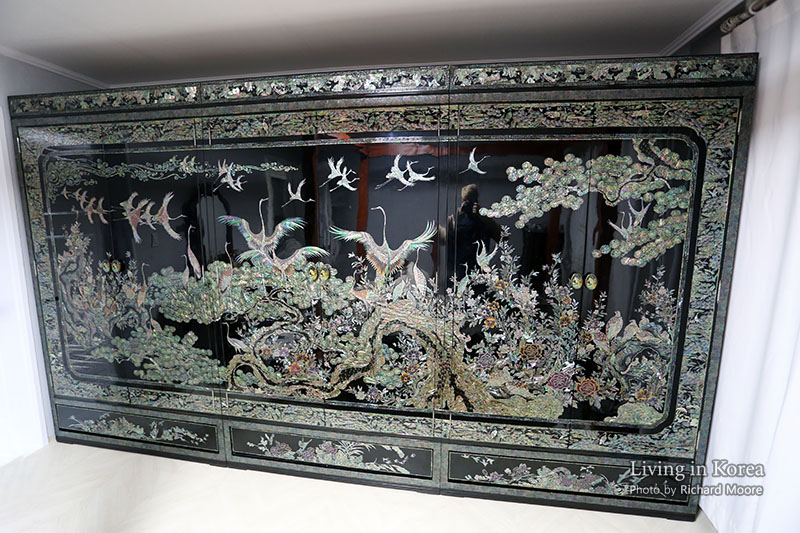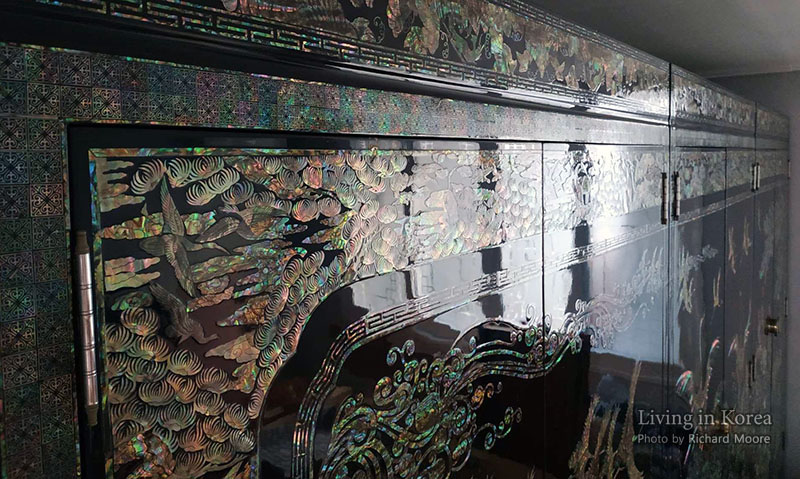 Regardless of which style you get, make sure you grab some hangers (옷걸이, otgeori, literally "clothing + hang") so you can hang up your clothes.
If you open the right wardrobe in someone's home, you'll find a pile of blankets, sheets, and pillows. These can be used for the bed with mattress or can be stacked on top of each other on the floor for when a guest visits.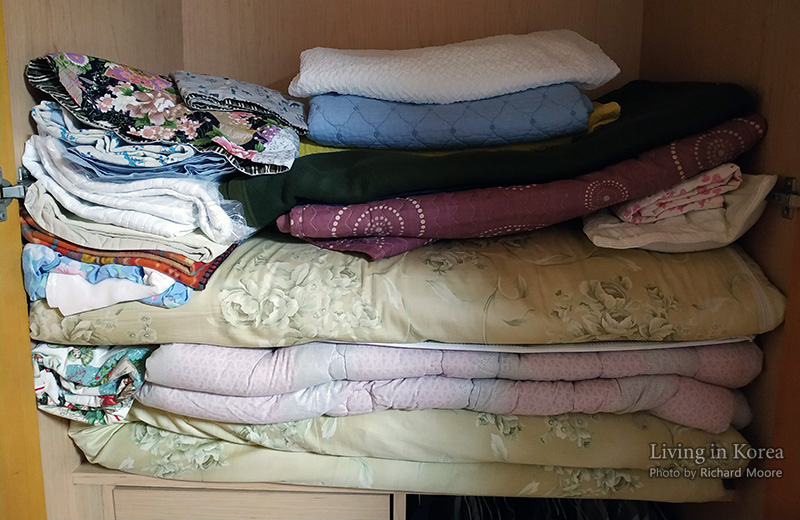 If you slept on these while staying at someone's home, make sure you fold and stack them in the room you slept in as a courtesy before you leave.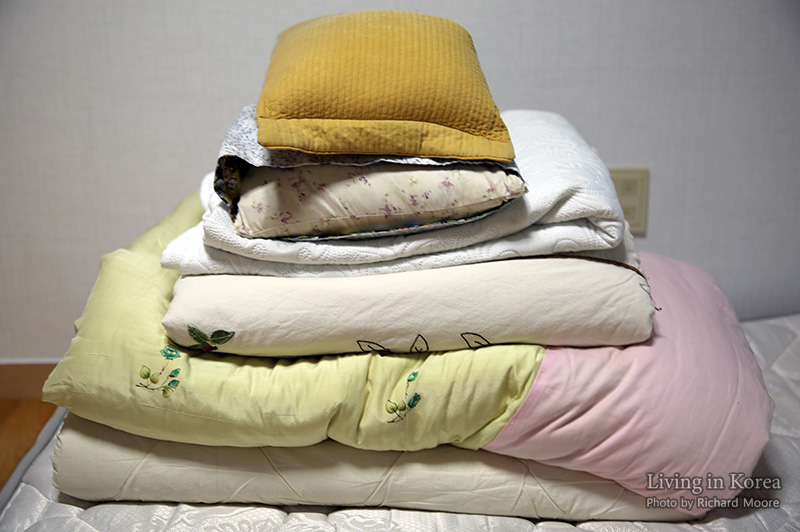 A good method to remove moisture from your sock drawer or other small enclosed areas is with moisture absorbing products. A popular brand is 물먹는 하마 (물먹는 河馬, mulmeongneun hama), but other brands exist as well. Known generically as 제습제 (除濕製, jeseupje) these products are frequently sold in a plastic tub shaped container and come sealed with a thin plastic layer that must be removed before they can suck the moisture out of the air. Be careful to only remove that thin, typically gray layer, and not the white layer under it. That underlying white layer helps to keep the moisture in the container. After some time has gone by, water will collect inside which you can hear when you shake the container. To dispose of the collected water, cut one or two holes in the white layer as two holes help to drain it faster, empty the water into a sink, throw away the white layer and recycle the plastic tub.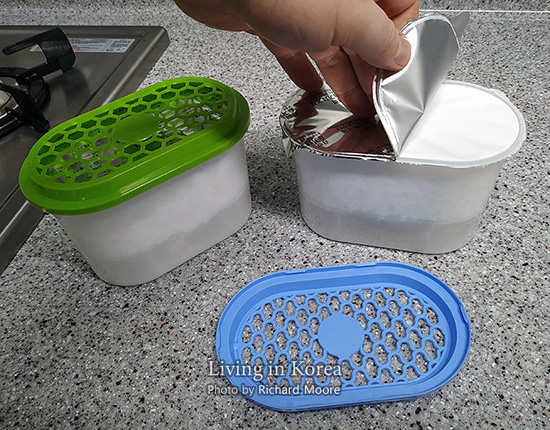 Now that we've seen the bedroom, let's take a look at a bathroom.