For when it is time to dispose of electronics or items too large to fit into a single trash bag, you'll go through a special process. Examples of large waste (대형쓰레기, 大型쓰레기, daehyeong sseuregi) includes furniture, electronics, suitcases, beds, bedding, office machines, air conditioners, and so on. Large items that can fit in a 100 liter bag without tearing it, such as an old blanket, should be disposed of in standard trash bags.
Large trashed items are marked with specialty stickers. The expected time of disposal and other relevant details are included on these stickers. The shape, size, and coloring can all differ depending upon which government office you purchase them from. These first stickers are from Seo-gu and the next are from Yuseong-gu, both in Daejeon.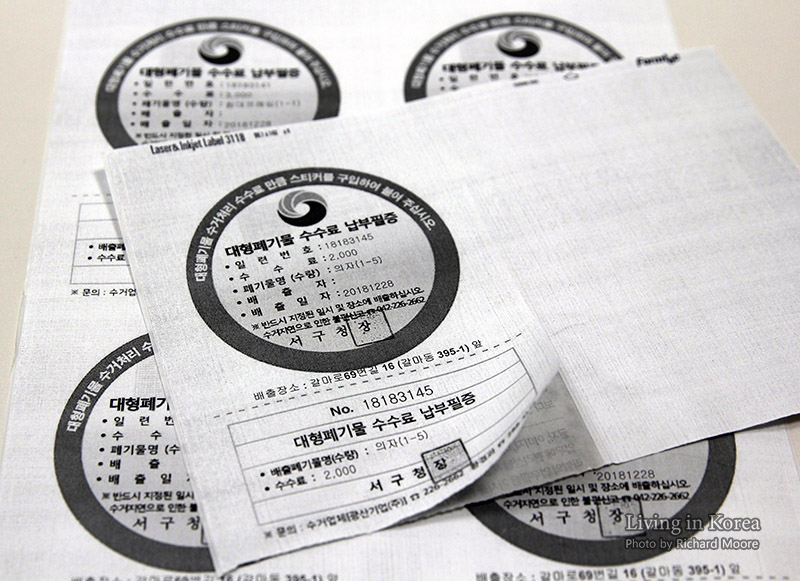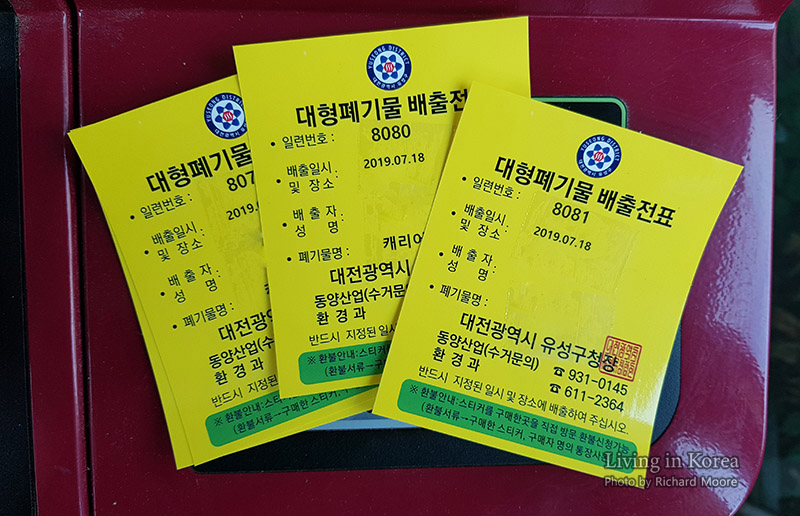 To dispose of large trash items, visit your district or neighborhood government office and purchase a special disposal sticker (폐기물 스티커, 廢棄物 스티커, pyegimul seutikeo) for each item you wish to throw out. You can visit a district (구청, 區廳, gucheong) or neighborhood office (동사무소, 洞事務所, dongsamuso –or– 주민센터, 住民센터, jumin senteo). Additionally, these might be sold at other locations, for example at some convenience stores in certain areas of Yongin City. Each local government office charges different fees for the collection of large waste. A table with sample prices for various items is at the very bottom of this page. If you've never been to one of these offices, they are rather plain looking on the outside. Here is an example of one.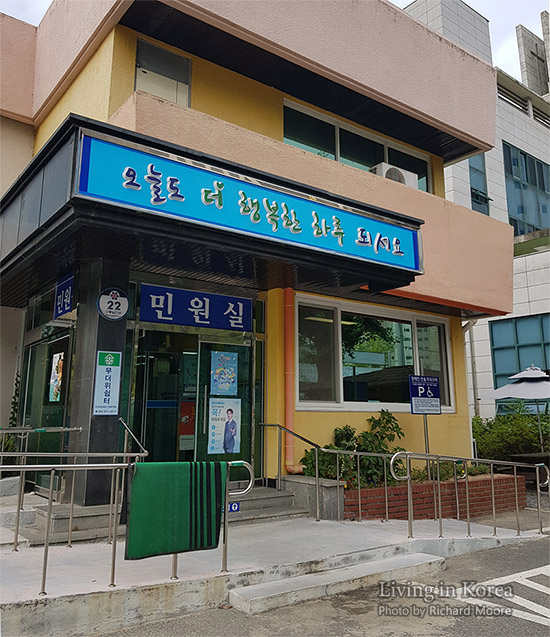 Once inside you'll need to find the right counter. In the image below we can see a sign hanging from the ceiling states 폐기물신고 – 재활용 (廢棄物申告 - 再活用, pyegimulsingo jaehwaryong). If you need help, look lost and say 대형 폐기물 (大形·大型 廢棄物, daehyeong pyegimul) or show the image below and someone should point you in the right direction.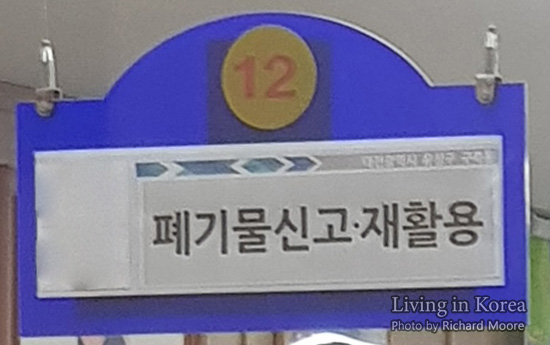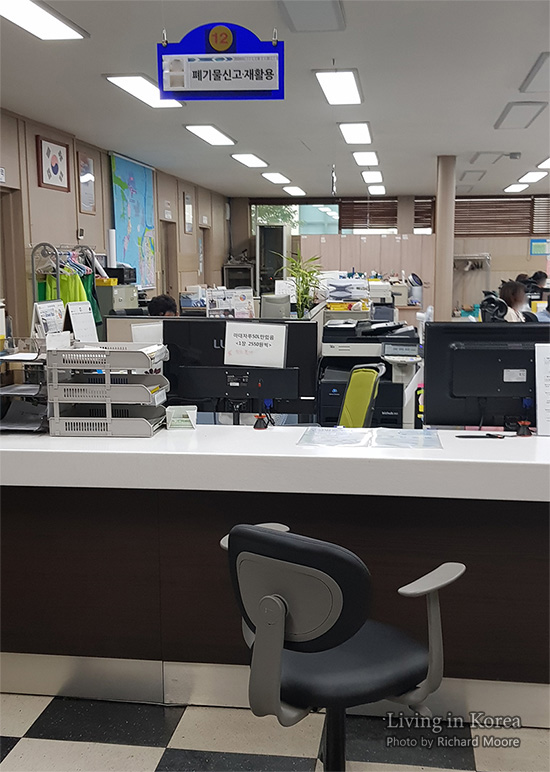 You will need to tell the office what you are throwing away to get the correct sticker. You may need to tell them the day, time, and location of disposal. This means don't have the item out on the street for pickup until after you have purchased the relevant sticker. Make sure you bring your Residence Card as they'll need your name, registration number, and your address assuming you are throwing away the item near your home. This paperwork process gets easier if you can pull out your card and hand it to the staff.
Here is the form we found in the local government office shown above but we've also encountered very minimalism versions as well. Click on the image to see a larger version. All pertinent fields are translated below.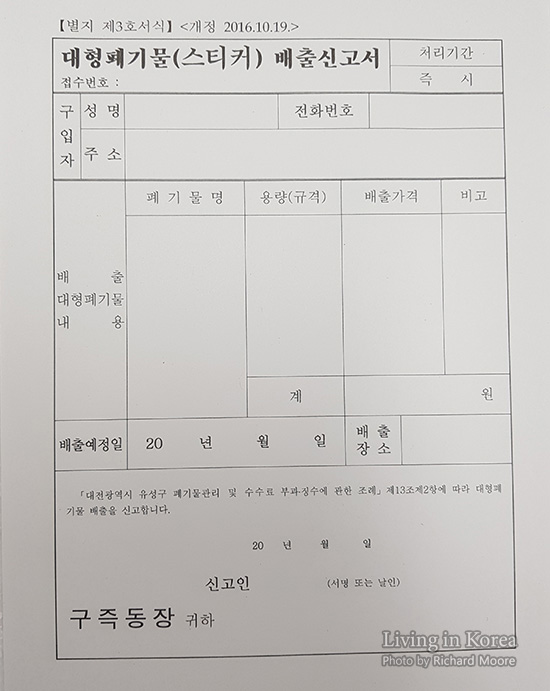 구입자
- This will be your personal information
성명
- Your name
전화번호
- Your phone number
주소
- Your address
배출 대형폐기물 내용
- This section will be the items you want to dispose of
폐기물명
- The type of item(s)
용량(규격)
- Approximant size
배출가격
- Disposal price, they'll have a list of prices
비고
- Additional remarks
배출 예정일
- Expected date of disposal
20 년 월 일
- Year Month Day
배출 장소
- Location you will dispose of the items at
신고인
- Your name written and then provide signature on top of (서명 또는 날인)
This image shows all sorts of trash located in the parking lot of an apartment complex. We see the food trash cans on the left, a larger can behind it for general trash bags, the green barrel for cooking oil, and various large items being thrown away with some stickers visible. Here we can see rectangular stickers are black and white while circular stickers have yellow. Again, sticker design and colors will differ but an official sticker is an official sticker.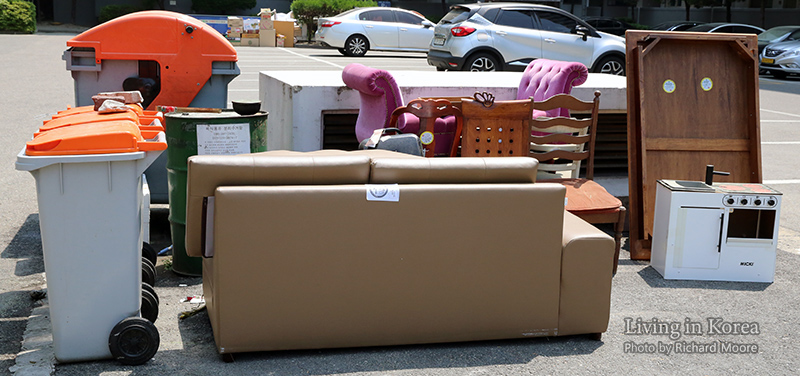 Each item being thrown away needs a sticker, so three chairs means three stickers. If an item doesn't have a sticker, don't expect the trash collector to take it away.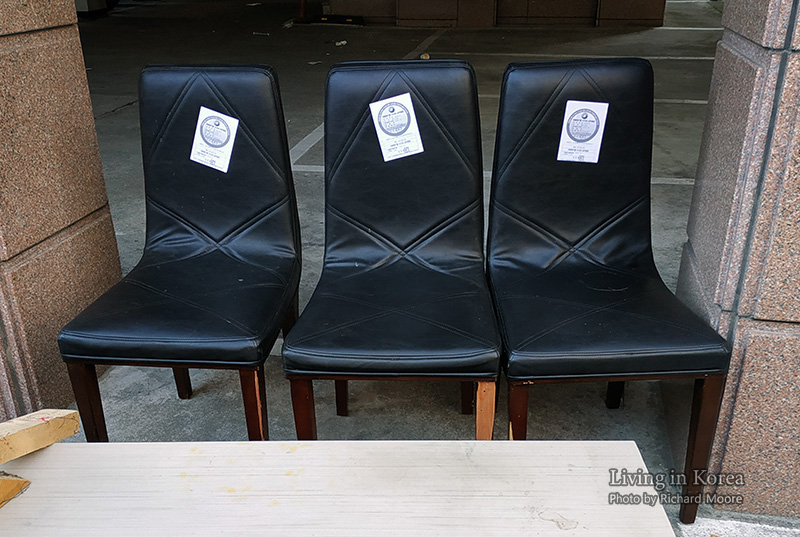 If the item has several parts, like a vacuum and charging station, you might want to bag them together so nothing gets left behind by mistake.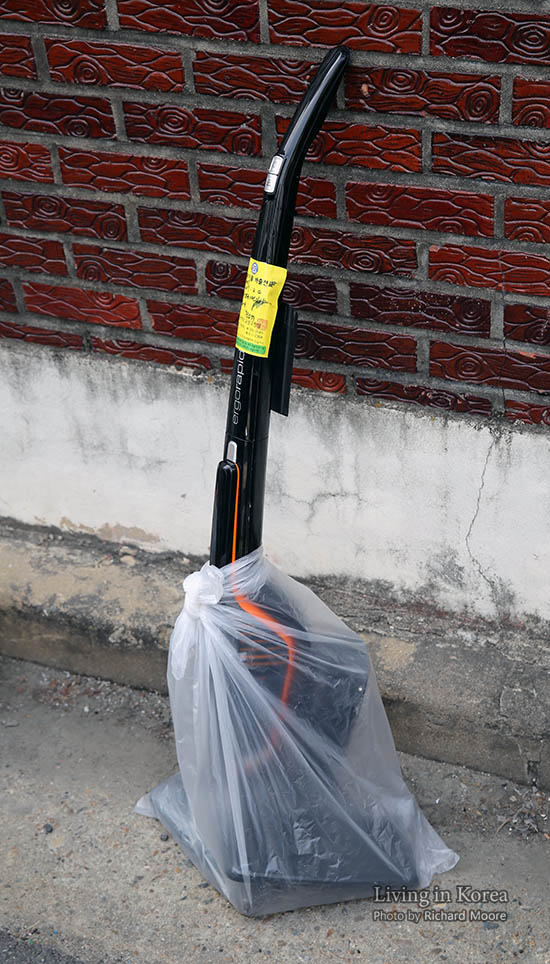 Each local government office charges different fees for the collection of large waste. While we cannot post up-to-date prices for every district, we can show some samples from Seo-gu, a district in Daejeon which is current as of 2019. This can give you a rough idea of how much you'll pay to dispose of a large item.
Sample prices for disposal of electronics and large items
Item
Size
Fee

King size mattress and frame

Single size mattress and frame

Double size mattress and frame