There are subway systems in five cities in Korea. In order of largest to smallest, they are Seoul Capital Area, Busan, Daegu, Daejeon, and Gwangju. The subway is a convenient way to get around the first three cities but not necessarily the last two. However, used in conjunction with the free transfers between subway lines and buses via a transport card, even these smaller systems can be useful.
Older lines have had more time to grow their coverage areas and also more time for stores and residential areas to be created meaning they are highly utilized as there is a high number of riders. Older lines have smaller distances between stations which means they run slower speeds while newer lines have higher speeds as they are newer and have longer distances between stations. When lines were first being designed and built, rider comfort and convenience was not part of the overall design, meaning larger number of stairs and longer walking distances to complete a transfer to a connecting line. The upcoming GTX will take speed and longer distance to a new level as these will go vast parts of Seoul at speads upwards of a KTX.
Newer lines have put an emphasis on comfort and usability, meaning both shorter walking distances to complete transfers and also more visually pleasing subway stations, especially Line 9 and Shinbundang in Seoul, which are both privately operated lines.
Seoul Capital Area
It is more accurate to call it the Seoul Capital Area, or sometimes the greater Seoul area, as this system stretches from Seoul, to Incheon, Suwon, and certain cities in Gyeonggi Province, Chungnam Province, and western Gangwon Province. Practically speaking, an individual can get on a subway line in Seoul and ride in any direction for an hour and not yet the end point.
As of September 2019, when the Gimpo Goldline opened, there are 23 lines in the greater Seoul area. Lines are classified as Urban – Seoul (Lines 1 – 9), Urban – Incheon (Incheon Lines 1 and 2), Metropolitan (Gyeongui–Jungang, Gyeongchun, Bundang, Suin, Gyeonggang, Seohae, Shinbundang, and Arex Airport Line), and Light Metro (U, Everline, Ui, Gimpo Goldline). The first line opened in 1974 and there was a surge of construction and expansion prior to the Seoul Olympics in 1988. Line 1 – 4 were initially operated under the Seoul Metropolitan Government, while Lines 5 – 8 were operated by the national government with the intention of them competing through healthy competition. The two groups merged in 2017 under the name Seoul Metro Corporation. The other major operator is Korail and some cities and private companies also are operators. Some lines have one operator and some have multiple and this can change due to investment reasons. For example, the Incheon Airport subway line, named AREX, was initially operated by a private company, then sold enough stakes it essentially became public as Korail became a major stakeholder, and then Korail sold 65.9% of its shares to a private consortium (citation, Kojects). While it may be nice to know who operates what section of what line, this really won't affect you as the system operates as one single unit.
All subway cars in all cities stop at all stations with only a few exceptions in Seoul. Express trains exist in the western, south, and northern sections of Line 1; southern end of Line 4; the southern section of the Bundang Line; all of Line 9; all of Suin; all of Gyeongui-Jungang; and all of the Arex airport line. No other cities have express lines.
Here is a map of the Seoul Metropolitan Subway system. If you want a closer look at the map, click the image to see a larger size. As there are so many lines and stations, the full image is 3.2 megabytes. Every year extension projects are completed which open new sections of track and/or completely new lines open. With this in mind, this map will be out of date very quickly and very often. It can be more useful to have a subway app on your smartphone or go the source of where we got the map; Wikipedia. The image has been released under a Creative Commons copyright and the file source is viewable here.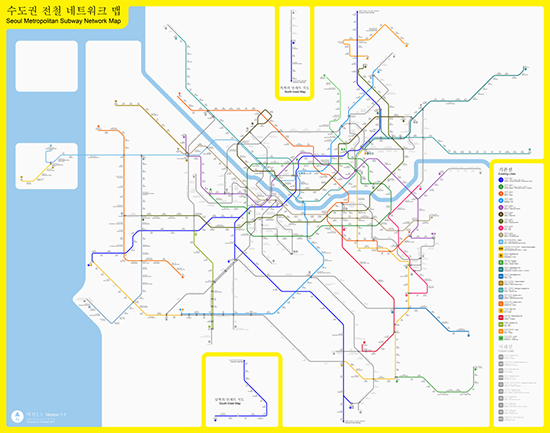 Links
Primary Wikipedia page: English
Arex Airport Line: Official site, Wikipedia
Line 9: Official site, Wikipedia
Shinbundang: Official site, Wikipedia
Busan
Busan is the second largest city in Korea in terms of population and also has the second largest metro system in the nation. The system first opened in 1985 and currently has six lines with four of those subway lines run by the Busan Transportation Corporation. The length of track for these lines is 116 km and this is officially called the Busan Metro. Written signs are in Korean and English and spoken messages within the trains are in Korean, English, Japanese, and finally Mandarin.
The next line is a light rail that runs between the cities of Busan and Gimhae. It is abbreviated as BGL and run by B&G Metro. The line is entirely aboveground and provides a direct route from Gimhae International Airport; sometimes referred to as Busan airport as this is the nearest airport to the city of Busan. There have been talks on making a new airport in Busan proper, but this has become political so talks and plans go back and forth. At this time, there are no concrete plans.
The last line is the Donghae Line. This line is not a subway line nor light rail but heavy rail that was upgraded for commuters. At peak it runs every 30 minutes, off peak 15 minutes. There are plans to extend coverage to Ulsan.
If you are not staying in Busan for very long, or if you forgot to bring your transport card, you'll need to get a single-use ticket. In Busan, these tickets are paper, not plastic like most of the country. Here is one with a value of 1,100 won. Image copyright Wikipedia, slightly edited, image source.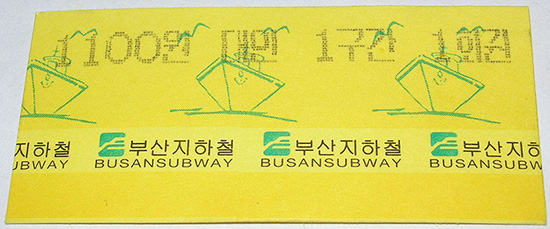 Here is a map of the Busan subway system. If you want a closer look at the map, click the image to see a larger size. The image has been released under a Creative Commons copyright and the file source is viewable here.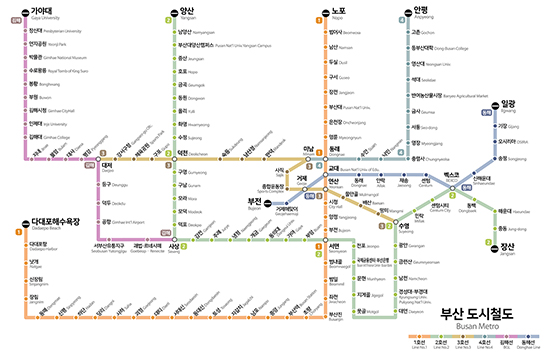 Links
Primary Wikipedia page: English
Busan Transportation Corporation: Official site, Wikipedia
Busan–Gimhae Light Rail Transit Operation Corporation: Official site, Wikipedia
Daegu
Lines 1 and 2 are classified as rapid transit and are around 30 km long with roughly 30 stations each. Line 3 is a monorail with 30 stations with just under 24 km of track. Scheduled to open in December 2020, is a 41 km new line. An extension to Line 1 is currently scheduled to open in 2023, along with what appears to be a conversion of heavy rail for metro traffic. An extension of Line 3 and a Line 4 are in the planning stages.
Here is a map of the Daegu subway system. If you want a closer look at the map, click the image to see a larger size. As the map is rather colorful, the full image is 2 megabytes. The image copyrighted by the Daegu Metropolitan Transit Corporation and is available here.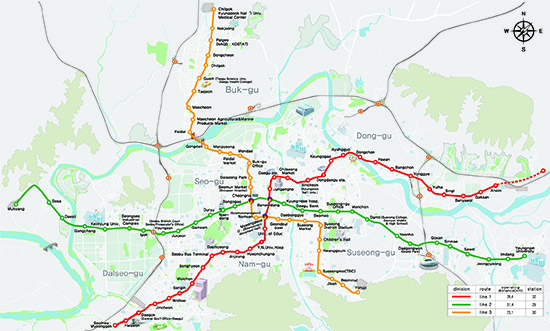 Links
Primary Wikipedia page: Wikipedia
Daegu Metropolitan Transit Corporation: Official site, Wikipedia
Daejeon
In 1996, there were plans for five subway lines to be constructed for Daejeon City. Line 1 started construction in that year and opening was delayed from 2003 to 2006 due in part to right-of-way acquisition and the Asian financial crisis. After an extension in 2007, the single fully underground line has 22 stations and is roughly diagonal from northwest Daejeon to the southeast. The northwest section was going to be extended to Sejong City with a highway built above it but the project fell out of favor and was cancelled. Years after the highway opened, opinions changed and it appears the extension will be constructed with a tentative opening date of 2029. Five stations will be constructed including stations at Sejong Terminal (세종터미널) and Government Complex Sejong (정부세종청사).
If riding a Korail or SRT train, you can easily access the subway from Daejeon Station. While Daejeon Line 1 runs close to Seodaejeon Station, it is a 15 minute walk to Oryong Station (오룡역) and 17 minute walk to Seodaejeonnegeori (서대전네거리역). For detailed information on fares and the current subway timetable, click here.
Single-use tickets are unique in this city as they are circular plastic tokens that you tap when you enter the system. There is no deposit to get these as they are returned to the system when you exit; instead of tapping them, they are inserted into a coin slot when you exit the system. Here is an image of one of the tokens.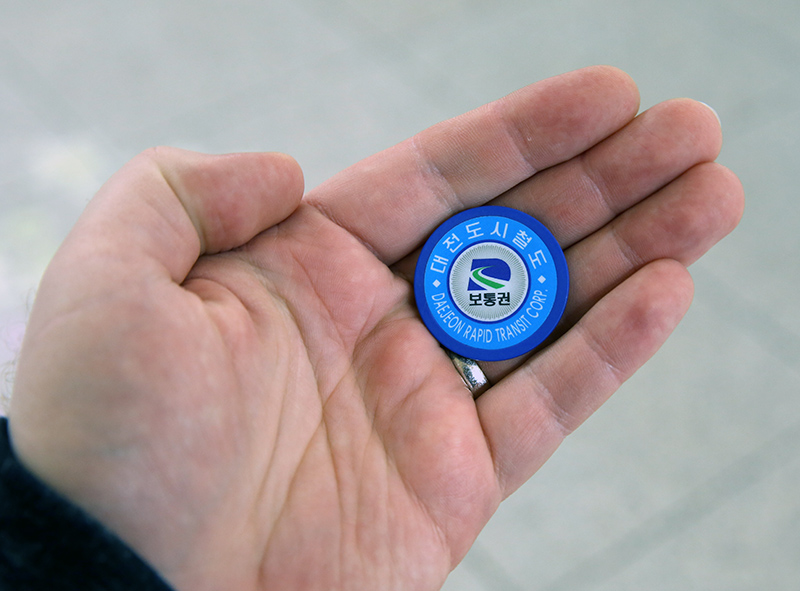 Lines 2 - 5 were delayed when funds dried up during the Asian financial crisis. Line 2 has been picking up momentum in recent years, especially when it was exempted from a preliminary feasibility study in late 2018 and passed review by the Korea Development Institute in 2019. The new line will be an aboveground tram system, appears to be a circular system, might have several branches, and should be more than 35 km with roughly 30 stations when completed. For those visiting the headquarters of the Institute for Basic Science, you will be able to exit at Expo Science Park and also at KAIST.
Here is a map of the Daejeon subway system that shows both Line 1 as a green horizontal line and both Korail/SRT lines which are vertical and red and purple in color. If you want a closer look at the map, click the image to see a larger size. The image has been released under a Creative Commons copyright and the file source is viewable here.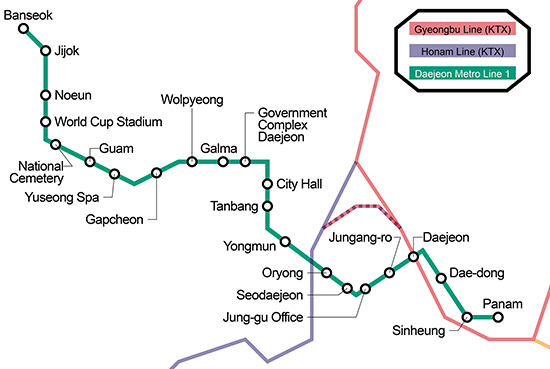 Links
Daejeon Metro: Official site, Wikipedia
Line 1: Wikipedia
Gwangju
While Gwangju is mentioned last on this list, they are almost exactly the same size as Daejeon as Daejeon has just two additional stations and two more kilometers of track. The city of Gwangju opened their single line subway system in 2004, which is relatively recent compared to the other cities mentioned above. An extension was completed in 2008, totaling 20 stations over 20 km. Line 1 runs east-west and is slightly shaped like an upside down U. On maps, it is shown as a teal color. Gwangju Songjeong Station (광주송정역), number 117, provides connections to various Korail trains.
Line 2 is under construction and set to open in three stages starting in the mid-2020s. It will be just over 40 km with 44 stations. The shape will be a circle with a branch to the southwest. A groundbreaking ceremony was held in September 2019.
Lines 3, 4, and 5 are all in the conception stage with little mentioned in mass media after 2007. It is likely that these will not be reviewed again until after Line 2 has opened.
Here is a map of the Gwangju subway system. If you want a closer look at the map, click the image to see a larger size. The image has been released under a Creative Commons copyright and the file source is viewable here.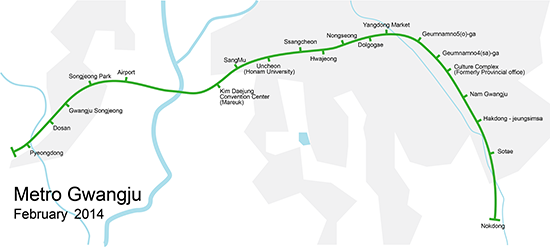 Links
Gwangju Metro: Official site, Wikipedia
Line 1: Wikipedia