It is very difficult to say what a typical bus terminal looks like as there is a very wide range of terminals in use. The cheapest terminals are repurposed steel shipping trailers and the most expensive can have several floors, a number of places to eat or shop, and tens of platforms. There is normally at least one small store that sells refreshments but larger terminals will have that and multiple restaurants. Expect to find indoor seating and some outdoor seating but not enough for everyone to take a seat. Expect to find bathrooms with soap and toilet paper. Some terminals will have tourism information for that city.
The term for terminal in Korean is the phonetic loanword 터미널 (teomineol) which came from "terminal". Some terminals are just for intercity buses, some are just for express buses, and some are for both so double check before you leave for the terminal or before you tell a taxi driver where to go.
There will be windows that sell tickets and sometimes a large display board above it saying all the buses, routes, and times. If you prefer to buy a ticket from a machine, make sure you use the right machine as intercity bus ticket machines are separate from express bus ticket machines. The image below shows a number of intercity ticket machines and the express bus ticket machines were located just beyond the ticket windows. While there is some English, the signs have not been fully translated. The orange writing states these machines can accept only credit card and debit cards. If you only have cash, you may need to purchase tickets solely at the ticket windows.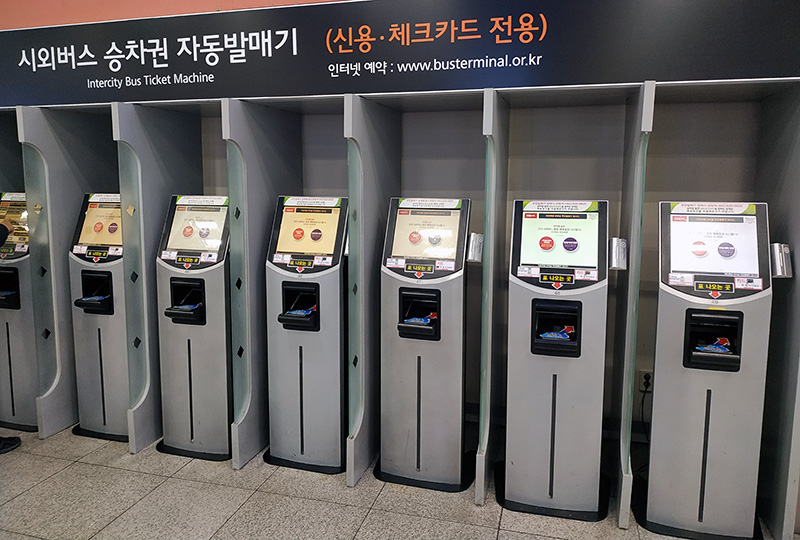 Some tickets bought on smartphone do not need to be retrieved for physical tickets in a terminal. This really is determined by either the bus company and/or the ticket seller. You'll need to check the app you purchased your tickets on to see if you need to simply scan your phone or go through the more cumbersome process of getting a physical ticket.
If you have lost something at a terminal or on one of the buses, try and find the lost and found office. The example we found used the term 분실물 보관소 (紛失物 保管所, bunsilmul bogwanso) which differs from the wording used in subway stations. This also means different terminals might have different terminology. If you are concerned for your linguistic skills, just show a worker this image.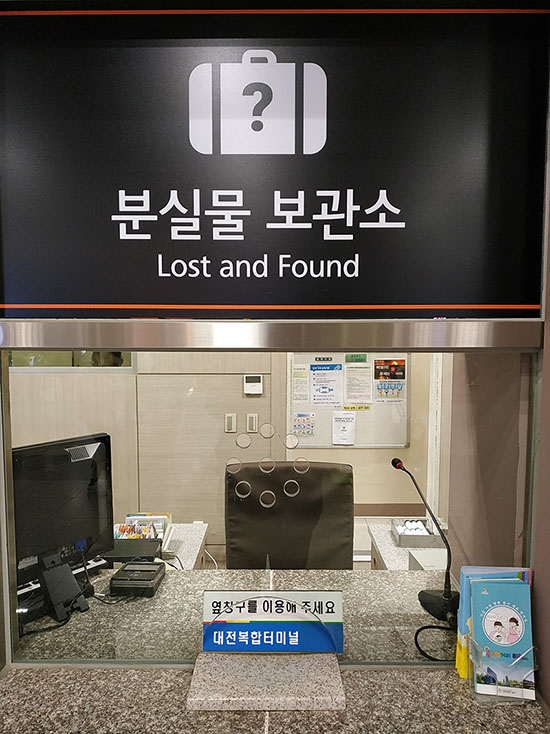 Located off to the side of bus terminals will be an area that resembles a lost and found as it has a number of boxes and packages but is actually a form of package delivery. When people need to get something in a few hours from another city, they'll sometimes ship it from one bus terminal to another. Packages usually have the name and phone number of the recipient written in marker but have been removed from the image for privacy reasons. The recipient will need to go to the terminal and show them a receipt in order to receive their package. The same service is available with passenger trains.