If the driver already knows the exact location of where you want to get out of the taxi, then everything is good. If you want the driver to stop at a specific location, you can say:
여기에 세워 주세요.
Yeogie sewo juseyo
Please stop here.
____에 세워 주세요.
___E sewo juseyo
Please stop at___
The driver might confirm the location you want to stop at.
여기서 세워드릴까요?
Yeogiseo sewodeurilkkayo?
Do you want to stop here?
If you use an app, the first expectation is you've added payment to the app which will simplify the payment procedure. If that is not the case, the driver will probably not say anything but will wait for you to pull out payment of cash or a card. Rare cases the driver might ask if you want to pay by credit card or cash. If you went on a toll road the driver will add the cost of the toll to the meter.
신용카드로 계산하십니까 아니면 현금으로 계산하십니까?
Sinyongkadeuro gyesanhasimnikka animyeon hyeongeumeuro gyesanhasimnikka?
Do you want to pay by credit card or by cash?
Meters usually have an IC reader on the outside with card slot as well. Some have an integrated printer (second picture, top right) but regardless or integrated or not, it is normal for taxis to have printers for receipts.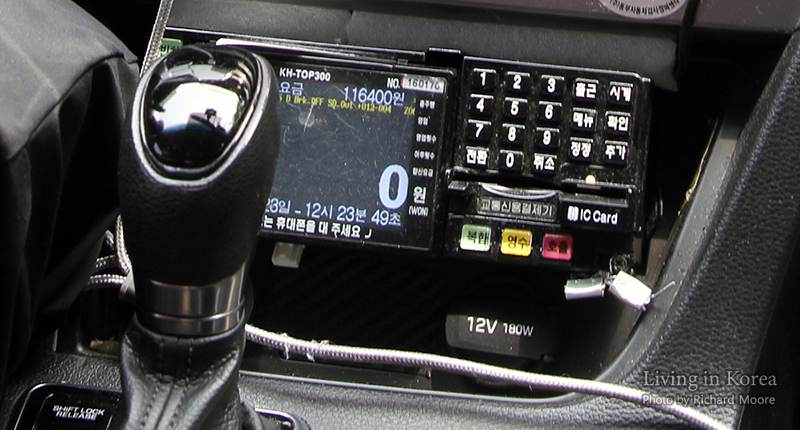 The driver might ask if you want a receipt (영수증, 領收證, yeongsujeung. A full sentence version is:
영수증 필요하십니까?
Yeongsujeung piryohasimnikka?
Do you need a receipt?
A "yes" is 네 (ne) and "no" is 아니요 (aniyo).
If you have luggage in the trunk (트렁크, teureongkeu), the driver will usually remember to open the trunk. If the driver has forgotten or if you want to politely remind them you can use the sentence below. Notice that it is the same sentence that you could say when asking the driver to initially open the trunk before you entered the taxi.
트렁크 열어주세요.
Teureongkeu yeoreojuseyo
Please open the trunk.
The polite thing to do when leaving a taxi is to say thank you and/or goodbye. As "goodbye" is different depending on if you are the party staying or leaving, the "goodbye" the driver will say to you will be different than the "goodbye" you say to the driver.
감사합니다. (感謝합니다)
Gamsaseumnida.
Thank you.
안녕히 계세요. (安寧히 계세요.)
Annyeonghi gyeseyo.
Goodbye. (Say to driver as the driver is staying within the location of the taxi.)
안녕히 가세요. (安寧히 가세요.)
Annyeonghi gaseyo
Goodbye. (Driver says to exiting passenger as the passenger is leaving.)
If you want to learn more Korean, check out the page for other useful words and phrases, get an overview of the Korean language, find free classes for IBS staff, or free classes offered by Immigration.
Some taxis have an extra mirror for passengers sitting in the rear bench seat. This is located just outside the cab and helps passengers to make sure there isn't any other vehicles coming, especially scooters or bicycles, which could impact with an open door. Do be careful when you exit.