South Korea typically ranks within the top five countries in terms of internet speed tests. The national government provides the fiber backbones and rents access to various telecommunication companies who offer a number of plans and speeds. KT Olleh, SK Broadband, and LG U+ are the three major companies that offer internet access. Dormitories typically provide internet for free but normally other housing options will require you pay for your own internet access.
Internet Plans
The initial cost for installment is about 30,000 won and a technician will visit your home to connect you by setting up the modem and Wifi if you purchase a Wifi plan. Monthly service charges start around 25,500 or 30,000 won before VAT and will vary greatly depending on the service provider, the length of plan, and which plan you select in which maximum speed offered is sometimes an option. You will also be required to pay rental fees for the modem and access point.
In general, contracts vary from one year to three years but you will be limited to the length of validity of your visa as stated on your Residence Card. Discount rates depend on the length of your contract and if you connect TV and/or smartphone(s) to the same account. If you cancel your service before your contract ends or need to shorten the length of your contract, expect to get hit with a cancellation fee.
Internet Cafés
Internet cafés in Korea are now called PC cafés (PC카페, PC kape) but for decades were translated as internet rooms or more commonly as PC rooms as those are direct translations of PC방 (pc bang). Internet cafés in Korea have traditionally been used to gain access to faster gaming PCs and are a fun place to play online games with friends as a number of titles are preinstalled and people often visit with friends. It is worth noting that games popular in Korea will be preinstalled, which may differ from game titles popular in your home country. They usually have a printer and Microsoft Office installed but it is best to confirm that with staff before you pay and sit down.
If you don't yet have internet installed at your home or need access to a full PC instead of your smartphone, an internet café can be a good option. They are much cleaner than years past and now offer a variety of junk food options which you can eat without leaving the comfort of your chair. Previously, customers would grab a card with an ID number from a tray near the entrance and use that ID number to login to a PC, which then starts a usage clock. That format is going away as many internet cafés require you to pay in advance at a central touch screen terminal. If English support does not exist, grab the eye of an employee, look confused, and they will come over and help you.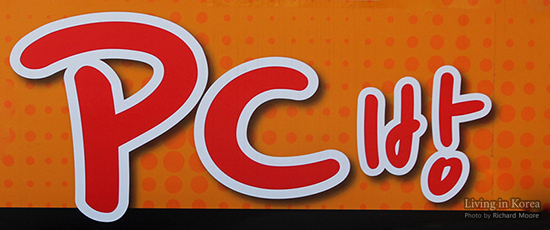 Phone Carriers
SK T World, KT Olleh, and LG U+ are the major carriers for telephones in Korea. You'll notice these are the same companies as in the internet section, but other brands exist as well. While their websites are adding support for English, the information will be very limited compared to the Korean language version of their sites. It can also be difficult to find the English version of their page if you start at their Korean language site. You may need to do an internet search with the name of the company and "English". The phone plans will also be different, so it is recommended to check the options in Korean with someone who can translate for you.
As you have citizenship outside of Korea, typically you'll be limited to prepaid plans or a contract no longer than your visa is valid. The validity of your visa will be on your Residence Card and this is the identification necessary for most smartphone plans. If you do not have a Residence Card, getting a prepaid plan will be a better option, but might be more expensive. Prepaid plans really aren't normal here and so people generally don't know where to go to purchase one and usually advise you to visit a smartphone store and ask.
If you brought your own smartphone to Korea, there is a good chance it will work but you will need to confirm it at the store as some phones will not be compatible with some carriers. Outside of iPhones, almost all smartphones sold in Korea are from a Korean brand. It is rare to see phones from another country sold in Korea. Support for these phones, including confirming if the phone will work with a telecommunication company in Korea, can be difficult as most stores have no experience with non-Korean phones outside of iPhones.
SK T World
English customer service: 080-2525-011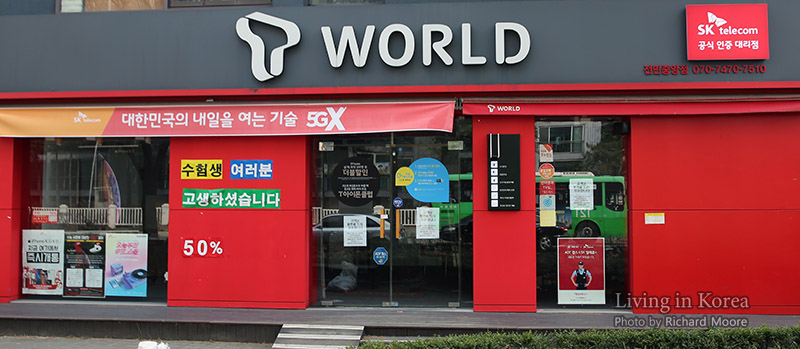 KT Olleh
English/Chinese/Japanese customer service: 1583 (toll-free) or 02-2190-1180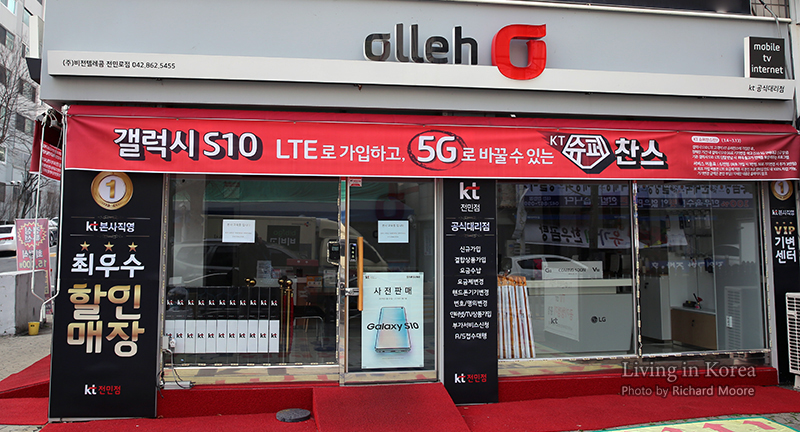 LG U+
English customer service: 1544-0010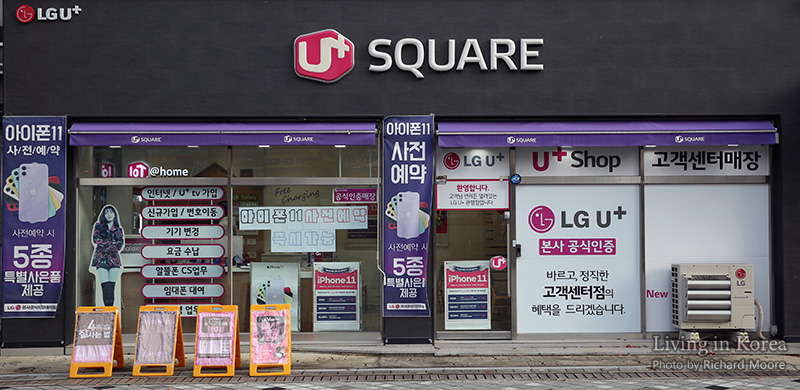 Each mobile phone company used to have their own area code, so it was very easy to see what brand someone used. With a few exceptions for older accounts, all mobile phones use the area code 010 followed by 8 numbers, for example 010-1234-5678. When starting a new smartphone account, you might be given the option to choose the last four digits of your number. Let them know if you have a preference and they will check if they can find a number with those four digits. The area code 070 is used by businesses and frequently indicates a salesperson hoping to sell you some service.
In any and all emergency situations, call 119, no area code is required. When you call, your location will automatically be identified. If you do not speak Korean, the emergency operator will connect an interpreter from the Korea Travel Hotline & Complaint Center, a service provided by the Korea Tourism Organization, so no language barrier should exist. The following table is a list of the standard area codes in South Korea.
List of area codes in Korea
Area
Code
Area
Code
Coverage
While some brands offer better coverage than other brands, dead spots are not common in Korea, even while riding a bullet train, walking in a basement floor of a building, or riding through a subway tunnel. Elevators are mixed with some cutting off calls and others not dropping in quality. You'll sometimes see these devices installed to cut out dead spots. This picture was taken in a parking lot of an apartment complex.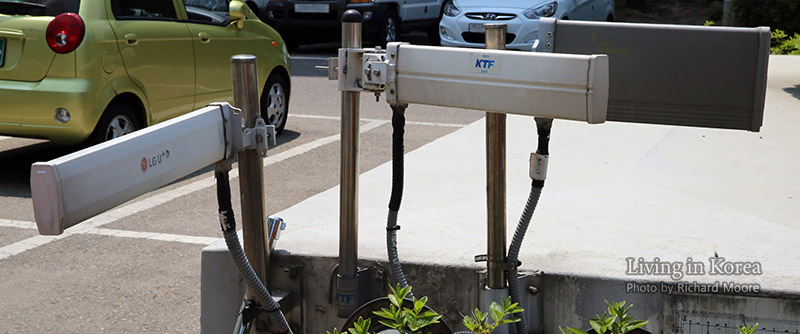 And if you are in a subway station and are curious what these area, they are also connected with providing coverage. These larger boxes are connected to receivers in the ceiling, usually a white color to blend in, and send the signal outside so you can complete your call uninterrupted.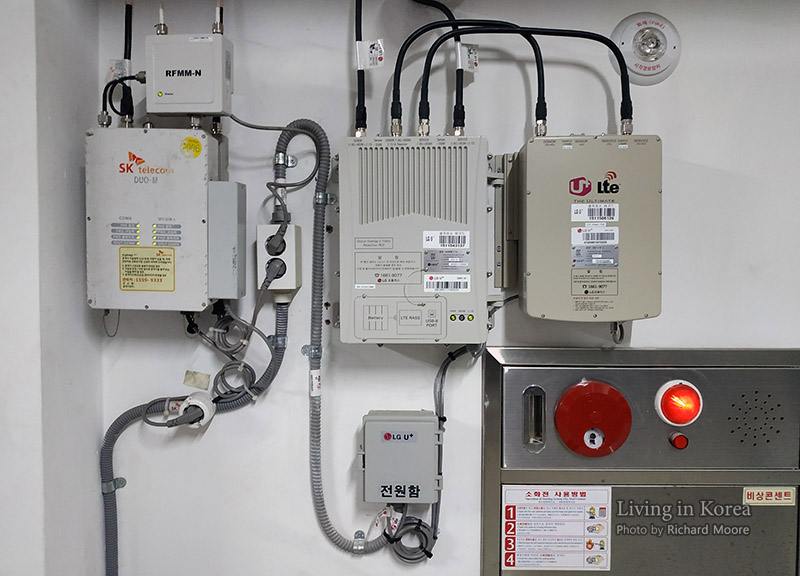 Here is an example of a receiver mounted on a ceiling. As this was an underground aquarium which wants guests to view the fish, not the ceiling, the ceiling was painted black as to not distract people. As subways systems need to be bright, their ceilings are white and the receivers blend in much better there.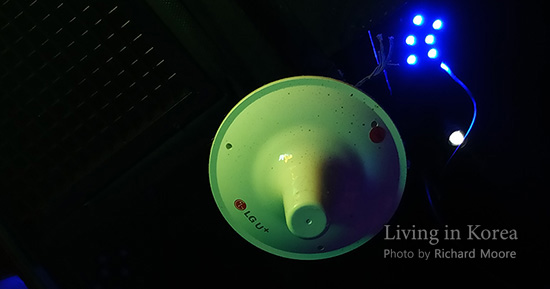 And here are several examples from the basement 1 floor of a Costco. Note that several telecom brands are visible.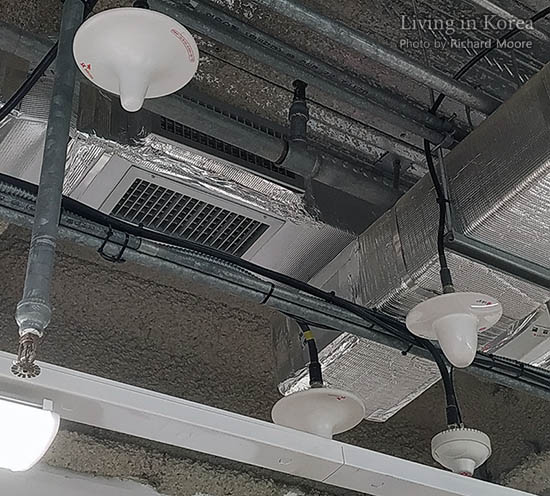 Occasionally you'll see these little metal circles on the road which indicate where utility lines are buried. This one mentions 통신 (通信, yongsin) which means telecommunication lines. Similar markers exist for gas and water lines.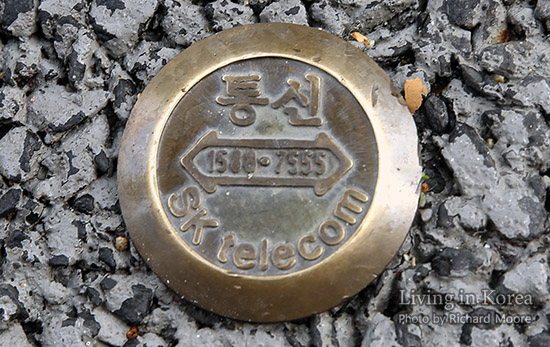 Traditional phone booths will only get rarer as time goes by and Korea is no different. If you were curious what a Korean telephone booth looks like, here is an example of a pair. The one on the left is a newer models as it has the option to pay by mass transit cards. The one on the right can use coins or insertable calling cards.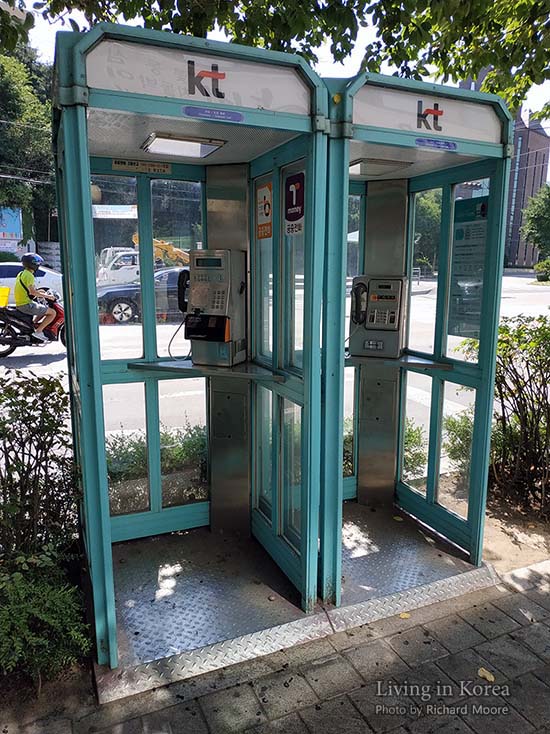 Television
If you live in an apartment, you might be able to connect a TV to a TV coaxial connection for free, as a number of apartments provide access. But many people get a cable TV and internet plan from the same provider, frequently the same as their smartphone provider. Different plans will have different channels available so you should see what options you can choose from. Just like with phone and internet, you'll need a Residencen Card for signup and a domestic bank account to pay for service.
Korea's three major broadcast stations are KBS (Korean Broadcasting System), MBC (Munhwa Broadcasting Corporation), and SBS (Seoul Broadcasting System). Each broadcast station has broadened the scope of broadcasting by adding territorial broadcasting, radio programming, cable and satellite programming, Internet, and DMB services. Arirang TV is an English-language broadcast station that provides news and information related to Korea.