Clothes dryers are rare in Korea outside of laundromats but this trend is changing and they will be more common in the years following when these words were written. What is normal is to air dry clothing in a home, either in the living room or in a veranda, if the residence comes with one. This is the very basic type of drying rack. They come in a variety of sizes, weights, and some have extra fold out arms around the height of your knee. All clothes drying racks will fold down rather flat which aids in storage. To see them folded flat, scroll down to the images taken in a store.
In Korean these are called 건조대 (乾燥臺, geonjodae) or 빨래건조대 (빨래乾燥臺, ppallae geonjodae) to be more specific. You'll also see 알루미늄 (aluminum) or 스텐레스 (stainless steel) for the material they are made out of. And they frequently saw 2단 or 4단 for how many arms fold out; 2 or 4. The images shown below are of the 2 variety.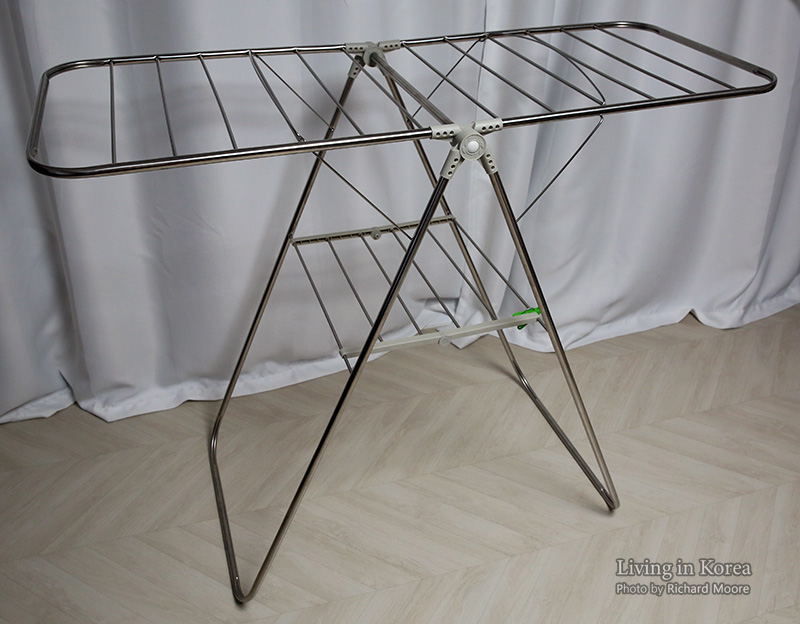 The biggest issue with these is wet clothes are heavy, and many of these drying racks are built with flimsy supports both between the arms and under the arms to support them to stay in place. As with the image above, you can see the support is rather thin. Putting a bunch of wet laundry on one side might cause it to bend, just as tossing that load of laundry on top of it. Thin metal is easy to bend back and can be done occasionally but if done often enough there will be a metal fatigue resulting in failure of some of the thinner metal. While your dryer may still stand and still work, you'll start to lose functionality.
There are some heavier duty drying racks which can be a bit difficult to see from the picture shown below. Their main giveaway is the support that goes under the arms is noticeably thicker, but that's mainly it viewing an image online. If sold online you'll see images of weights, maybe someone laying on one when it is open, or other visual cues to demonstrate it truly is strong and won't bend like the one shown above.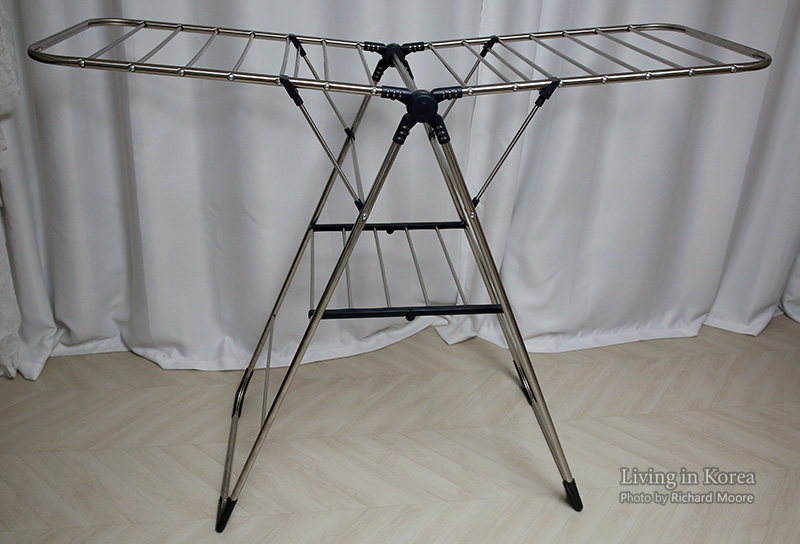 If you are concerned about how wide a drying rack can be, you can also go for a much thinner yet taller model, such as this. While it collapses down to be basically as thin as this others, this doesn't require the footprint of the previous fold out kind when fully extended.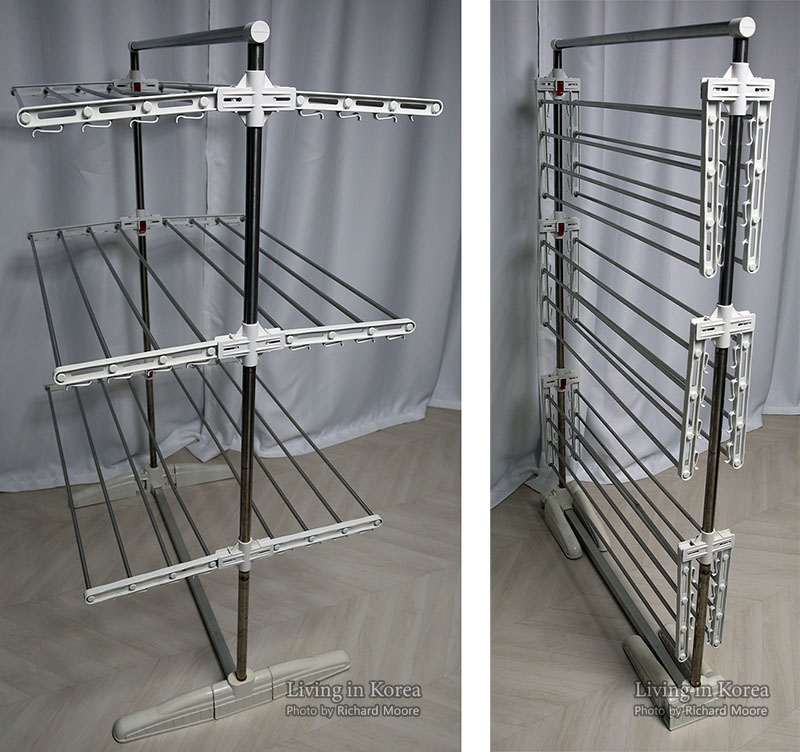 If you purchase from a store you'll be able to see and touch display models. This helps also with size so you can see just how far the arms spread out knowing what kind of space you have at home. Normally sold in larger grocery stores in the non-perishable section with other household items, you should get a good variety of options to choose from. If you want to see the images more clearly, click the picture to see a larger version of the image.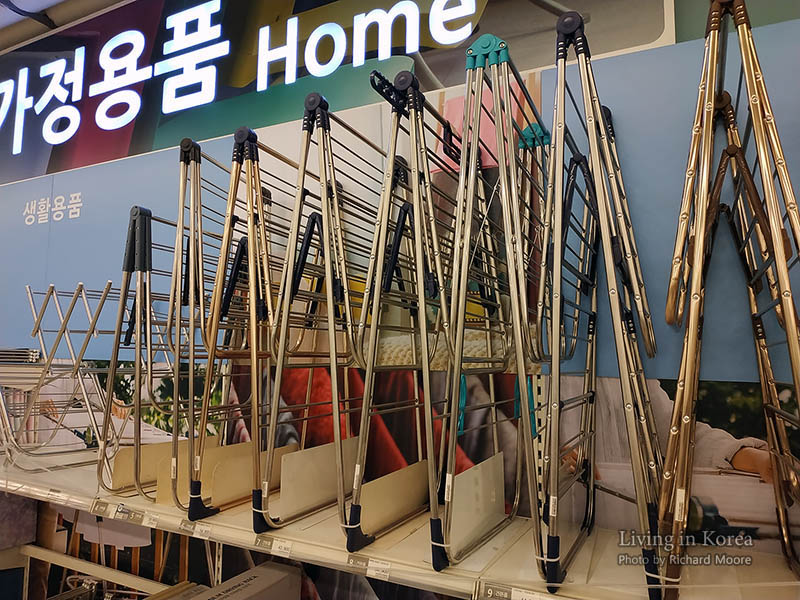 When a number of items are on display like shown below, it is common for them to get an numberical sticker on them and then the same sticker by the packed item ready for you to pick up. See if you can spot the numbers under the units just next to the price tags. The floor models will be located nearby the units for sale and the number identification system helps reassume shoppers they are purchasing the correct item. If you want to see the images and words more clearly, click the picture to see a larger version of the image.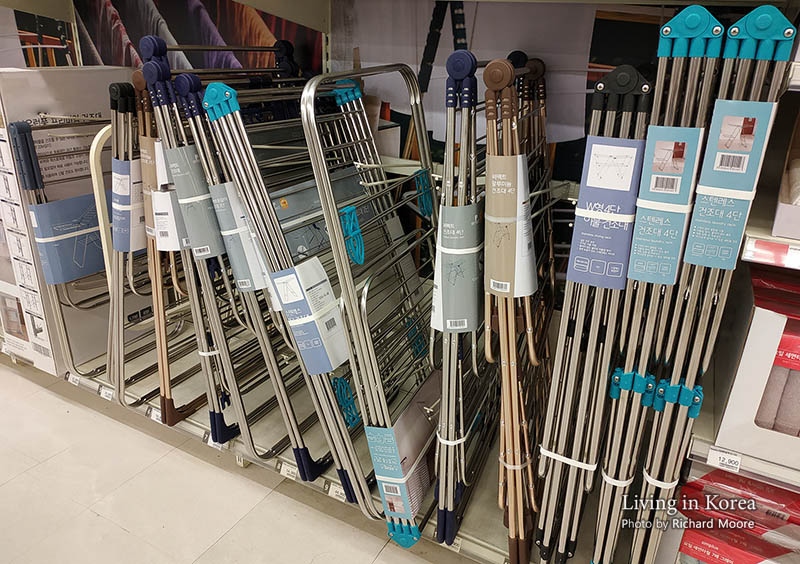 Depending on where you live, if you have a veranda it might also have a drying rack built into the ceiling. More common in apartments than other types of housing, a drying rack for laundry can be lowered from the ceiling with a rope or a remote if in a newer apartment.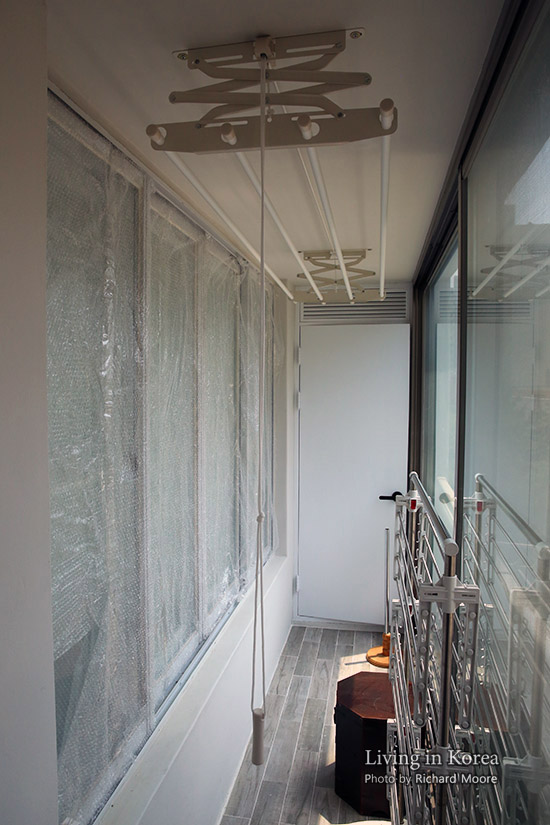 If you swim in a public pool you are required to wear a swimsuit and a hair cap. After swimming, people go into the locker room and then remove these items before rinsing and drying them in a spin-dryer machine. There is only a single knob on the device and it spins to get excess water out of your swimsuit. They do not have a heating element so it isn't correct to think of them as dryers, but perhaps as spin dryers. Turn the knob to start the timer and when it finishes the unit will slow down and stop but not give a beep or any other notification.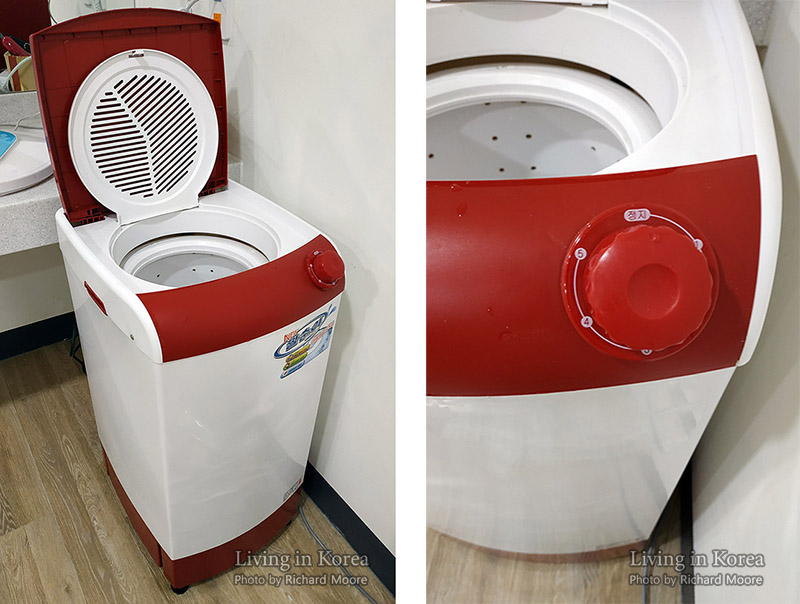 These are also found in locker rooms of gyms and health clubs next to a sink where you can first wash or at least rinse your workout clothes, and then toss them into a spin dryer. This prevents gym bags from smelling badly as most or all sweat can be removed and then spun dry a few minutes so they can quickly air dry from there.
Feel free to use these but just be courteous of the other members by removing your clothing as soon as the spin cycle has finished. If there is a queue and the cycle has finished by no one comes to claim the clothing, don't be surprised if the clothing migrates to the counter so someone else can put theirs wet clothing into the spin dryer.
Even though a majority of water has been removed by the few minute long spin-dry cycle, there still is considerable water left in the clothing. This means it isn't a good idea to leave the clothes in a locker to dry as they can get a mildew smell and the water makes the room muggy.