Whether you do laundry in your home or in a laundromat, you'll need some detergent (세탁 세제, 洗濯 洗劑, setang seje). It will come in either liquid form (액상/액체, 液狀/液體, aeksang/aekche) or in powder form (가루/가루비누, garu/garubinu). If you want more delicate detergent, you might want to consider getting 울샴푸 (ulsyampu) and make sure you select the delicate cycle among the buttons on your washing machine.
Front loading washing machines will sometimes have a separate detergent. If you want to try and get this specific detergent look for 드럼 세탁기 (드럼 洗濯機, deureom setakgi) as that means front loading washing machine. Top loading washing machines are 일반 세탁기 (一般 洗濯機, ilban setakgi), 통돌이 세탁기 (tongdori setakgi), or simply 세탁기. These have been the standard washing machines, and this is reinforced by the term 일반 which means normal or generic.
Here are some of the other types of detergents and cleaners you will find in stores. This photo has a number of specialty items, so don't expect to see this much variety in most stores. If you want to see the images and words more clearly, click the picture to see a larger version of the image.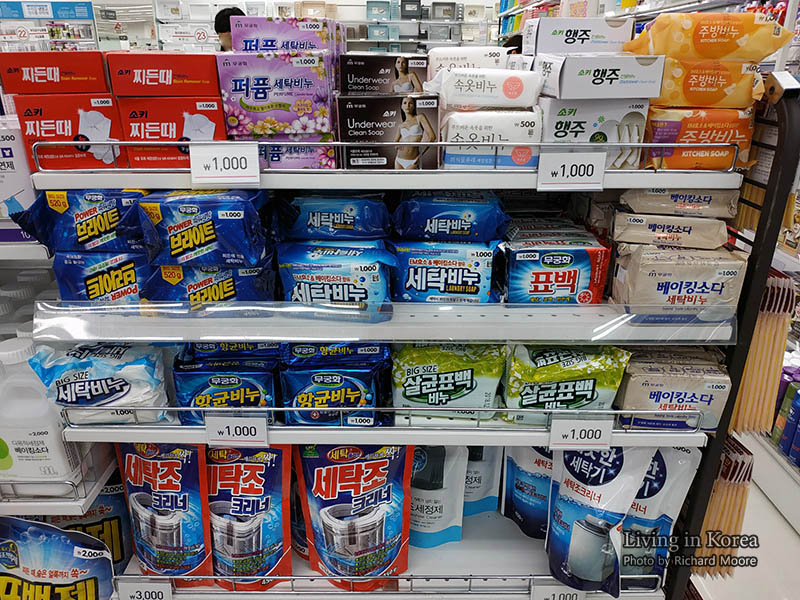 The biggest one to be careful of are laundry bars which are on the top three shelves in the above image. Called 빨래비누 (ppallae binu) in Korean, they translate directly as "laundry soap" but you might see 살균 (殺菌, salgyun) which means "sterilization". Not as commonly used as in the past, these are bars of soap designed for doing hand washing of clothing. As laundry detergent isn't designed for human skin, make sure you use kitchen or single use gloves when using these to protect your hands. The problem is the soap part of the name (비누) is you'll see this term used for hand soap or shower soap. Both types of soap are roughly the same size and are easy to get confused. As the laundry variant is a detergent, it uses harsher chemicals which are not designed for your skin to interact with, let alone for you to bath with.
Doing laundry the traditional way is with a detergent bar, a wooden washboard (빨래판, 빨래板, ppallaepan) and then hitting the laundry with a flat piece of wood (빨래 방망이, ppallae bangmangi). The term 빨래 방망이 can also refer to two rounded pieces of wood which were used to hit clothing as a type of fabric softening or ironing. These days the traditional methods are more commonly seen in historical dramas, in the countryside, or with some hikers when they really need to wash something. The washboard and bar of soap are often seen with a wide short bucket in a bathroom or veranda. The bucket is frequently used to soak clothing for stain removal and then might be hand washed or tossed into a washing machine after that.
If you cannot read Korean there is one quick tip to differentiate which is which. Generic soap bars for hands, face, and body have curves and are often oval shaped. Laundry soap bars have hard rectangles with 90-degree corners. If you recently bought soap and your skin isn't in the best condition, you might have purchased the wrong type of soap.
If you want a stain cleaning, look for the term 얼룩제거제 (얼룩除去劑, eollung jegeoje). They can be in stick, spray, or liquid form. Make the clothing damp, put on the stain remover and let it sink in, rub the stain but be careful not to stretch the clothing, and then wash it with your normal clothing.
If your clothing isn't coming out as clean as you expect, the drum inside your washing machine or some of the connected plumbing might need a cleaning. While you could hire someone to come and clean it, the easiest and cheapest solution is to try 세탁조 크리너 (洗濯槽 크리너, setakjo keurineo). Several brands of this cleaning solution are visible in the picture above on the bottom shelf. Look for a button marked 통세척 (桶洗滌, tongsecheok) on your washing machine, sample image below. Select this option, pour in the cleaning solution, and give it an hour or so.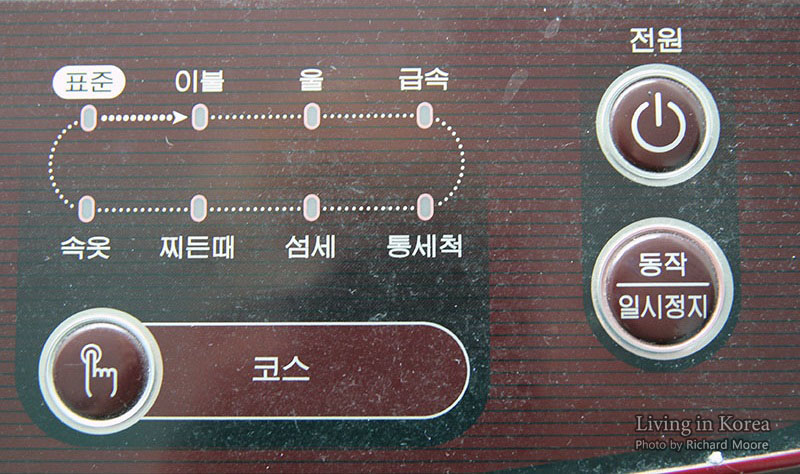 If you want to purchase bleach, the term in Korean is 표백제 (漂白劑, pyobaekje). Consequently, if you are trying to avoid bleach, check for this term and make sure it isn't on the detergent product you are trying to purchase.
Fabric softener in Korean is 섬유유연제 (纖維유연제, seomyu yuyeonje). The company 피죤 (phonetically "pigeon") is so well known for fabric softener that their company name has become a generic term for their product. Don't be surprised if you see this company name being used.
Mesh Bags for Delicates
While this might not be detergent, these are a common washing machine accessory. Laundry bags come in a variety of shapes and sizes so it can protect various kinds of clothing in the wash. The general term is 세탁망 (洗濯網, setangmang) and translates as "laundry net". Frequently you'll see an additional word or two informing you of what kind of washing bag it is. 빨래 (ppallae)is a general term for laundry and so this will be for generic clothing. 속옷용 (속옷用, sogosyong) is for underwear, especially to keep bra hooks inside the bag so they don't tear or rip other clothing. And 양말용 (洋襪用, yangmalyong) is for socks. Dimensions are usually on the label.