When talking about ATMs, the first thing worth mentioning is there will be bank owned ATMs and non-bank brands of ATMs. The other brands tend to have higher service fees than the banks' machines as private company machines earn their entire profit from fees. One quick method of determining which is which is if there is a bankbook slot in the ATM. Sometimes marked as passbooks, only bank ATMs will provide these books and only that brand will update them at their ATMs.
If you have a domestic bank account you won't get service fees at your ATM, such as using a KEB Hana debit card at a KEB Hana ATM. If your bank and another have made an agreement, for example Shinhan and Woori, then you can use the ATM of a specific competing bank without needing to pay a service fee. But if you take your Shinhan card to a KEB Hana ATM, expect to pay a service fee. Service fees range from 500 won to 1,500 won per transaction. This is the fee collected within Korea for domestic cards. If you are using a card from your home country, expect to get an additional fee for using it overseas.
There seems to be an exception at Costco as it seems their ATMs have a fee even for customers of that bank. The hypermarkets of Costco, Smart, and Homeplus all have a mixture of bank and non-bank branded machines. If you see an ATM at a convenience store, it will be a non-bank brand.
If your debit or credit card was issued from overseas, the next thing to make note of is if it will work at a specific ATM. Not all machines take foreign issued cards. Frequently you'll see several ATMs in a row from the same bank, for example just within the entrance but right before the lobby of a bank. Here it is normal to see three or four machines; some will work with overseas cards and some won't. Sometimes there is a sticker or sign to let you know which one to use.

Alternatively, sometimes there are no ATMs at a bank which support overseas cards.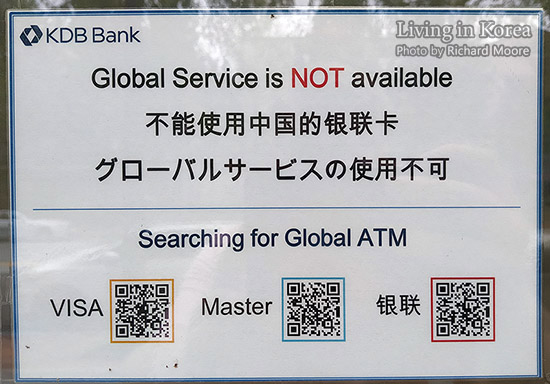 If there is not a sign indicating if cards issued overseas will work, the menu will let you know before you go to far. It is normal for these machines to ask where the card was issued. If you see both options, you are good. If only the option for domestic cards shows up, you have your answer and might as well press the cancel button as the machine will not be able to use your card.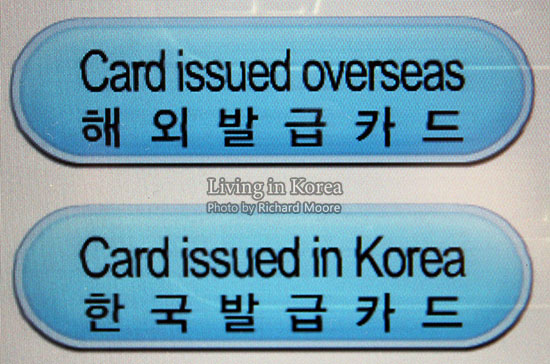 Sometimes there will be a non ATM machine next to the ATMs in the entrance to a bank. In the image below the machine on the right is an ATM and the machine on the left is for paying bills. Frequently found in the lobby of banks, this non-ATM machine you see is called 공과금(자동)수납기 (公課金(自動)收納機, gonggwageum (jadong) sunapgi) which translates to "utility bills" and is for paying taxes and fees and does not handle cash.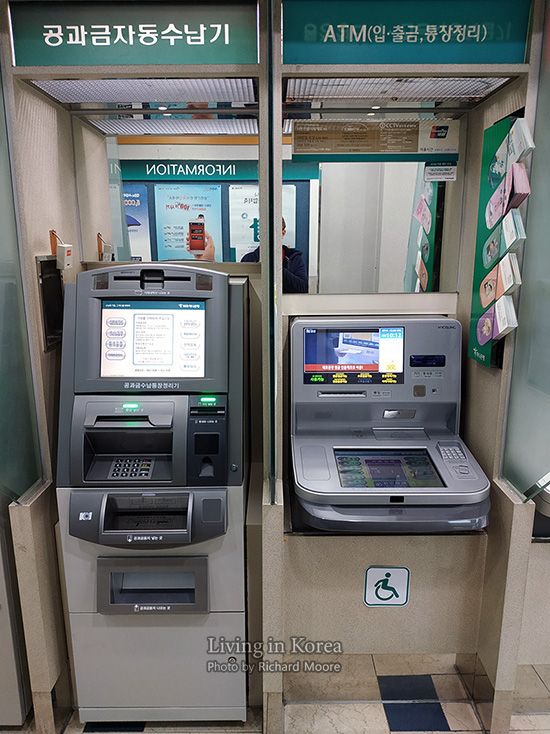 To use an ATM, you'll need a debit or credit card, and place it face side up and IC chip first into the machine.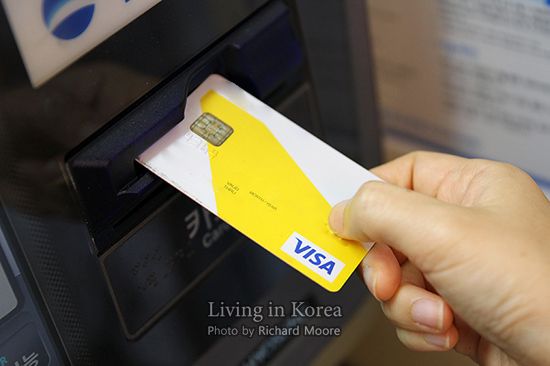 Nearly all machines will offer multi language support but some of the non-bank brands will not. Different brands of ATMS will offer different mixes of languages. While the button shown below is for a dedicated language button, sometimes it will be for a joint purpose button with other non-linguistic options.

This ATM offers a large amount of languages. If there are several ATMS available and the first does not have your preferred language, you might want to check the next machine as sometimes the software versions are different and might offer more languages.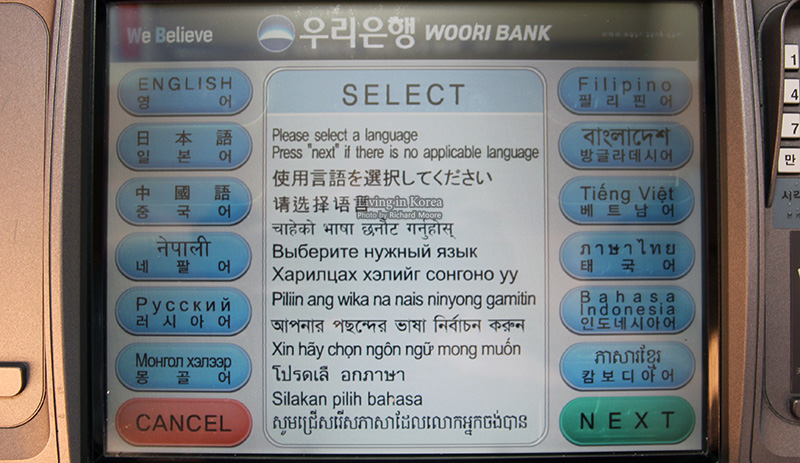 Even if you selected a separate language, it is normal to get a warning written only in Korean. When in doubt, press the green button to proceed. The warning message here is to ask if you checked for a card skimmer installed over the card slot. This is not an issue unique to Korea as card skimming is something that exists all over the globe.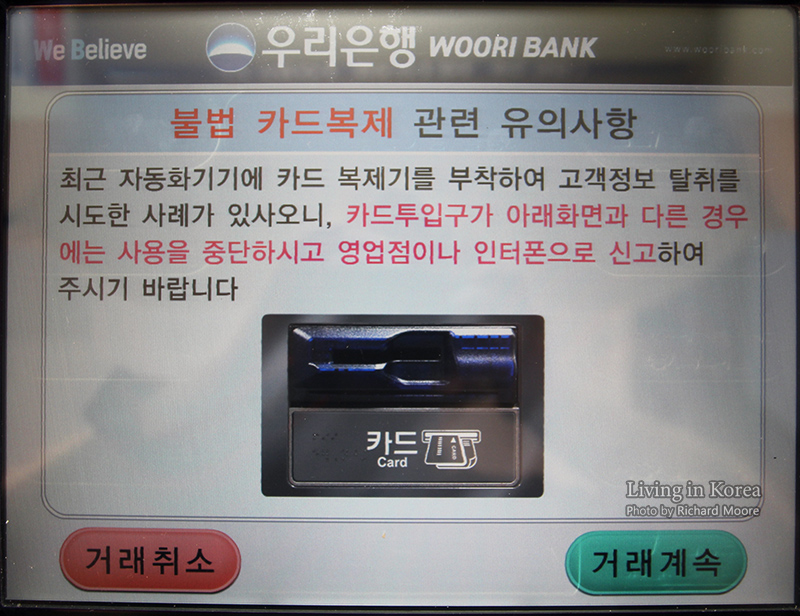 This image was posted next to the ATM and provides the same warning. If installed, a card skimmer will add additional bulk to the front of the card slot. That is what the image highlights.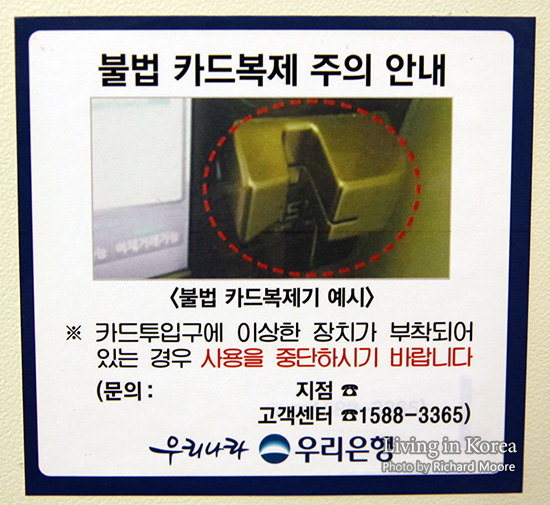 For a card skimmer to work, it requires a skimmer to copy the information on the back of the card (the black strip) and a hidden camera to record the keypad while you are inputting your PIN. If you look around the ATM you'll notice two security cameras that are installed by the bank. The first is above you; seen as a small black circle.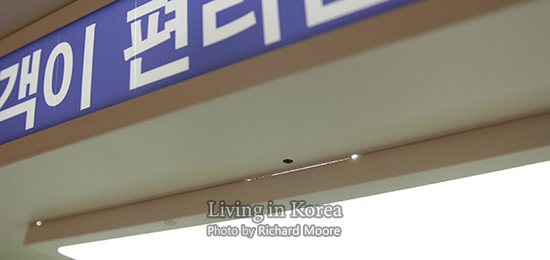 And the second security camera is facing you; seen as a black circle to the left of the G in Global. If a stolen card is used at an ATM, the bank will provide the police footage from these cameras in hopes of catching the culprit. Repeat, these are not illegally installed cameras. These are security cameras installed by the banking company.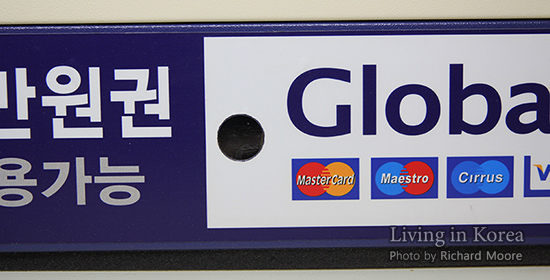 Towards the end of a transaction, you'll be required to type in your PIN either on the touch screen itself or via a keypad to the side. There is frequently also a warning for you to cover the numbers you are pressing with your other hand or with an additional object. This warning message is usually in English as it has been around for years so it is usually translated.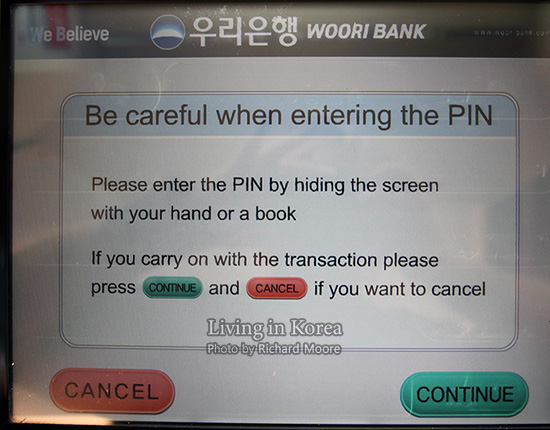 If you need assistance, there is usually a phone to your left. Don't expect them to speak a foreign language. If you need a different language, best to call the bank's international support center, directly, if available.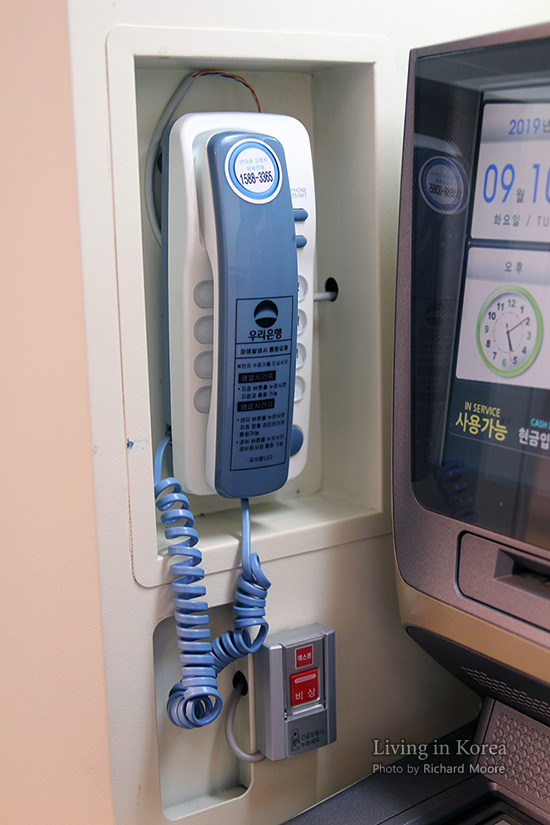 Also next to the phone is a red or blue button. This is installed in case of an emergency. Press this only in such a situation. The image below is bilingual but this is not always the case.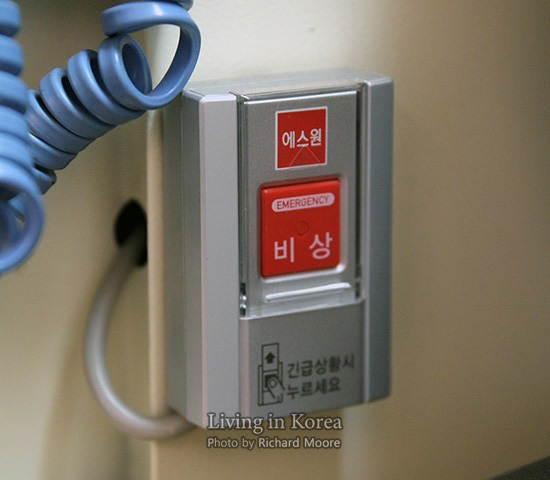 The highest valued paper currency in South Korea is the 50,000 bill but the 10,000 bill is more common and only these two bills can be withdrawn from ATMs while all bills can be deposited.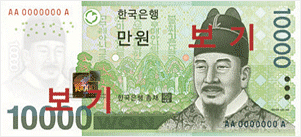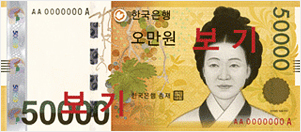 As the 50,000 bill was introduced in 2009, a significant number of ATMs had to be retrofitted in order to accommodate the newer bill. As of this writing a decade later, many ATMs still do not accept nor provide service for that bill, leaving the largest bill, and in all actuality the only bill usable at all ATMs, to be that of the 10,000 won bill. Here are two seperate signs posted above ATMs saying they are compatible with 50,000 KRW bills.


Here is a digital note on the screen of an ATM machine saying it is compatible with 50,000 KRW bills.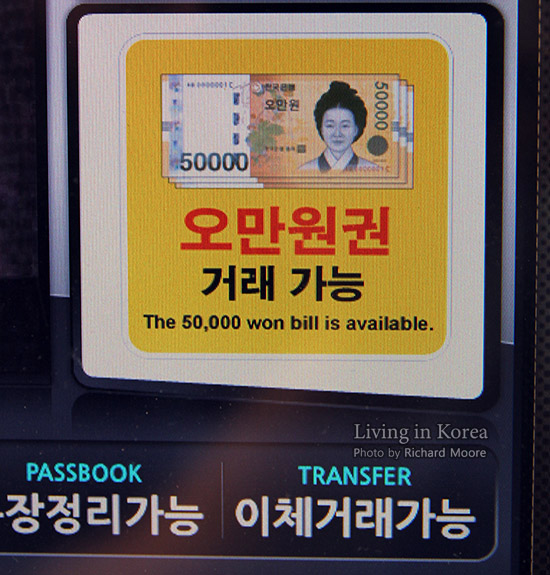 As the 10,000 won bill is the standard unit, ATMs will sometimes require you to specify how many of each type of bill you want in units of 10,000. An explanation is available on the banking specific numbers page.
Many ATMs will allow you to deposit bank checks directly. Not as common as cash, these usually appear when paying a larger sum and the user wants a paper trail, for example when providing the deposit or returning the deposit for a residence. The smallest bank check is valued at 100,000 won making it double the value of the largest paper currency in circulation. Personal checks do not exist in Korea, so the only checks you will encounter will be from a bank. You may need to wait a day or two for the deposit to clear. To see if you can deposit a bank check in a specific machine, you'll need to check within the menu. You may or may not be able to deposit them with cash.
Offline banking hours are shorter than standard business hours leaving a lot of people to be envious of bankers as they think these employees leave early. While their doors close early, the staff still stays inside and in all actually don't have shorter work days. The entrance to banks is open longer hours than the bank itself, however these are not open 24 hours. At a late hour, perhaps around 10 or 11 PM, this entrance area will start to be automatically closed via a metal gate. If you need to get cash after hours, you'll need to visit a convenience store and pay the service fee. If you try to do certain banking transactions online or via the bank's smartphone app, you might be limited from around 10 or 11 PM due to daily maintenance. You may still be able to see your balance and view transactions, but you will be unable to instigate a transfer (계좌이체, gyejwaiche). Check with your bank to see what time they turn their system off as they might differ brand to brand.