There have been several kinds of standards for what taxis look like in Korea. We'll show several examples of more standard taxis, show a few unique ones which might or might not be available in your city, and then show how to differentiate taxis from driving schools vehicles (can be difficult) and show what some of the first taxis looked like back in the 1950s.

택시 - General Taxis

The most common colors will be orange, gray, and white but sometimes they can be black depending on the city. By far the most common type of taxis are classified either as "general" (일반, 一般, ilban) or "privately operated" (개인, 個人, gaein). General taxis are owned by a company and are driven by drivers working directly for the company. You'll see a sticker with the name of their company and a single digit number of 1-6 to indicate which day they are not allowed to work. This corresponds to a small calendar inside the vehicle.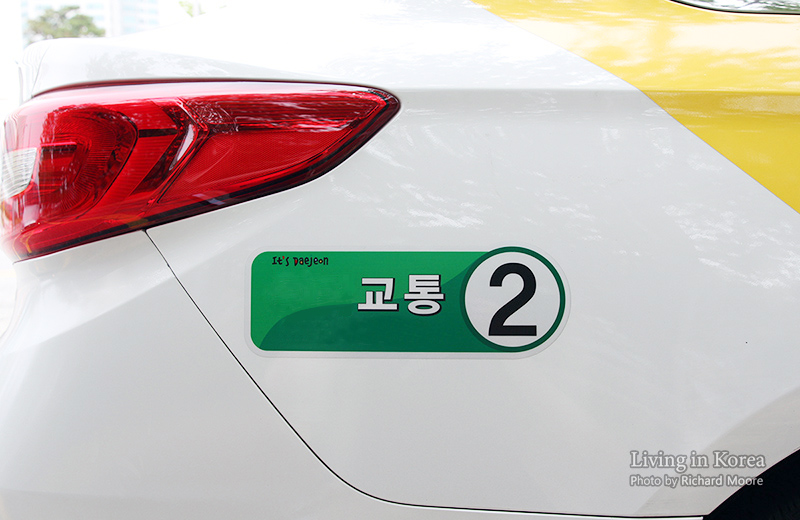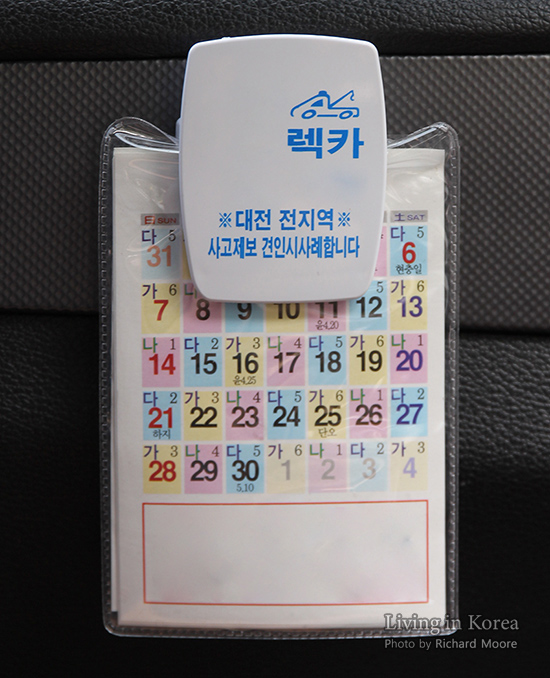 Privately operated are taxis that are owned and operated by the driver and this is their personal vehicle. Due to high turnover rates in the industry, some people prefer to use privately operated taxis as these drivers typically are doing this as their profession. If the taxi is privately owned, you will see 개인 marked on the vehicle. This sticker will be on the trunk and also the sides of the vehicle. The color of the sticker will corresponds with 가 나 or 다, which, like the company taxis, is to declare the days they are not allowed to operate. Notice the red, yellow, green pattern on this first sticker. This is to inform potential passengers that this driver is in the Best Driver Program.



모범택시 - Deluxe Taxis
Frequently translated as "Deluxe Taxis", 모범택시 (模範택시, mobeom taeksi), they can be directly translated as "exemplary taxis" or "model taxis". Despite 모범 in 모범택시 and 전국모범운전자연합회 (全國模範運轉者聯合會, jeongung mobeom unjeonja yeonhapoe) of the Best Driver Program, these are unrelated. However, the bar for entry is more difficult for both companies (requirement for business management, receipt printers, credit card payment option, etc.) and private taxi drivers (5 years of driving a private taxi without collisions, operating day restrictions, etc.) when compared to general taxis.
The name of this type of taxis signifies a smoother ride, a more professional driver, and better all-around service. Due to this inferred quality, the start fare is a little higher, roughly KRW 1,200 to KRW 2,800 more than a standard taxi. The starting rate for taxis will be determined by negotiations between the city transit authority and taxi groups or unions. As this is city specific, expect the price to be slightly different when you travel to another city or another region of the country. If you want to see breakdowns by type of taxi, size of taxi, city, times, and more, visit the related pricing page (Korean language only) from the Korea National Joint Conference of Taxi Association (전국택시운송사업조합연합회, 全國택시運送事業組合聯合會, jeongung taeksi unsong saeom joham yeonhapoe). The fare you will eventually pay is set by the basic rate for the first 2 to 3 km (ranges from around KRW 2,800 to 6,500), distance-based fee of KRW 100 every X number of meters (ranges from around 126 to 164), time-based fee of KRW every X seconds (ranges from around 31 to 51), and additional percentage-based fees can be added for driving from midnight to 4 AM, going to a city they taxi is not allowed to pick up passengers in, and/or a few other things.
The image below is from Seoul Station. After the area underwent a heavy remodeling, there are separate lanes for taxis dropping off passengers, deluxe taxis waiting for passengers, general taxis waiting or passengers, and several lanes for city buses.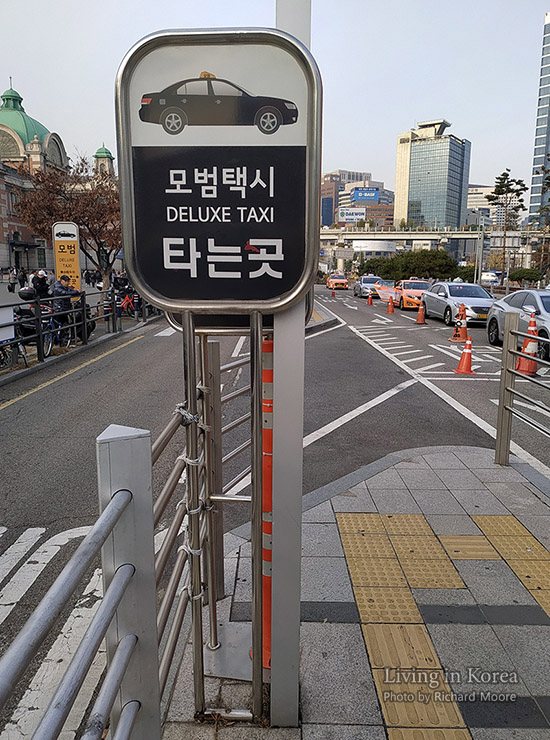 Deluxe taxis are black in color and have 모범 written on the vehicle, usually on the top. They are not available in every city, so don't expect every black taxi to be deluxe. The image below is from Daejeon, where there are no deluxe taxis. Deluxe taxis are in Seoul and Daegu but perhaps other cities as well.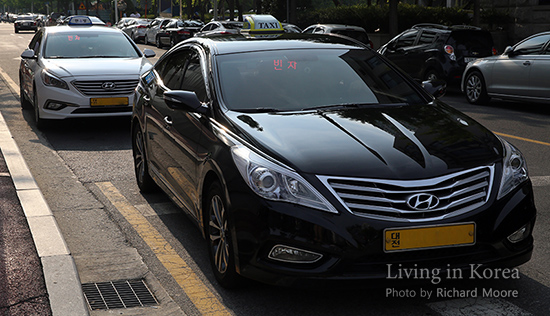 Other Types of Taxis
There are several other types of taxis that you may encounter in Korea. International Taxis (English, Korean, Chinese, Japanese website) are orange in color and have International Taxi written in large letters on the side along with English, Chinese, or Japanese as the language the driver has shown efficiency in. The concept is to provide service which international travelers can more easily trust, as they can speak in a language they are more confident in and can easily communicate if there is a problem. Reservations can be made on their website, by phone at 1644-2255 (weekdays 9:00~18:00, Saturday 9:00~13:00), email at reserve@intltaxi.co.kr, or at help desks at Incheon (Terminal 1 Arrivals Hall 1F, between Gates 4 & 5 (Desk 23), Open 24 hrs / Terminal 2 Arrivals Hall 1F Gate A, right-hand counter / Open 07:00-20:00) and Gimhae (near Busan City, International Passenger Terminal 1F, between Arrivals Gate 1 & 2 / Open 10:00-23:00) International Airports. You can reserve a standard taxi, deluxe taxi or van. Due to the language incentive, their fares are roughly 20% higher than standard taxis.

Image copyright International Taxi
Electric vehicle taxis are spreading to more cities. While sometimes blue in color, this isn't always the case but appears to be the standard in Seoul. Prices are the same as a standard taxi.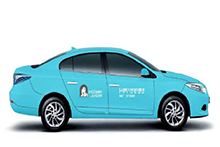 Image copyright Seoul City Hall
Coop taxis with COOP in large white letters on the side of their vehicle. These cabs are operated by the Taxi Cooperative Network and are bright yellow in color. Taxi fare is the same as a standard taxi. Service exists in Seoul, Pohang, Gyeongju, Daegu, Gumi, and Gwangju.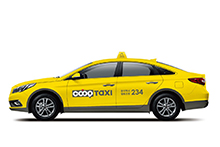 Image copyright Taxi Cooperative Network
Jumbo taxis or "대형택시" (大型택시, daehyeong taeksi) can be directly translated as "large vehicle taxi". More commonly found at airports, these large black vans hold six to ten passengers and charge the same rate as deluxe taxis. Jumbo taxis can easily be confused for call vans (콜밴, colban), which will be marked with Van, Call Van, or 콜밴. Call vans do not have a meter and instead charge based upon a negotiated taxi fare which is based upon the distance, number of passengers, and quantity of luggage.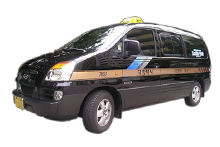 Image copyright Gwangu City
Not Taxis
자동차 운전 전문 학원 - Driving School Vehicles
These last images are not of taxis but can easily be confused for them. These are one of two types of driving school vehicles. Driving schools (자동차 운전 전문 학원, 自動車 運轉 專門 學院, jadongcha unjeon jeonmun hagwon are a type of hagwon (학원, 學院, hagwon) where the students learn to drive. To warn other drivers that there is a student driver, these vehicles are yellow in color and have a sign on top declaring them saying 도로주행 (道路走行, dorojuhaeng) which roughly translates to "driving on the road". There is also a small insertable sign that can be slipped onto the front and rear bumpers which tells people a student driver is currently behind the wheel. The sign says 교육중 (敎育中, gyoyukjung) which directly translates to "education + in the middle of". The name of the driving school will also clearly be written on the vehicles as it serves as a form of advertisement while also again declaring them to be driving school vehicles.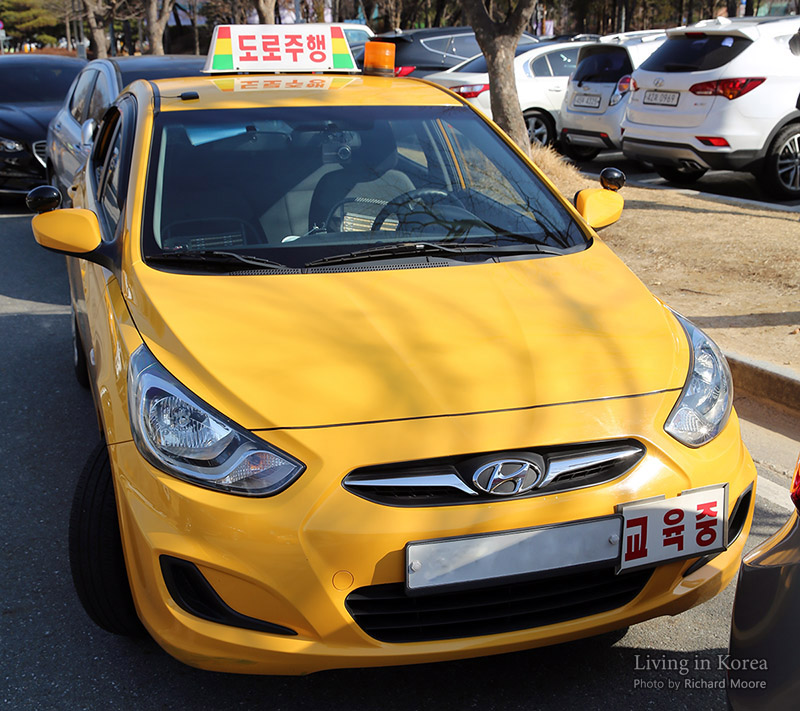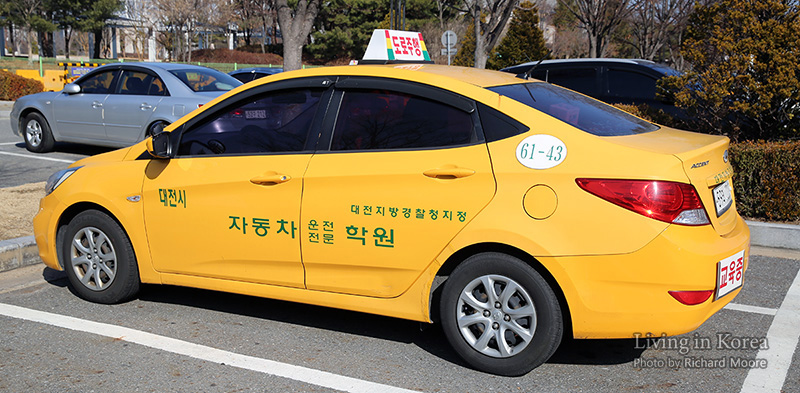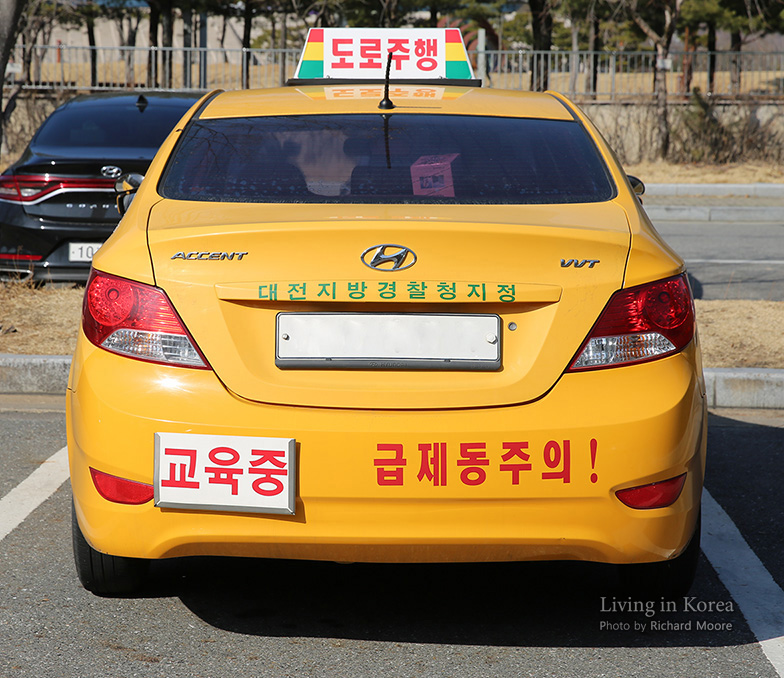 As the yellow driving school vehicles are all automatic, if someone is learning how to drive manual (i.e., stick), they will drive one of these white Bongo trucks. They also have the name of the hagwon, the sign on top, and insertable signs on the bumpers when a student is behind the wheel.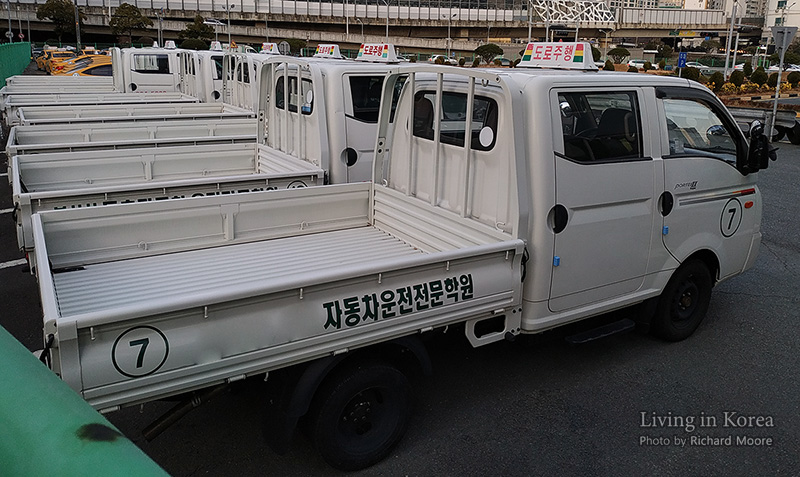 Historical
시발 - Sibal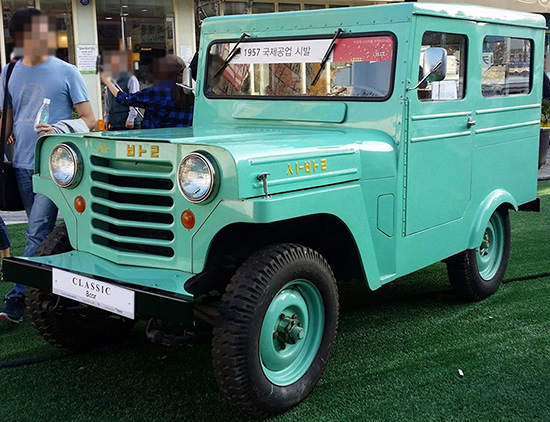 Image copyright Wikipedia, image source.
After the Korean War went on a continued cease fire in 1953, both nations on the peninsula began to rebuild. In 1955, what was called the first Korean made vehicle was the 시발 (始發, sibal) stylized as ㅅ ㅣ-ㅂㅏㄹ. The Chinese roots (hanja) had the meaning of "inception" or "beginning" as it was the first domestic vehicle, not counting the Ford Motor Company entering the country in the early 1900s under the rule of Emperor Gojong, the last of the Joseon Dynasty. The hangul spelling is similar to a modern curse word, which helps to illustrate the importance of the linguistic roots. Although sold to the general public, these were predominately used as taxis.
Early versions were made with mostly imported parts and used old oil drums to create the body, which was very similar to the Willys Jeep (Wikipedia). When production ended in 1963, less than 3,000 had been made and no originals exist today but several reproductions can be found for filmmaking or in motor vehicle museums.
Links