With tickets in hand, you should check the status of your bus and confirm the platform (타는 곳, taneun got). In this example we see a green sign above several sets of doors telling what platforms service what cities. To the right of it is the date, current time, and status of buses located close to this set of doors. We'll look at these items more closely in the next few images.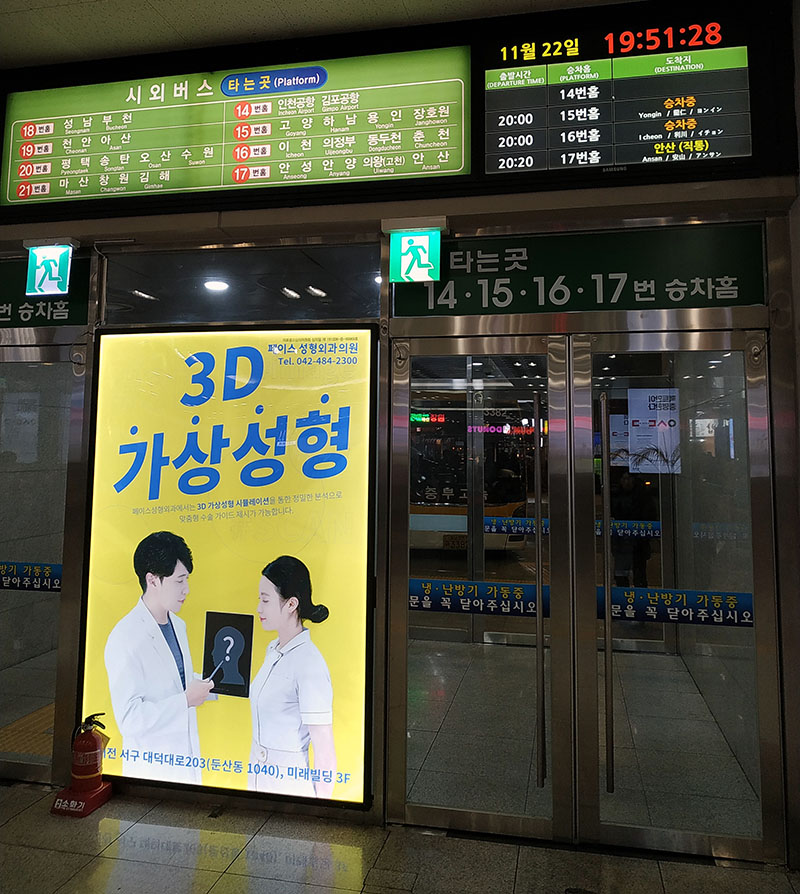 Here is a closer image of the list of cities services by platforms 14 through 21. By looking at platform #21 we can see that Incheon and Gimpo airport buses also depart from this bus terminal. Even if you aren't going to the airport today, it is a good idea to remember where airport buses depart from. If you want to see the image and words more clearly, click the picture to see a larger version.

The date is shown as 11월 22일 which is November 22. The time is shown as 19:51:34 which is 7:51 PM. With that information, we know that bus bound for Yongin departs from platform 15 in 9 minutes. However, if our bus is leaving more than 10 minutes later, you might want to consider waiting inside the terminal lobby as it is climate controlled and summers are hot and winters are cold, especially if we wait outside. As a nice note, we can also see the city names in Chinese and Japanese. Under the digital signboard we can see 타는 곳 14, 15, 16, 17번 승차홈 which tells us that platforms 14 through 17 are close to this door.
Intercity and express buses typically leave on time with exceptions for Chuseok (추석, 秋夕) and the Lunar New Year (설날, Seollal). These two holidays are the busiest travel times in the year and all wheeled transportation gets delayed. If you have your tickets, and it is boarding time, head over to the platform of your bus. If you want to see the image and words more clearly, click the picture to see a larger version.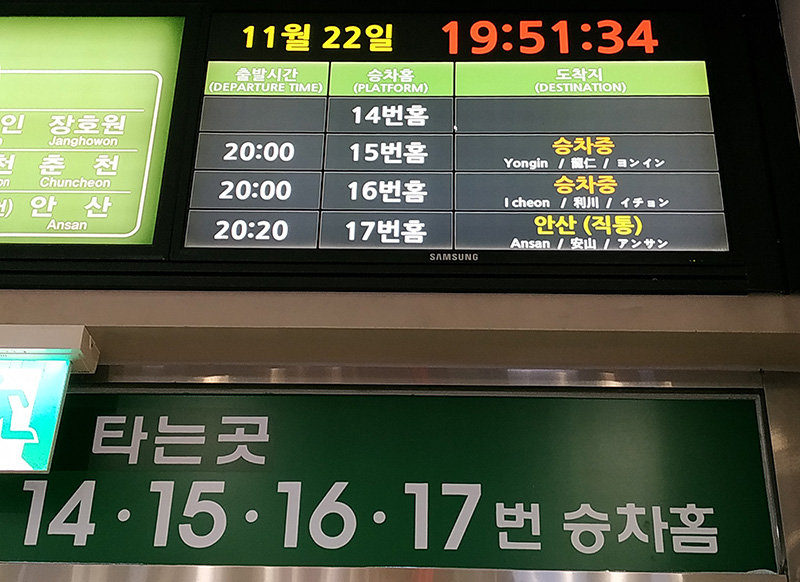 Not many people wait in this area unless there aren't enough seats inside or if it is one of the two major holidays. This image is pretty typical for larger bus terminals. Each platform is labeled by a sign above the buses. If a bus is under the sign, it is ready to board. Note that incoming buses drop off their passengers elsewhere and then the buses go to a parking area for cleaning before the next departure.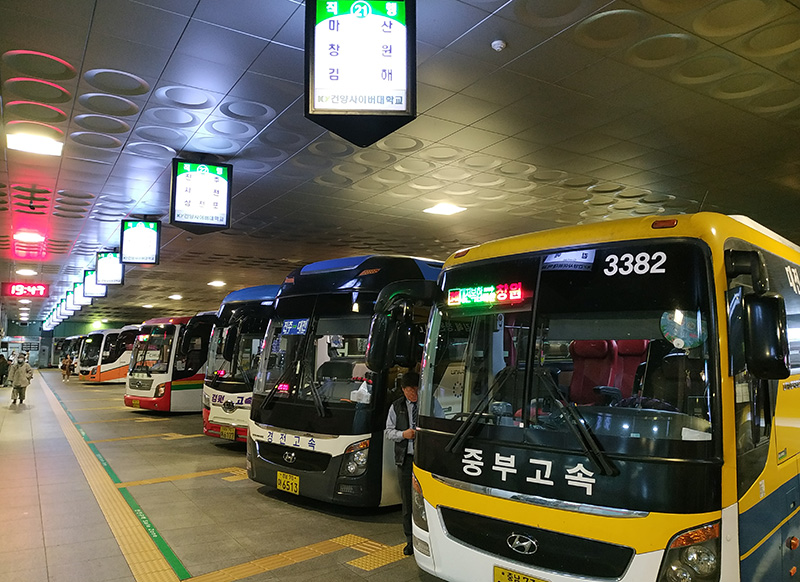 Here is a close up of the closest sign in the previous image. We can see it is platform 21 and headed for the cities of Masan, Changwon, and Gimhae.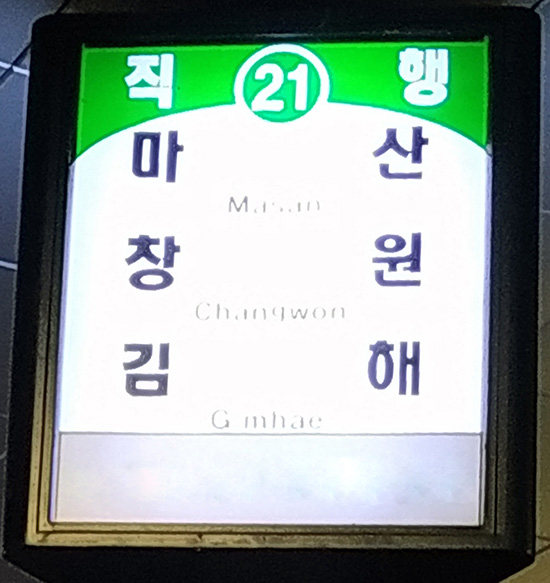 Not installed at all terminals is a line on the ground marked as 안전구역 (안전구역, 安全區域, anjeonguyeok) with English translation of Safe Zone. If you've ridden the subway system in Seoul long enough, you might have seen something similar with tape on the ground and these exact words. Despite this looking the same, this is very different.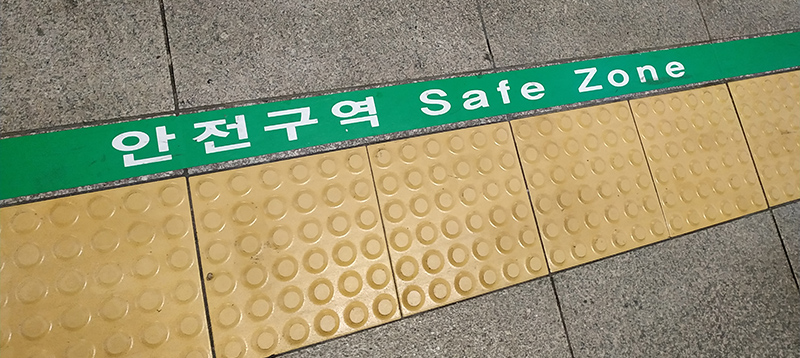 For the subway system, the Safe Zone is an enclosed rectangle in which passengers can stand and wait for the next train knowing that the space is specifically designed for peace of mind for uneasy passengers. Those Safe Zones have additional CCTV cameras and are theoretically watched over more than the rest of the platform.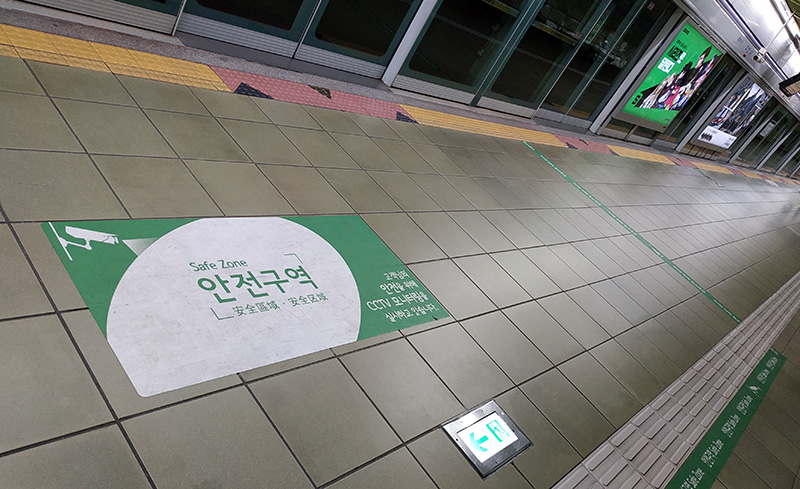 Safe Zones at a bus terminal is a single line on the ground intending to tell passengers to wait behind it while buses pull in. As shown in the image below, buses tend to roll their tires as close to the sidewalk as possible to help passengers more easily board the bus.