A digital certificate (공인인증서, 公認認證書, gongininjeungseo) is an electronic certificate stored on a smartphone, hard drive, and/or USB stick. Even if you have a security card or OTP, you will not be able to do electronic banking without one of these. It seems that all banks require this in order to transfer funds electronically, i.e., via smartphone or their website. Some banks require these for login while some let you use a separate ID and password. Here is the dual login system at KEB Hana's English website.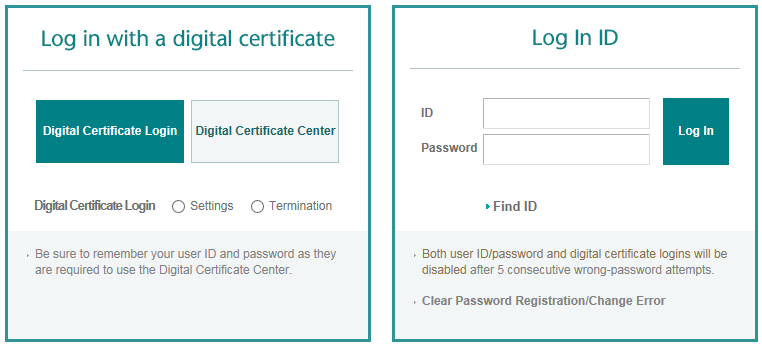 The law governing the usage of digital certificates is the Digital Signature Act. If you wish to read a translated version of the law in English, please click here to read it on the Korea Legislation Research Institute's website. It might be outdated as there is a delay from updates to laws and updates to the translation. Their website, available in Korean and English, is a great resource for reading Korea's laws. You can also find translations of laws on the Korea Ministry of Government Legislation's English website (MOLEG). Do keep in mind that when the Korean president changes, Ministries usually change their name and so this link may need to be updated at that time. For a few examples of Ministry name changes, please see our politics page. Here is a 28 page PDF version of the law from the MOLEG website. Keep in mind it might be out of date. When you see an English translation of a Korean law, it is usually copy-pasted from one of these two websites. Wikipedia also has a page called Electronic signatures and law with downloadable copies of related laws from around the world.
Digital certificates are backed by the Korea Financial Telecommunications & Clearings Institute (KFTC) (English website, Wikipedia page) which allows Yessign (English website) to provide them to the public. You'll see both of these names on occasion while doing banking online.
If you want to wire money to someone via an ATM, that is not a problem and you will not need this certificate. If you go to a physical bank branch and meet with a teller, you will not need this certificate.
In addition to logging in and transferring funds, you will also need to have a digital certificate in order to file taxes. The certificate is how you login to the Korean government tax websites. It also is how you prove your income, where you spent money, and what kind of deductions you can get – all of these things are connected to this certificate.
Certificates are valid only for one year and if you issue a new certificate on a different device, you might invalidate the initial certificate, i.e., generating one for your desktop and then generating one for your USB stick might invalidate the one on your desktop. However, this does not mean you can't have a certificate on multiple devices at the same time. In more recent years, when issuing a certificate on a PC, some banks will ask you if want to issue one on another device, such as a USB stick or smartphone. If you don't have your phone with you at the time, or if the process is confusing, that's okay as you can copy the certificate from PC -> phone and from phone -> PC. This is a copying process, not a migration. If the process to copy it through the banking website is cumbersome and if you can find the digital certificate file on one device, you might be able to copy-paste it to the other. This method is not guaranteed to work.

You can create a certificate for free or you can pay money to get a paid version of the digital certificate. For price and other related information on the paid version, you'll need to check your bank's website for details. If you are unsure which version to get, go with the free version as you can go to the paid version at any time.
As these certificates are your financial identity online, one person can have only one. Even though many people have several bank accounts, they cannot have several certificates; they can have only one certificate. If you have two bank accounts you will need to get it issued at one bank, and then register it at the other banks. The process can be troublesome, especially if you've never done it before, but it is possible.
To do any of these options, you'll need to go to your bank's digital certificate center. They will all basically have the same options, but their design can be very different. We will show two examples on this page, the first is the menu from Shinhan Bank.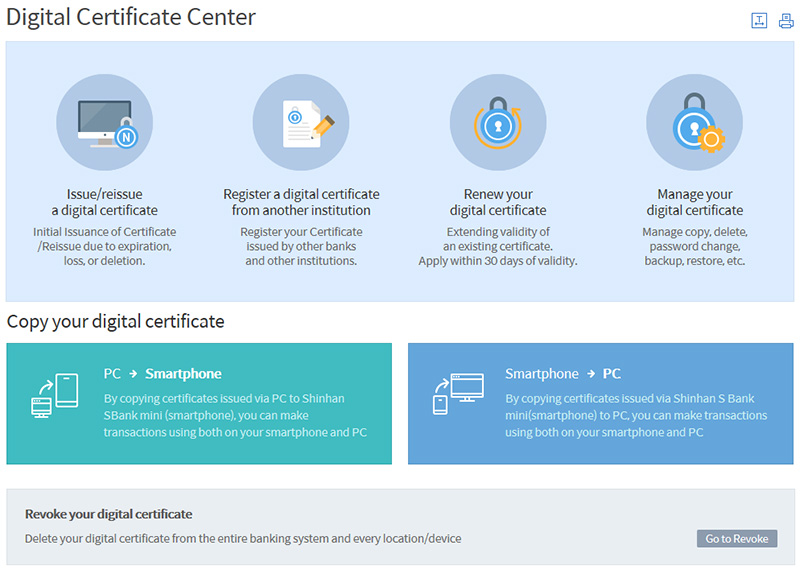 And in order to give a comparison, here is the digital certificate center in KEB Hana's website.