You might be thinking "why does this site have information on elevators?" And this is a common question as they seem easy to use and would presumably be the same anywhere you go. But there is some information worth knowing and spending a few minutes on these pages might save you some frustration or help if stuck in an elevator.
Elevators have been installed in most, if not all, subway and train stations and a large number of other buildings. Some older buildings have not been retrofitted and some privately owned residential villas and studio apartments do not have elevators. The word "elevator" is sometimes shortened to E/V on signs. As electric vehicles are also written as E/V, this might cause some confusion, but the term is usually written on the ground for electric vehicle reserved parking spaces. Here is a Here are some light switches which label the elevators as "E/V".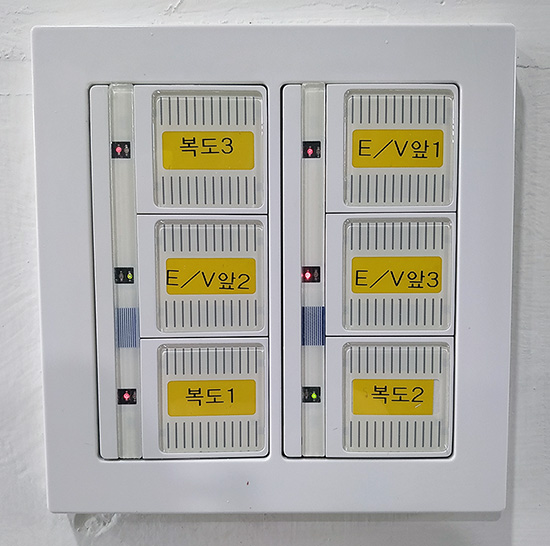 These potentially confusing elevator E/V signs are less common and seem to primarily appear in some subway or train stations. Most signs for elevators show a picture of people in a box and may forgo English.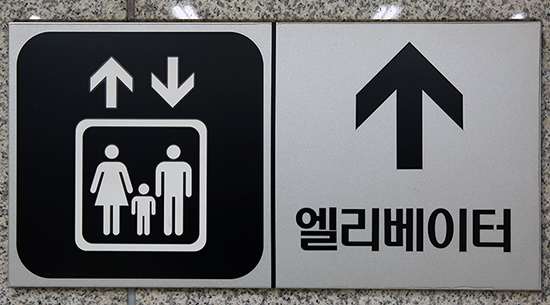 The ground floor is labeled as 1. Floors underground are labeled as B1, B2, etc. If you press the wrong button, don't worry and simply press it again to deselect it.

Frequently elevators frequently aren't linked together, which means if you push walk up to a group of elevators and push the "up" button, only the elevator nearest that button will come. This results in people pushing the button for all of the elevators and seeing which physically arrives first. If you've ridden in an elevator and it stops at a random floor but no one gets on and no one gets off, this is usually why. In the image below are several sets of elevators with three on the left and two on the right. They all visit the same floors and all function identically. However, the ones on the left are connected by a common set of buttons and the right are connected by their own set of buttons. If you push the up or down button on the left set, one elevator from the left will come. If there is an elevator on the right that is closer, you should push the up or down button on that side.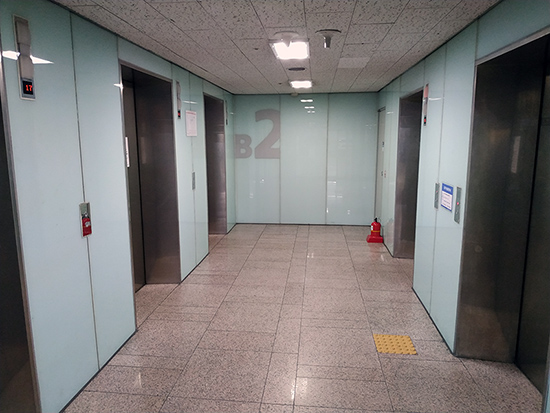 Imported from Chinese culture, the number 4 sounds similar to the word for death (사 and 사망, sa and samang, respectively) despite their hanja roots being different (四 and 死亡, respectively). In response, some elevators have changed the button to read "F" for "four".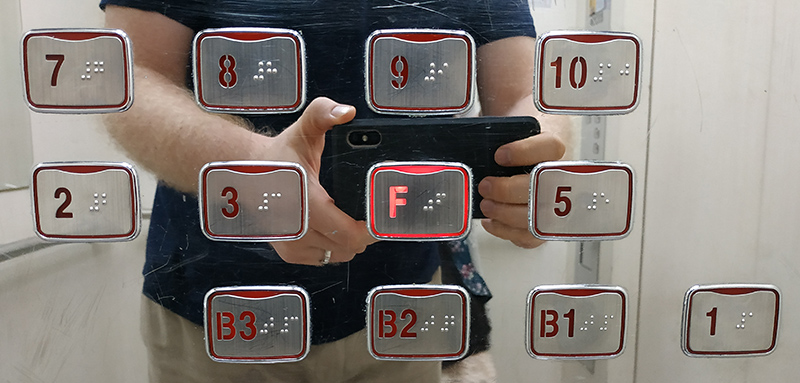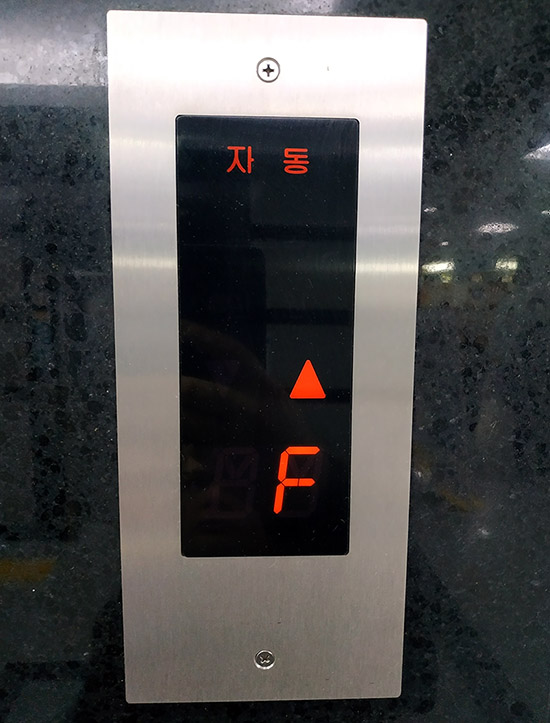 As superstitious patients don't want to live on the "death floor" some hospitals have removed the 4th floor completely, however the 14th floor doesn't seem to be an issue.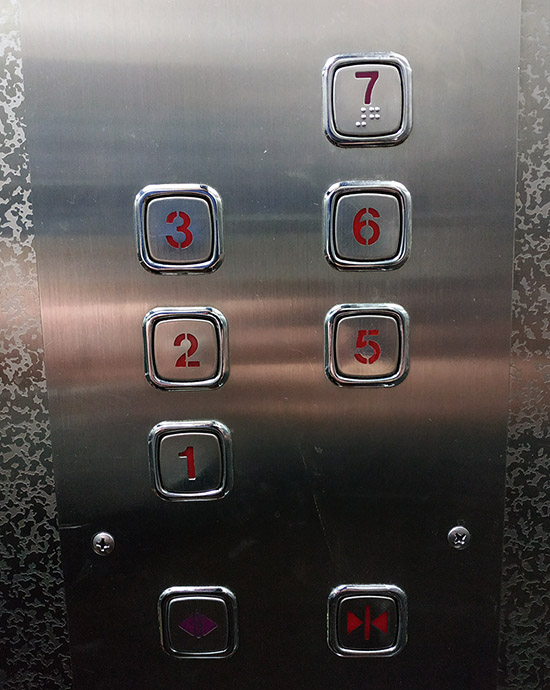 Speaking of death in hospitals, hospital mortuaries are always in a disconnected building to the side or rear of the main hospital structure. It is also common for hospitals to hold funeral services.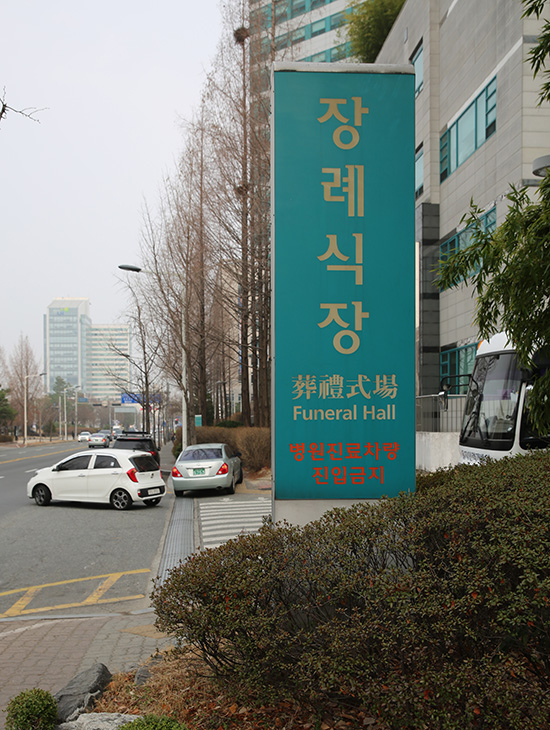 As people always seem to be in a hurry (see "빨리"), one of the most popular buttons is the "close door" button. Some older elevators in high use building with have a more worn "close door" button than that for the ground floor. Older elevators have the words 열림 (yeollim) for open and 닫힘 (dachim) for close and sometimes in blue and red, respectively. Thankfully most elevators you'll come in contact with have arrows instead of words.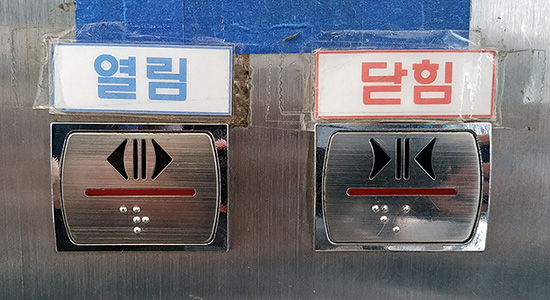 In some elevators you'll just see the words; they'll be the same color, and the font is slightly different so it might be more difficult to read than the above slips of papers that were taped.

Officially cited to save electricity or for safety reasons as those with mobility issues need more time to enter and exit, a number of elevators have disabled their "close door" buttons or delay their usage for around five seconds from the time the doors open. Disabling the close door button seems to be more common in rail stations and at certain university campuses. Usually the button is simply disconnected, but sometimes it is blocked or there is a little sign saying it has been disabled.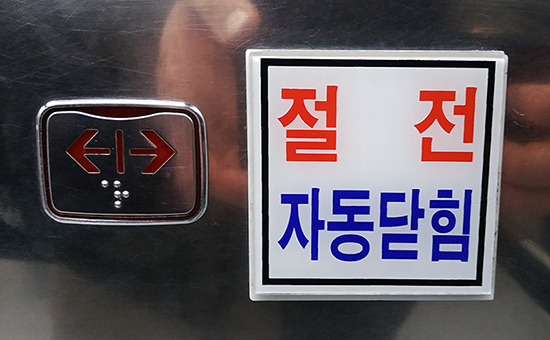 While some stations originally had wheelchair escalators installed at stairwells, this is becoming less common as it requires station staff to work the equipment, disrupts the flow of people, and an elevator is much simpler, easier, and faster. Most if not all stations have good elevator coverage in both the public and paid areas. Here is an image of a freestanding elevator at Seodaejeon Negeori Station in Daejeon. Sometimese elevators and stairs are located near each other, sometimes not.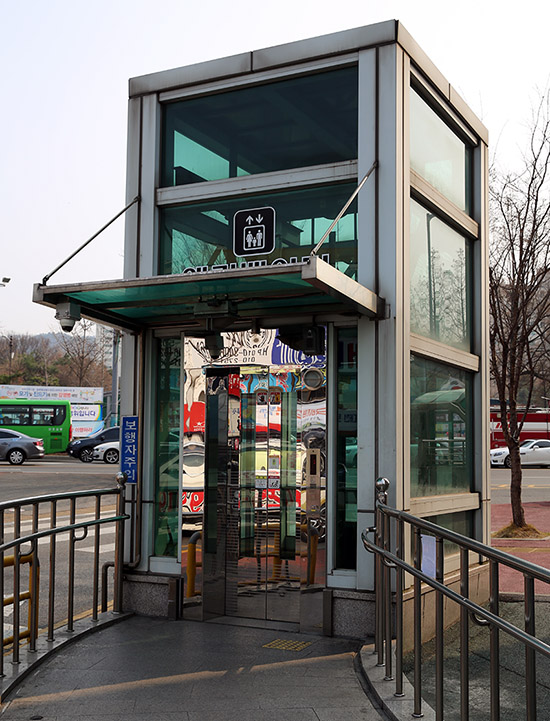 As these elevators are used by electric wheelchairs, there are some warning signs telling people to be careful not to hit the elevator doors as there has been at least one incident in the past.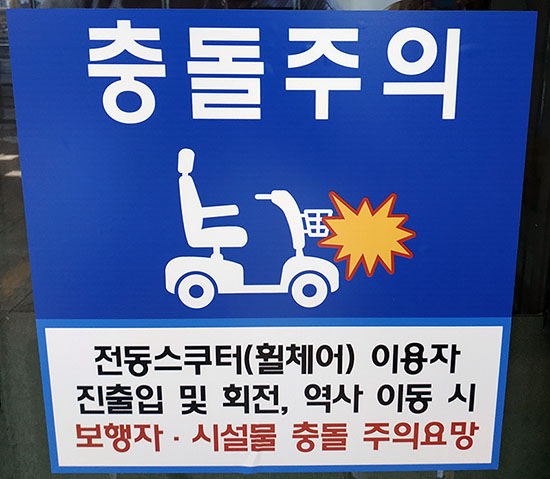 When you change homes in Korea, the easiest way to bring your things up and down floors will frequently be via an elevator, if there is one and if it is allowed. While villas will not have an elevator, apartments will. Depending on when the apartment was made and the rules of the apartment complex, you may or may not be able to use the elevator for your move. Reasons can include inconveniencing other residents for multiple hours, potential damage to the elevator through scratching and accidental impacts, and maximum size and weight restrictions of the elevator. The elevator on the left is protected with plastic and pipe foam while the one on the right has specialty made padding attached with magnets. If you want a closer look, click the image to see a larger size.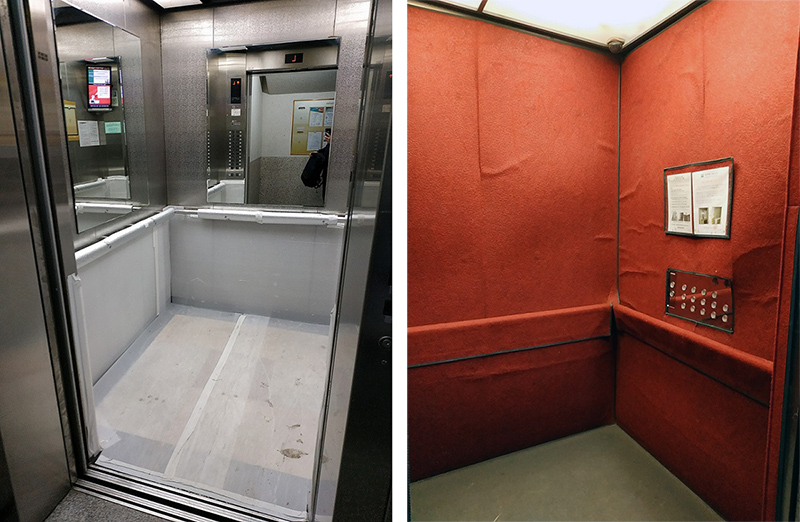 Simply said, when you are planning your move, you need to contact the building management and clarify whether you can use the elevator or not. If you can use the elevator, you or the moving company you hire, will usually need to place something in the elevator to protect it from scratches. If you are not allowed to use an elevator for moving, you'll need to rent a special truck with an elevator ladder and a moving team will move things through one of your windows.
If you stay at a motel, especially a cheaper motel, the room key return is sometimes inside the elevator. This gives additional anonymously as you don't need to visually see the staff at check out and also means they can hire less staff as they don't need someone manning the front desk at all times. Wording for these is not standardized but the word for "return" 반납 (返納, bannapo) does appear in both examples below.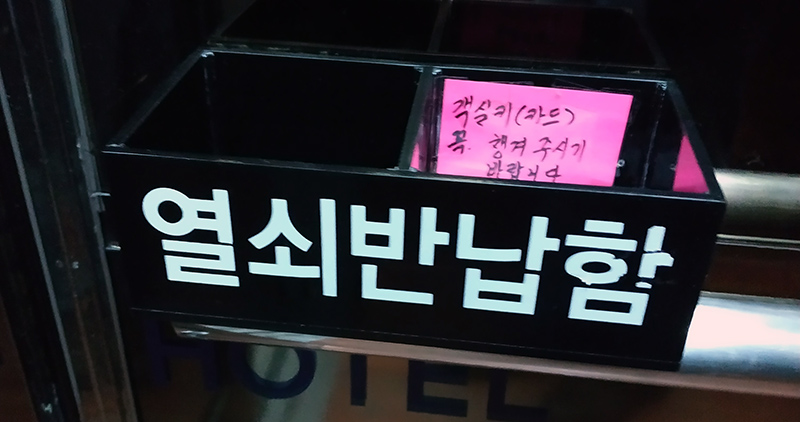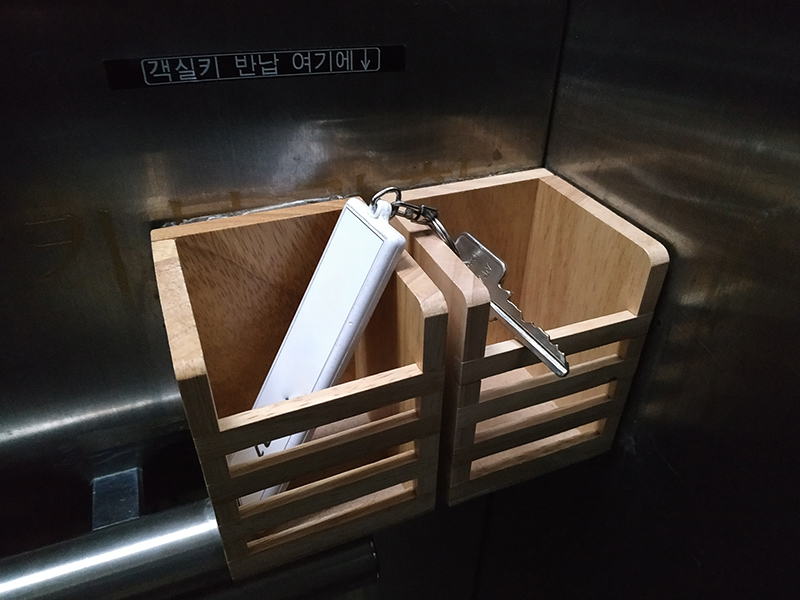 Rarely you might see 미운행 (未運行, miunhaeng) stating the elevator doesn't stop on that floor.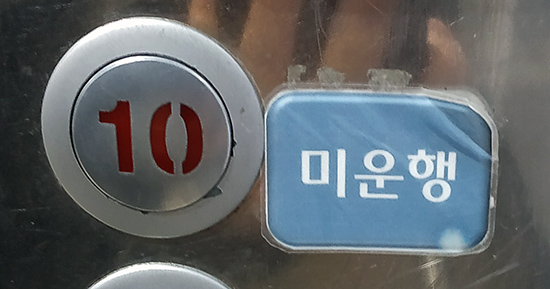 Some other words you might see would be 화문용 (貨物用, hwamuryong) which indicates a freight elevator. But chances are you won't see these unless you are curious and like wandering around.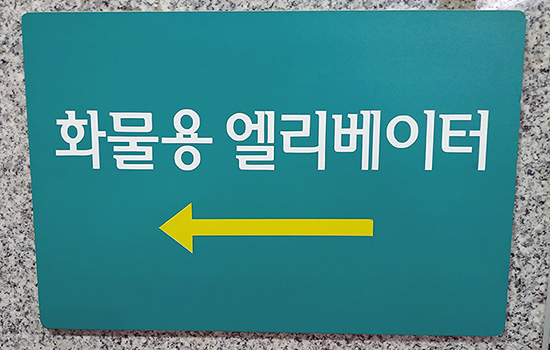 Here is another sign for a freight elevator with slightly different wording; 화문전용 (貨物專用, hwamunjeonyong) which can directly translate into "exclusively for freight."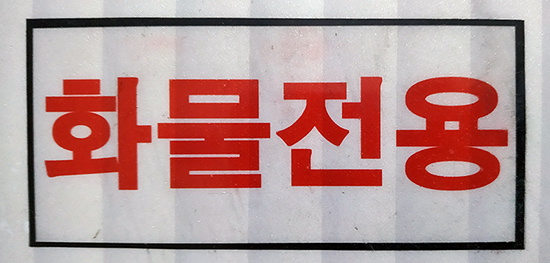 If you visit a hospital, you might see elevators dedicated for patients (환자용, 患者用, hwanjayong), with emphasis on those in wheelchairs or getting transported in a gurney. The sign also mentions 전층운행 (전층運行, jeoncheung unhaeng which means it stops on all floors.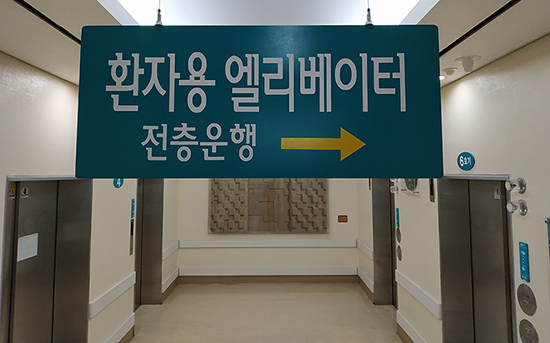 While we are on the topic of words, some elevators will only stop on even floors (짝수층, 짝數층, jjaksucheung) and others will only stop on odd floors (홀수층, 홀數층, holsucheung). This is a very unfortunate surprise if you have already entered the elevator, the doors close and everyone pushes their floor, except yours never lights up and the elevator skips your floor and leaves you someplace else where you don't want to visit. This first instance is lucky as they don't have words but simply show the numbers. The second example is harder as it only says 짝수층 (짝數層, jjaksucheung) for even floors and 홀수층 (홀數層, holsucheung) for even floors.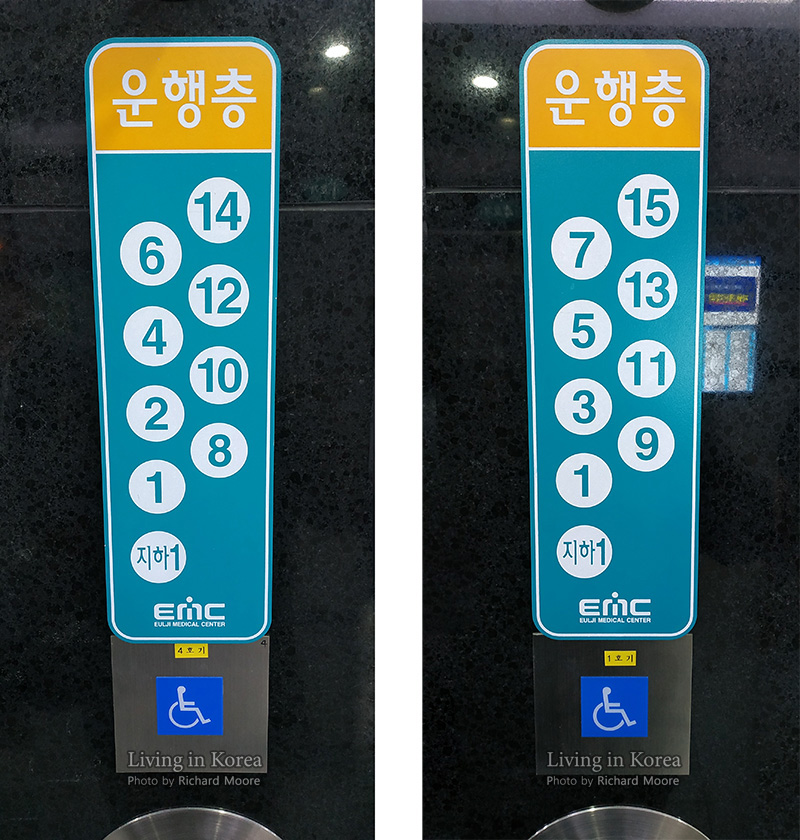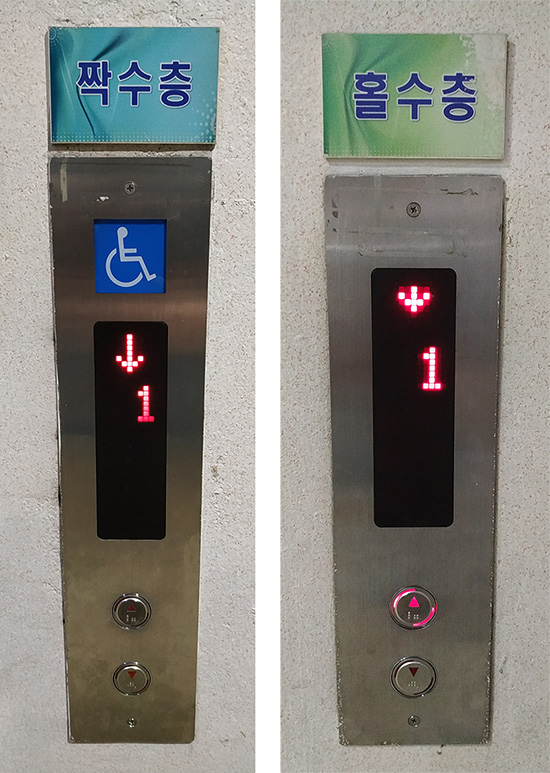 You can also see these words for even and odd for parking on occasion when the government is trying to reduce the amount of CO2 to lower the fine dust/particulate matter in the air (미세먼지, 微細먼지, misemeonji). To determine if you can enter a government parking lot, you'll need to know the last digit of your license plate. If the number is even, you can park on an even-numbered calendar day and odd number on odd-numbered calendar days. As the Institute for Basic Science is a government-funded research institute, it is subject to these kind of mandates. If you want a closer look, click the image to see a larger size.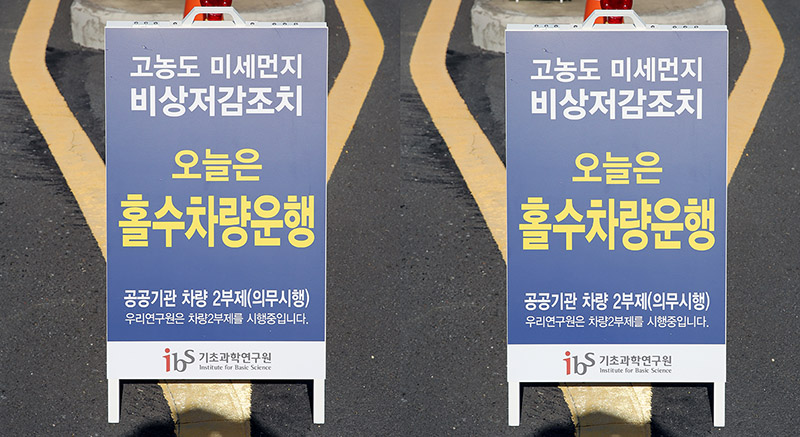 If you see this message, it means the elevator is undergoing certification testing and/or maintance. Try to find another elevator or be ready to take the stairs.