Almost every vehicle in Korea has a "dash cam" (블랙박스, beullaeng bakseu, literally "black box") installed at the front of the car and another facing out the rear of the car. Taxis are no exception and considering their high number of hours on the road, it makes even more sense for them to have several cameras installed in the vehicle. Frequently there is also a camera installed next to the driver and aimed at the rear seat. This CCTV-type of camera and microphone can be important if there is an issue with an ill-behaved passenger. The sign below is to inform passengers of these cameras, both external (외부) and internal (내부), and offers a phone number (redacted) to call if there is an issue.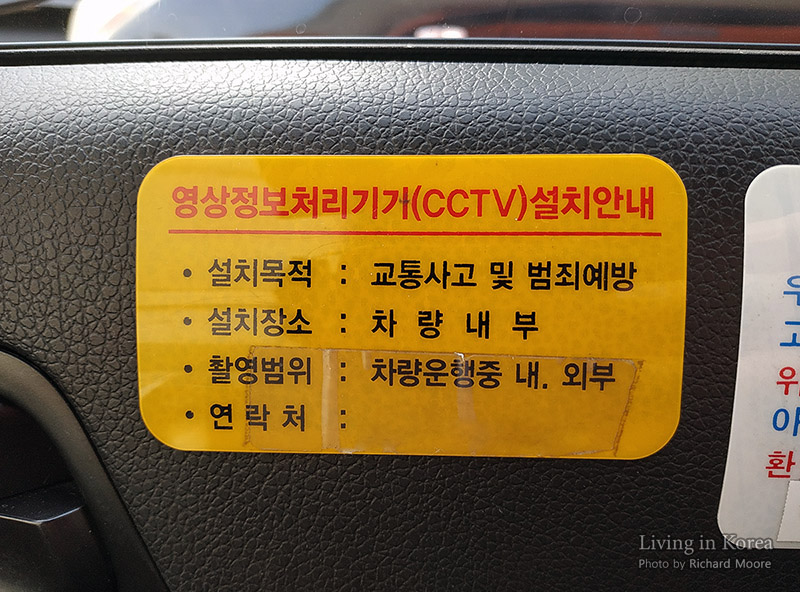 This next sticker shows the license plate, name of driver, and phone number (all redacted) for someone to call if you experience a problem with the driver. The phone number to the right is also available and the words at the bottom are to remind passengers they are not allowed to smoke inside the vehicle.

This last sticker is to let international passengers know that taxis need to charge only what the meter says. One exception is if you did a "call taxi" which might incur an additional fee. Another exception is if you went through a toll road – the driver would initially pay the toll and then pass the toll to you at the end of the ride.
If you have any dispute with the driver, this sticker tells you to call 120. Another option open to all individuals visiting or residing in Korea is to call the 1330 Korea Travel Hotline & Complaint Center. They support Korean, English, Japanese, Chinese, Russian, Vietnamese, Thai, and Malay. For Russian, Vietnamese, Thai, and Malay, the service is offered daily 08:00-19:00 and 24/7 for the other languages. If you are within Korea dial 1330, if overseas dial +82-2-1330, or call them through their app. The service is available for a variety of needs and will connect you to the correct service if they cannot help. For more information on the service, please click visit the Korea Tourism Organization's website. If it is an emergency, call 119.