Global Help Desk
The Institute for Science (IBS) gives all international employees free access to a service we call the Global Help Desk. Frequently shortened to GHD, this is a third party service which provides individual support via email and phone calls. We suggest you add their phone number to your smartphone and confirm it is current at the start of the year as it might change. Do not call GHD for emergencies. If you have an emergency, dial 119 and the emergency operator will get an interpreter from 1330 on the line to assist. More information on 1330 is on the page for other support groups. While GHD can only be used by international members of IBS, these other support groups are available for everyone.
The service is to help international IBS researchers to adapt to life in Korea and will help you when you need specific information or assistance on a wide variety of issues. If you do not work at an IBS Research Center, please visit other support groups to learn about the Korea Travel Hotline & Complaint Center and BBB Korea.
The Global Help Desk also sends out a newsletter, helps with special events for international members of IBS, and assists in filing Korean taxes in mid to late January. Please send them an email if you are working at an IBS Center and aren't getting the newsletter as they sometimes send out other announcements as well. Here is their flyer that has been sent out to individual Centers and will be added to the Portal system.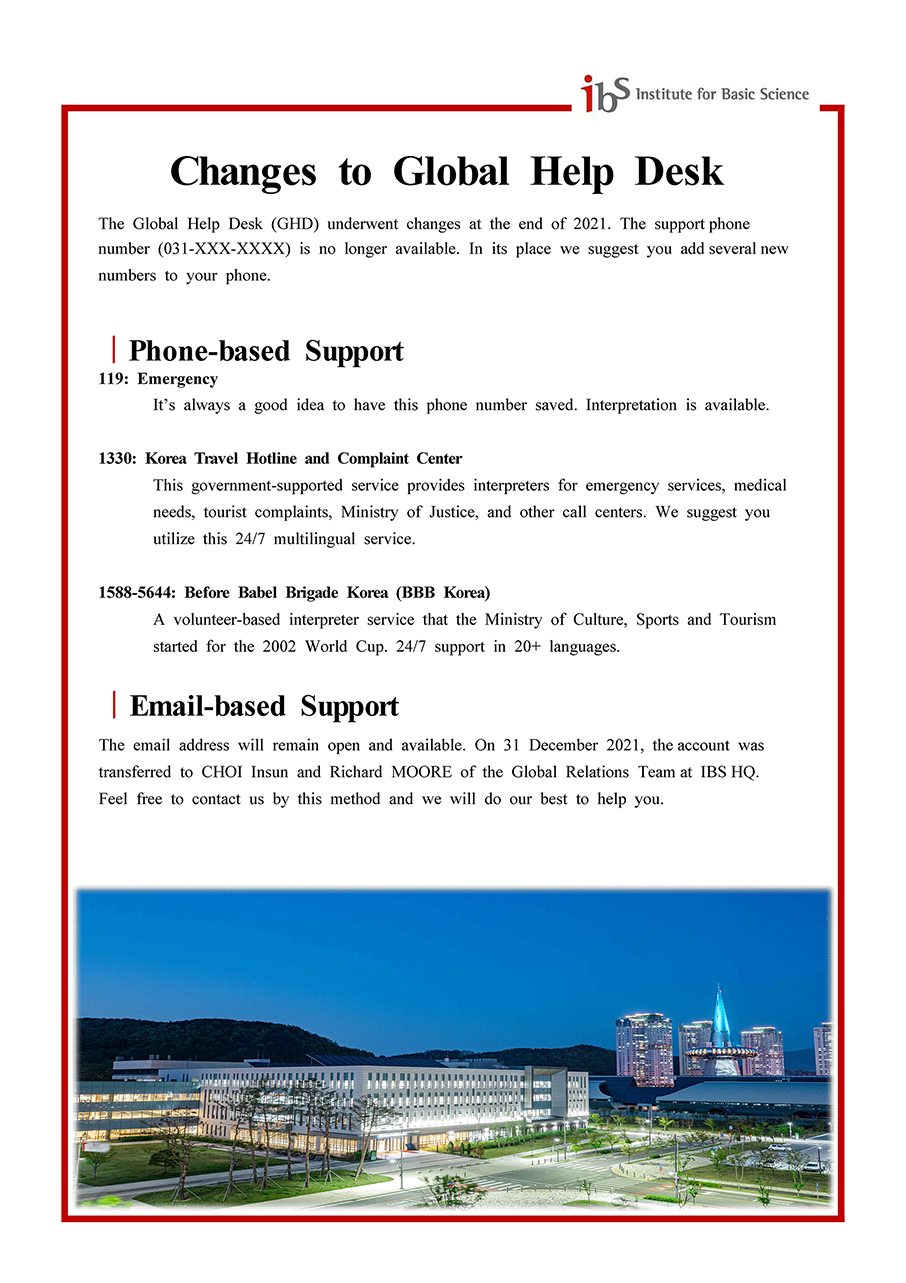 As this is a public website and GHD is only for the international staff employed at IBS research centers, we cannot post their email address or phone number here. But if you click here you can send GHD an email through this site. To find their phone number, log into the IBS Portal on your intranet computer or internet with IBS VPN, and look at the bottom of the page. There is a box labeled Help Desk and then Global Help Desk's phone number is on the last link. After finding the number, go ahead and add it to your list of contacts in your phone so you have easy access.