Summer will be the hottest time of the year with temperature and humidity both rising and many people will go on vacation. In summer, it can be easy to neglect getting enough nutrients to properly sustain ourselves, especially in the "dog days of summer" (Wikipedia). The dates vary from year to year, but usually twice in June and once in July, large numbers of the population flock to consume chicken soup with ginseng (삼계탕, 蔘鷄湯, samgyetang) or eel (장어, 長魚, jangeo) as these stamina foods give people more energy. The general term for these days is 복날 (伏날, bongnal) or 삼복 (三伏, sambok) which are divided into 초복 (初伏, chobok), 중복 (中伏, jungbok), and 말복 (末伏, malbok). The names of these three days are frequently written on calendars in small font. Restaurants that sell one of these dishes do incredible business as lines can easily go out the door. For a month-by-month overview of the year, including a list of public holidays, check out the calendar page.
Just like in any other country, excessive heat in summer can be deadly if people are not careful or do not have sufficient methods to get cool. This is why some community centers and local government offices are open, not just for their normal work responsibilities, but also to provide a cool place for residents to cool down. Summer of 2018 was particularly hot. Beyond expanding the purpose of these government offices, libraries also stayed open extra hours so they too could be used as places for people to escape the heat without raising their electricity bill or purchasing an air conditioner.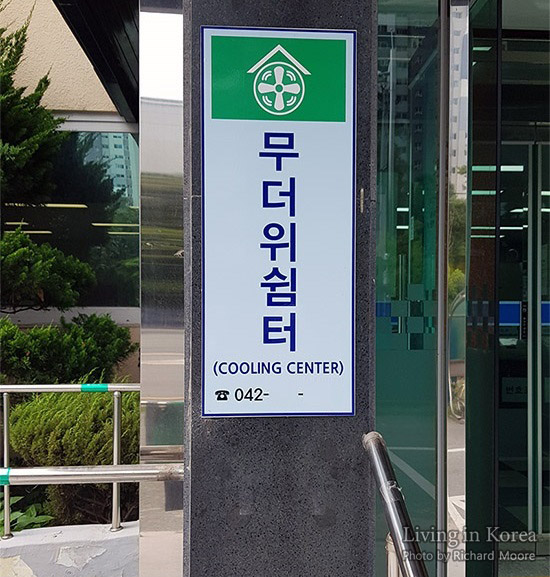 Some form of local government seem to the groups responsible for putting up sun shades near crosswalks at popular intersections. For the summer months these will be unfolded and available for use. When the temperatures lower to more reasonable levels, these are folded up and sometimes removed for the remainder of the year.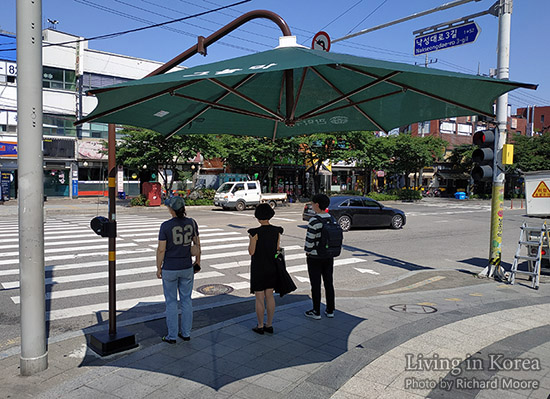 Fans - manual
Manual handheld fans (부채, buchae) are the cheapest and most compact option. Occasionally you can find a decorative fan and the fan in the image below was given as a gift to commemorate an event. You won't see many people with these nice fans as they look best unfolded on a desk as a decoration but still work well providing wind in hot weather.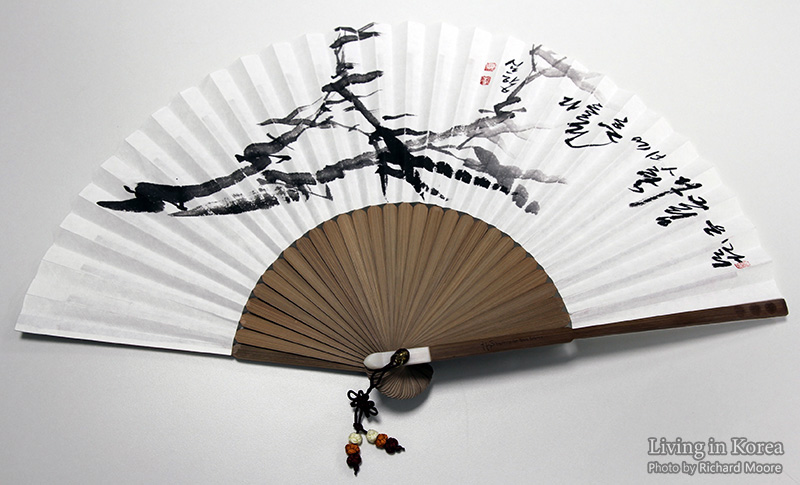 More common are these plastic fans that are given out as promotional items. Store opening, sale, special event, or for other reasons companies will bring out these fans and pass them out to anyone who will take one. Sometimes festivals will give them as semi-souvenirs which can be used during the festival. For legal reasons we had to remove the images on the fan. These can also be a fun gift for someone visiting Korea as the writing is almost exclusively in Korean.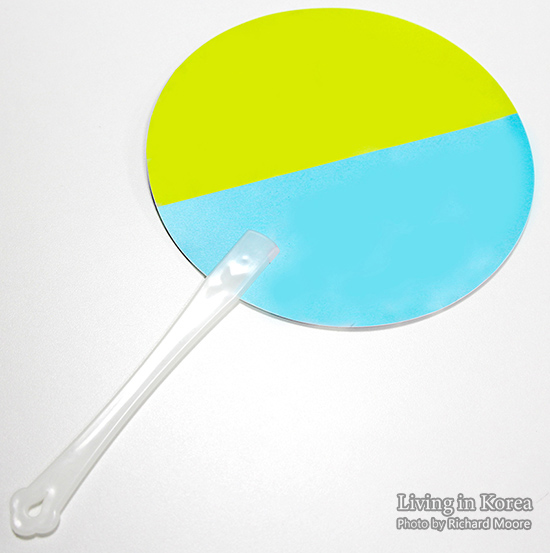 Fans - electric
Electric fans (선풍기, 扇風機, seonpunggi) are a cheap and effective way to cooling down. You can easily find three common sizes of fans at various stores when the temperature starts going up. The smallest are handheld size and either are battery powered or USB powered. If being able to change the wind speed is important to you, confirm if it has this ability before you purchase it.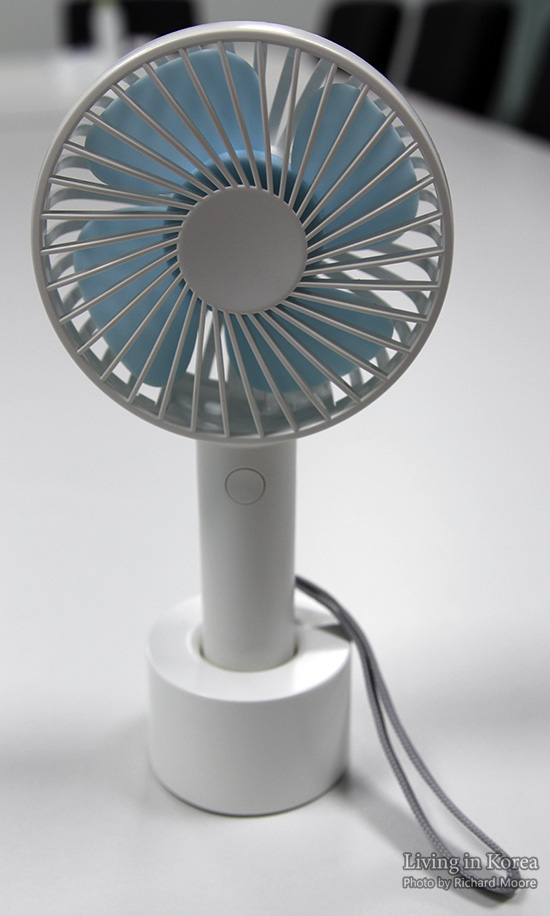 Very common in offices are desktop fans. They take up minimal space, have multiple wind speed settings, you don't need to buy batteries, and sometimes you can find an extra in the office you can use for free. This size is so common in offices that even in this picture you can see a second fan on the desk behind this one.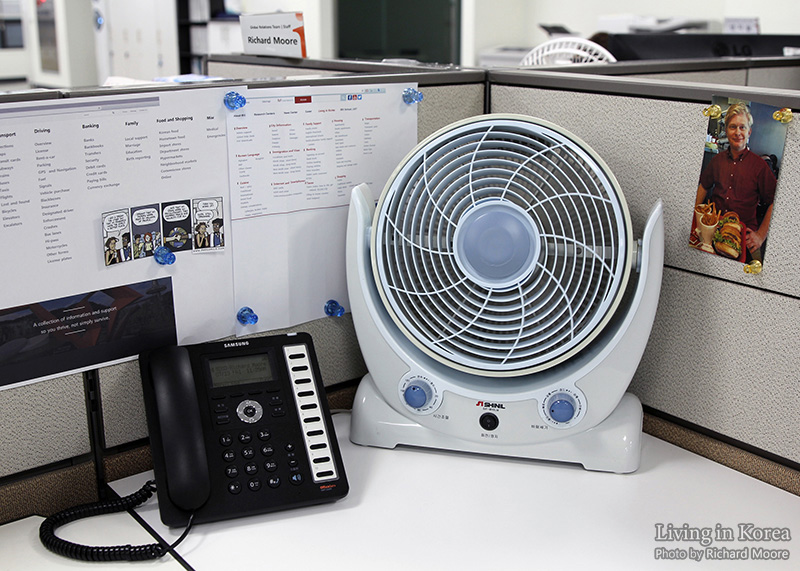 From this size of fan you get more knobs and options; wind speed and timer. On the left side of the image below we see the word 바람세기 (바람 世紀, baramsegi) to indicate how hard you want the air to blow. The strongest setting is 강풍 (强風, gangpung) and lightest is 약풍 (弱風, yakpung). The 풍 (風) is the same hanja as in 선풍기 扇風機 (fan) and the 강 and 약 are the same that you'll see on bidet toilets as well. The last option is 미풍 (微風, mipung) which changes the direction of the outer blades. The right side is easier as it just gives numbers.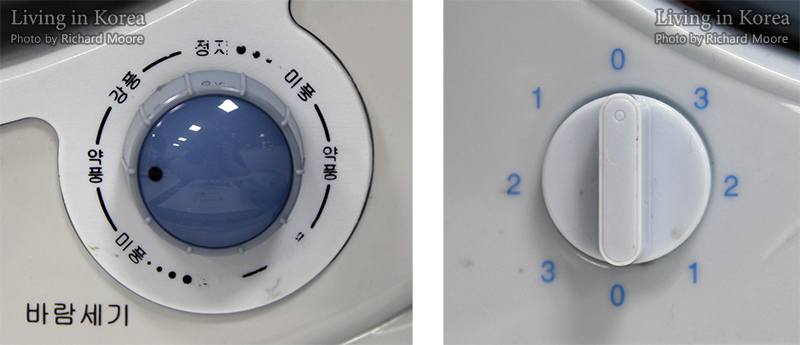 There is a unique idea on this peninsula concerning the use of electric fans while sleeping which has resulted in nearly all electric fans being sold with timers. Written below as 시간조절 (時間調節, siganjojeol) turning the knob clockwise sets the timer. Once it gets to 정지 (停止, jeongji) it shuts off. If you don't want to mess with the timer and just want the unit on, turn it to 연속 (連續, yeonsok).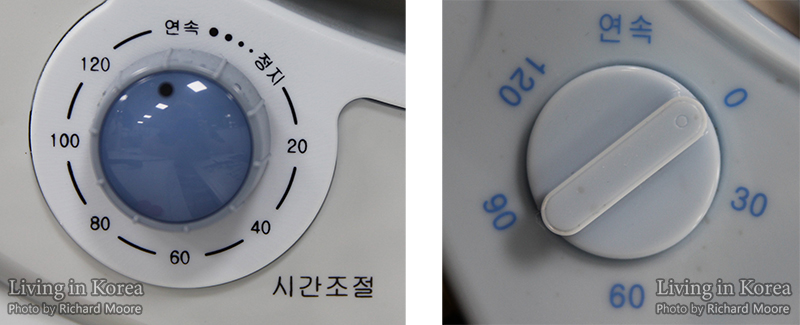 Standing fan can be 160 cm tall or can come in a slightly smaller size and fit well on counters. Here is a unit from a locker room but you'd easily see this in a sauna as well. Note the hair dryer on the right and the mirror on the left.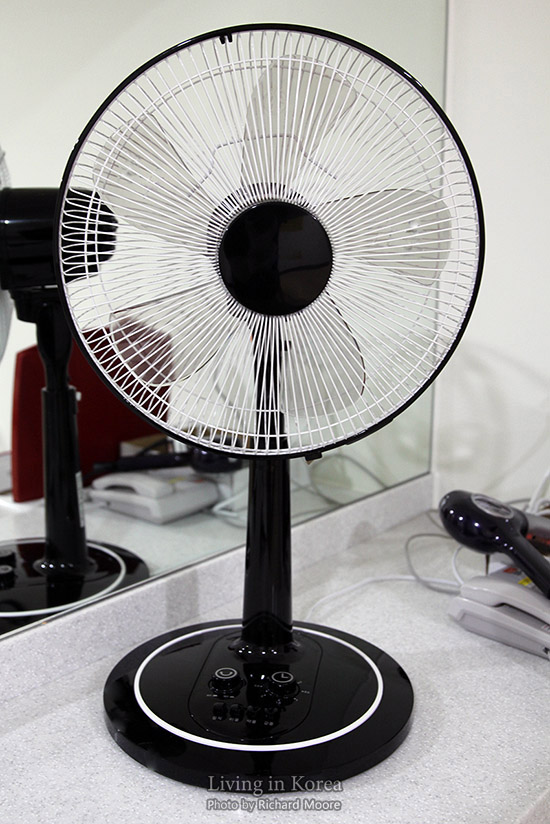 As these are just larger versions to desktop versions, expect the buttons to be the same. One difference would be a pull/push button behind the blades which controls pivoting.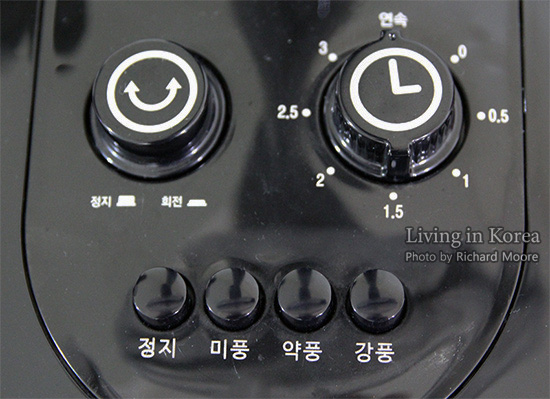 Air conditioners
If your residence has an air conditioner in the living room it will be a standing version. If there is an additional air conditioner in another room, it will be smaller and mounted on a wall. Next to or behind the unit will be an insulated metal pipe that goes outside. The wrapped pipe will be filled with a gas that moves the cold into your home. If you try to install an air conditioner in the summer you may be waiting a week as installers are incredibly busy in that season. If you try to get one installed in winter, you'll get a steal of a price if you buy one used. However, when installing the unit in winter, installers usually won't fill it with gas as the temperature affects the quantity of gas that can be inserted. If this is the case, they will give you a business card and you are to contact them in spring and they'll fill the pipe with gas. Again, don't want until it gets hot outside as you'll be waiting awhile.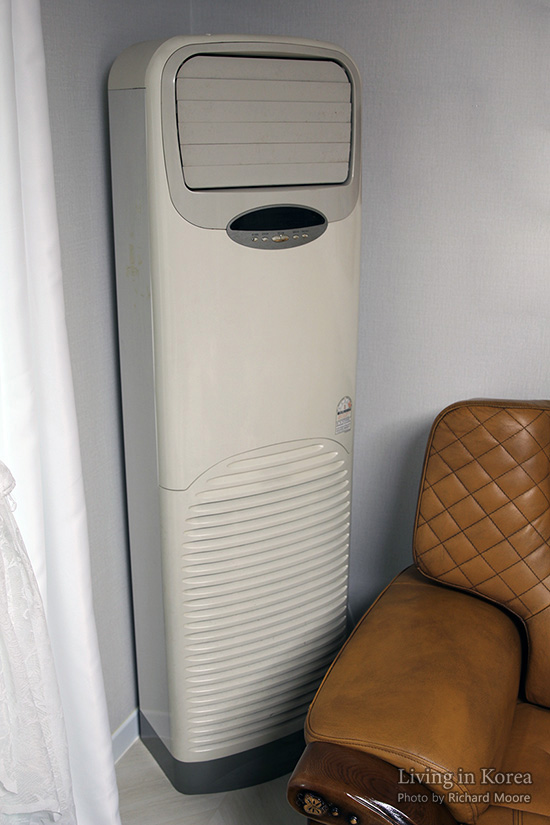 Confirm the people that installed the insulated pipe filled in the empty space in the wall with silicon (실리콘, sillikon), otherwise you'll be wasting electricity as outside air will continuously be flowing inside. If there is a space in the hole in your wall, contact your landlord to get them to fill it in with silicon. If you want to do it yourself you can buy some at a hardware store or some hypermarkets. The silicon itself comes in a long tube with a detachable funnel ending, comes in clear (투명, 透明, tumyeong) or white (백색, 白色, baeksaek), and you'll need a "silicon gun" (실리콘건) to squeeze it out.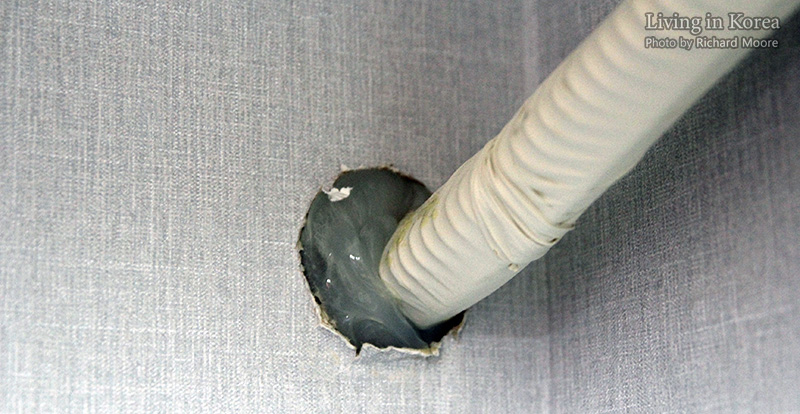 If your bedroom has an air conditioner, it will be a wall mounted unit. Just as in the living room, make sure the hole the insulated pipe goes through has been filled with silicon.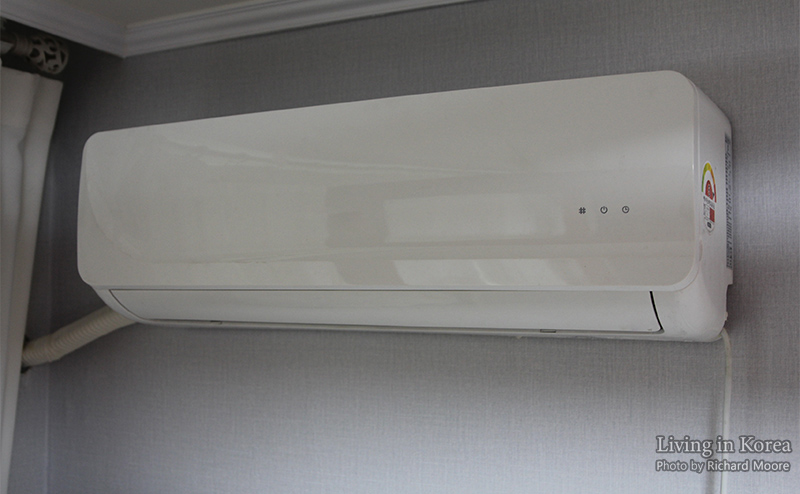 Standing air conditioners, such as found in living rooms, have buttons on the front and can largely be operated independently of remotes. Usually bedroom sized units don't have any buttons and need their matching remote control in order to function or do more than turn on and off. Replacement remotes can be purchased but can be a hassle. Despite different makes and models having different designs and different remote controls, you will see common buttons. This includes the remotes for motels which sometimes combine buttons for the air conditioner, TV, and lights all into one very long remote control. If you want a closer look at the images below, click one to see a larger size.
운전/정지 - (運轉/停止, unjeon/jeongji) On and off
온도조절 - (溫度調節, ondojojeol) Temperature up or down. Degrees are in Celsius and the lowest is normally 18.
풍량선택 - (風量選擇, pungnyang seontaek) Strength of wind.
강…약 – (强...弱, gang...yak) Strength of wind from strong (강, gang) to light (약, yak)
풍향선택 - (風向選擇, punghyang seontaek) Direction of wind.
공기정화 - (空氣淨化, gonggi jeonghwa) Air purifier function.
운전선택 - (運轉선택, unjeon seontaek) Select other options.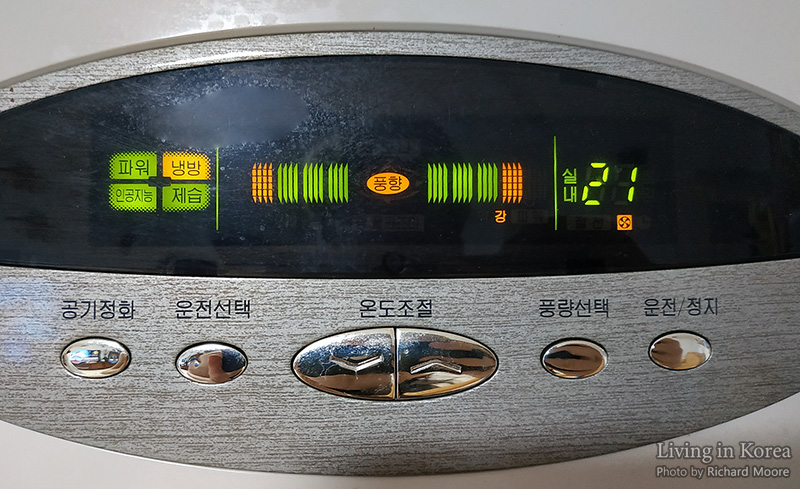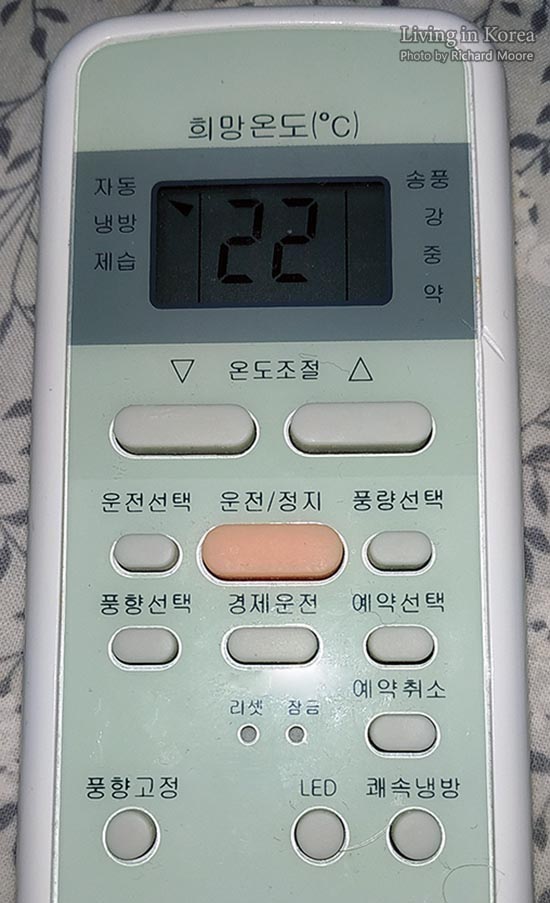 Ice packs
Ice packs are a wonderful way to cool down in the summer. The term in Korean is 아이스팩, which is a loanword of "ice pack" so it is easy to remember. Ice packs are good to have in case of injuries, and if you purchase something online that needs refrigeration, it will come with some ice packs as well. If you are hot and sitting at your desk, grab an ice pack and put it between your back and the back of the chair, under your legs, or near your left armpit so it can cool the blood near your heart and cool you down from the inside.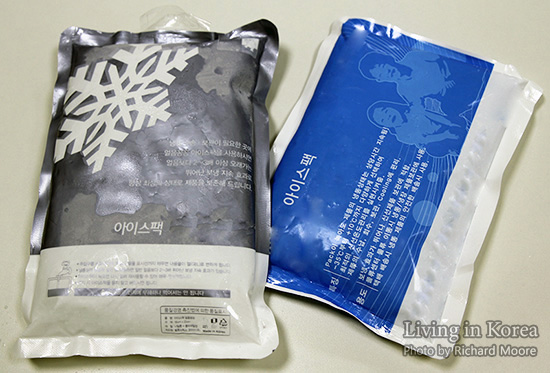 If you don't have an ice pack you can get a water bottle (물병, 물甁, mulbyeong), pour out a bit of water from the top so the ice won't overflow, remove the label so the cool can more easily transfer to you once they are frozen, and put it in the freezer. Another option is to get a plastic bag and put some ice cubes in it. Cheap and if you already have ice cubes ready, it is ready instantly.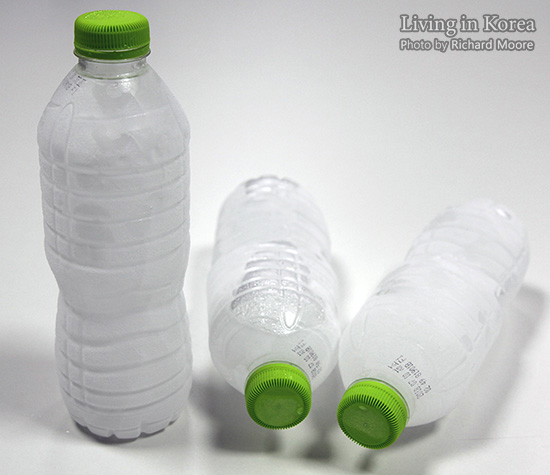 Called a "cool 스카프" which is the loanword "scarf" but different brands might use different names, these come in flat packages and appear to be nothing but fabric. But at certain spots inside the fabric are dehydrated gel packs. Get the gel packs wet with water, put it in the freezer, and the gel will hydrate, expand, and freeze. It might take a few cycles to get the gell fully hydrated and enlarged.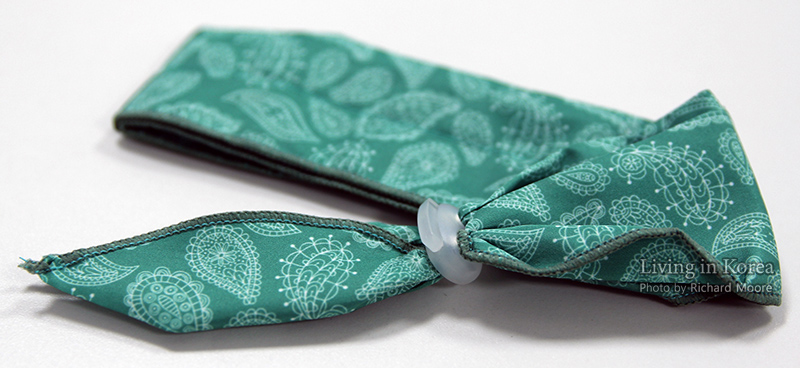 Next pull it out of the freezer and tie it around your neck like a thin summer scarf. You may need to get it a little tight so the frozen gel packs make good contact with the back of your neck. Not the most fashionable of items, but they do help cool you down.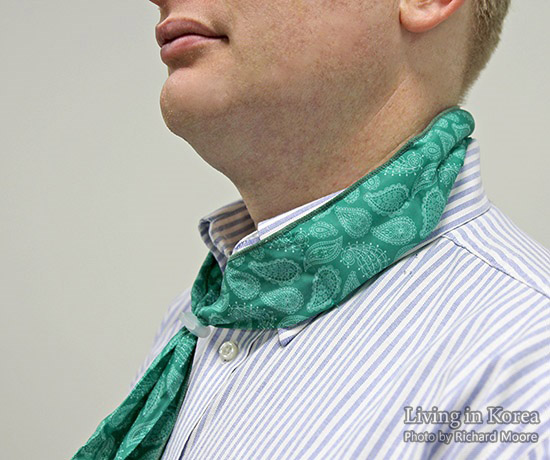 If these options are all on the small side, you'll need something bigger. Difficult to find but well worth it if you need it, are massive cooling pads large enough to sit on and thick enough you can sit on without fear of breaking. Toss it on the floor at home, put it on your chair at work – you have options to keep you cool. Requires an equally large volume of space in your freezer to chill, but if you need something this size then you'll find a way to make it fit.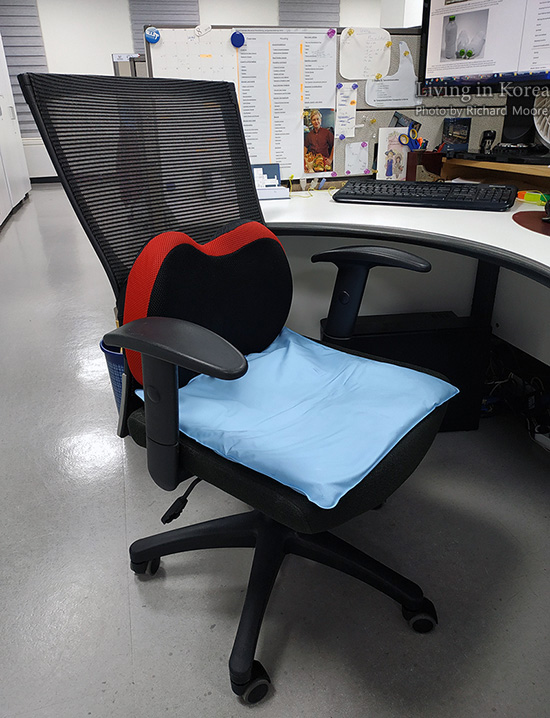 Bamboo bedding
If you want more natural cooling devices, or want a lower electric bill at the end of the month, you might opt for bamboo as it is naturally cool. There are several bamboo products that you can use in your home what help to cool you down, specifically when you are trying to get some sleep.
Standard pillows (베개, begae) are easy to find but there are some more unique pillows you may occasionally see. If you want more neck or head support you can get ones filled with red beans (팥베개, patbegae) and lesser common are ones with uncooked rice (쌀베개, ssalbegae). Some pillows have bamboo placed on the outside (대나무 베개, daenamu begae) which help cool the user in summer months.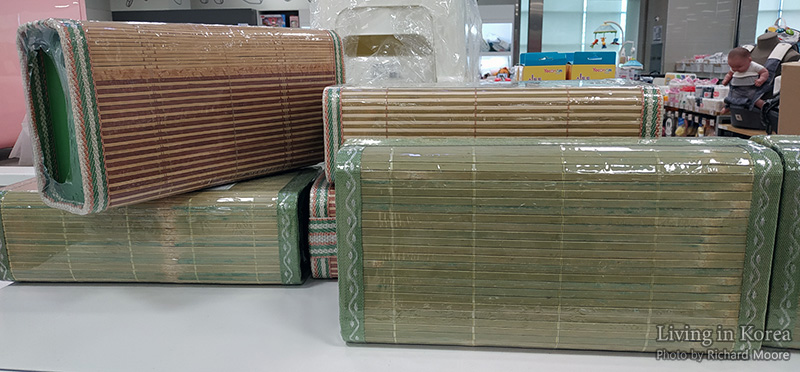 A bamboo wife (죽부인, 竹夫人, jukbuin) sometimes called Dutch wife is also used in summer months. It is constructed of bamboo weaved into a long pill shape which is big enough to hug much like a sleeping companion. The bamboo is cool and the opening help to aid in air flow all in efforts to cool the user. They are available in large supermarkets when the temperature starts going up and they are sold in a number of countries (Wikipedia).

If you look online or at a bedding store (이불가게, ibul gage) you might find some clothing or other fabrics made with bamboo fibers.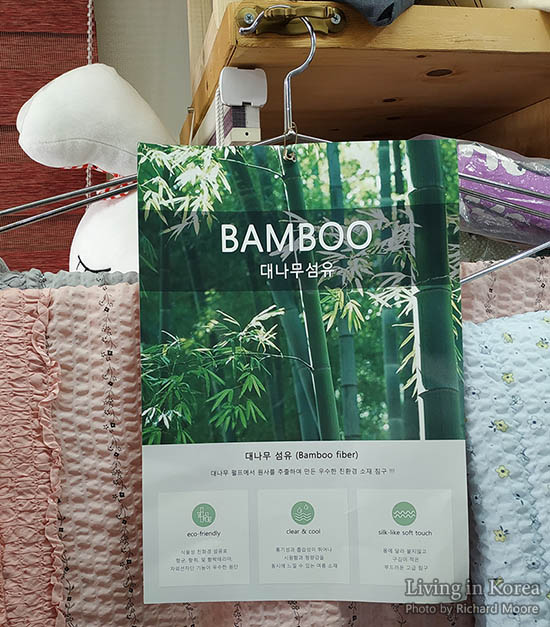 Humidity
Summers in Korea are humid. If you aren't used to high humidity then you'll have a bit of a learning curve that we'll try and cut down a bit. Trying to do laundry can be a bit more difficult as they don't get dry and quickly and can smell a bit like mildew if they don't properly dry. Before you do a load of laundry, check the weather report to see what the conditions will be like the rest of the day. If humidity is high, then hanging clothes to dry in your veranda is not the best idea.
If you need to do laundry anyway, consider having it dry inside your home, open all the windows for air flow, and put a fan on the clothes to assist in drying. If you have a dehumidifier (제습기, 除濕機, jeseupgi) you could put it under the clothes drying rack and that will truly speed up the process and avoid the mildew smell. Another option is to wash your clothes in a coin wash as they have clothes dryers. Dryers in homes in Korea have been very rare but in recent years have become a coveted item simply for laundry freedom on humid days.
A good method to remove moisture from your bedroom sock drawer or other small enclosed areas is with moisture absorbing products. A popular brand is 물먹는 하마 (물먹는 河馬, mulmeongneun hama, literally a hippo that drinks water), but other brands exist as well. Known generically as 제습제 (除濕製, jeseupje) these products are frequently sold in a plastic tub shaped container and come sealed with a thin plastic layer that must be removed before they can suck the moisture out of the air. Be careful to only remove that thin, typically gray layer, and not the white layer under it. That underlying white layer helps to keep the moisture in the container. After some time has gone by, water will collect inside which you can hear when you shake the container. To dispose of the collected water, cut one or two holes in the white layer as two holes help to drain it faster, empty the water into a sink, throw away the white layer and recycle the plastic tub.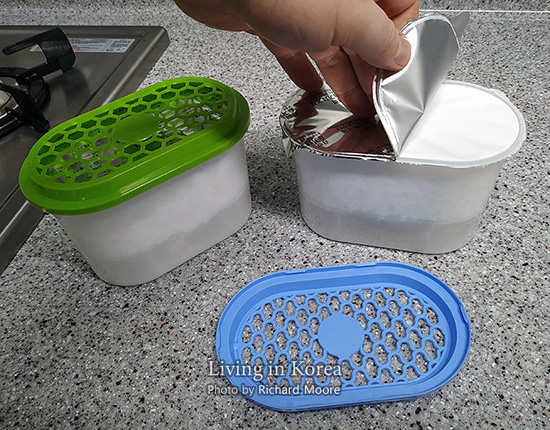 Sun's rays
While most items on this page are designed to protect you from the heat, don't forget about UV protection. UV protection is built into some hats and other cloths, but the best ultraviolet protection is with sunscreen. Using sunscreen will protect you from getting tan and/or burned by the sun. Many people here don't want to get tan let alone get an actual sunburn. Taken to an extreme, skin cancer is very rare in Korea. Getting sunscreen isn't difficult but the term might be a little confusing as it is a loanword of "sun + cream" (선크림). The loanword sunblock (선블록) does also exist but is not nearly as common.
Mosquitos
If you have lived with mosquitos (모기, mogi), this is nothing new. The summer has small sized mosquitos that like to bite people. Your residence might hire a company to spray for mosquitos with either a liquid spray or a gas. The first image below shows a worker spraying liquid mosquito pesticide from a truck. The second image is a parked truck that can spray mosquito pesticide as a thick white gas. If you home is only accessible by alleys, then these gas jets you see on the truck will be mounted on the rear of a motorcycle so it can spray areas inaccessible by truck.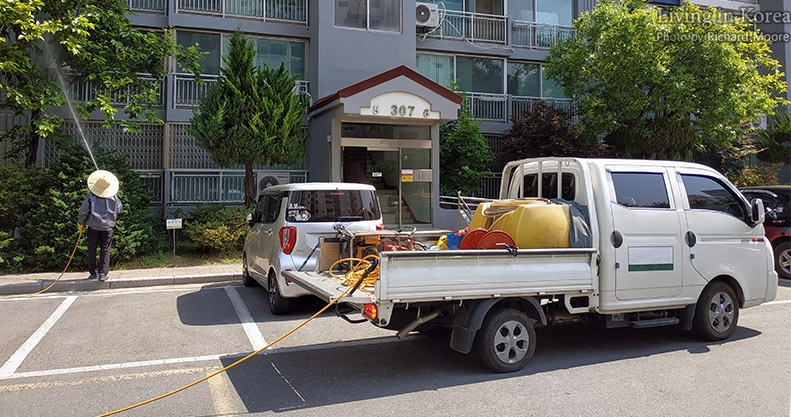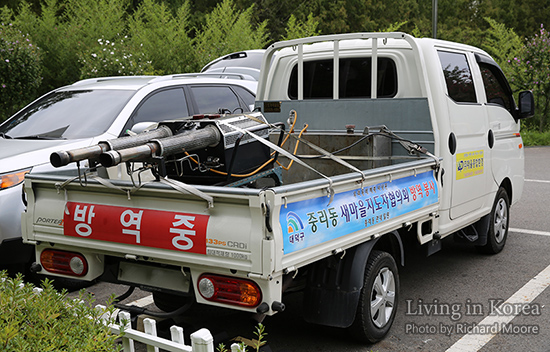 Either case, if you know they are going to spray, make sure you keep your windows closed as you don't want those chemicals going into your home. Apartments will normally tell residents ahead of time for this very reason. If you live in a smaller building, such as a villa, you may not get advanced notice.
If you want to get your own mosquito spray, it is called 모기약 (모기藥, mogiyak). The 약 at the end is something you'll see with drugs, both legal (약품) and illegal (마약), pharmacies (약국) and also with poison (독약). It is quite the versatile word. The spray is available in large bottles and you can find various types, including for mosquitos, cock roaches, and flies. 모기약 is commonly sold in neighborhood grocery stores and the term in Korean normally refers to the spray but that term can be used for any of the other mosquito repelling options. If you want a plugin version you can pick up 모기 매트형 (모기 매트 型, mogi maeteuhyeong). Mosquito coils (모기향, 모기香, mogihyang) are also sold in some stores but are dropping in usage due to their scent. Electric fly zappers (전기모기채, 電氣모기채, jeongimogichae) also appear in stores on occasion.
Here are several brands of sprays and plugins we found at a pharmacy but don't expect to see the coils or electric zappers for sale at a pharmacy. If you want to see the images and words more clearly, click the picture to see a larger size of that section.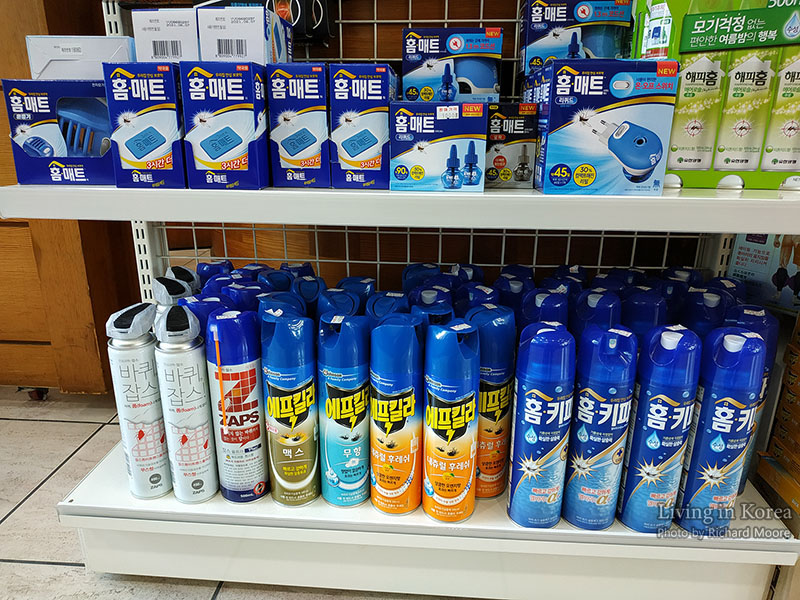 Fly swatters aren't very common unless they are the electrified version. These have a rubber layer in the middle so it is hard to get yourself shocked, but don't put it to the test. Works very well against flies as well. You'll see two slightly different names for electric swatters with mosquito (모기) or fly (파리) written in the middle; is 전기 모기 채 (電氣 모기 채, jeongi mogi chae) for mosquitos and 전기 파리 채 (電氣 파리 채, jeongi pari chae) for flies. In all actuality, these are the same thing.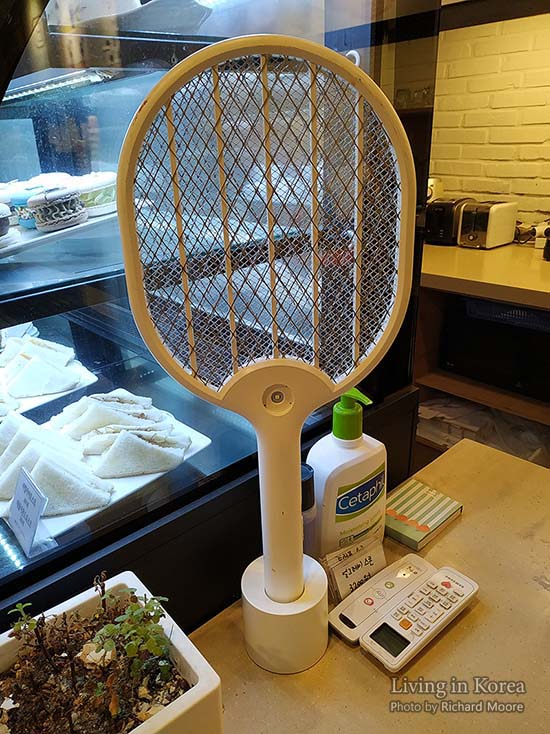 End of summer
When summer is over, it will be awhile since you'll use your fan or an air conditioner again. To keep them free from dust, some people cover them in the off seasons. Not every unit is sold with these covers, and they are easy to get lost in a move, but if you have one you might as well use it to save yourself some cleaning efforts when things heat up again. If you are sensitive to dust, covering these items might save you some real grief nine months from now.