Bathrooms in homes have a sink, medicine cabinet above the sink, a shower consisting of a shower head on the end of a long, flexible metal hose, and a Western style toilet. Some family sized homes have a bathtub and it is very rare for bathtubs to exist in homes designed for single person occupancy. You will step down a small step into bathrooms as this height difference ensures shower water or overflowing toilets stays within a bathroom and drains down the large drain installed in the floor. Having a drain in the floor aids in cleaning the facilities as water can be sprayed basically everywhere and then gravity pulls it out of the room.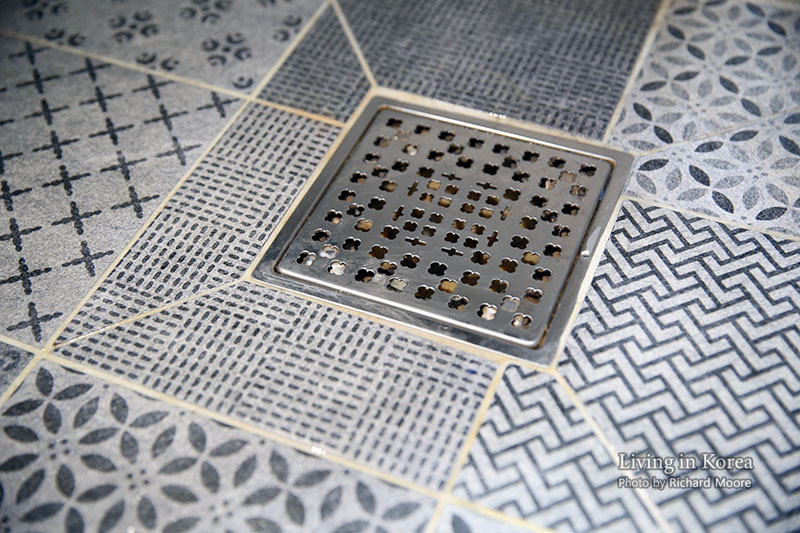 As the entire bathroom is the shower, shower curtains are very uncommon even if there is a bathtub or a dedicated shower section of the bathroom. As they are uncommon, when these plastic curtains came into Korea their name is a loanword and are written with the phonetic spelling 샤워커튼.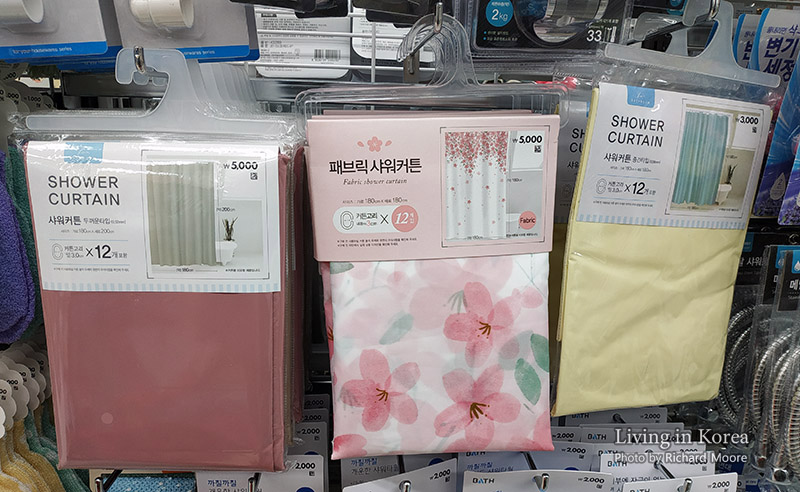 Do make sure that the electrical socket has a protective water cover with two holes just big enough for power cords to pass through them. If your socket doesn't have this water cover on it, tell the real estate agent you require it be changed before you agree to sign a contract. Smaller changes like this can be easy to negotiate for, but larger priced items, such as changing wallpaper, can be more difficult.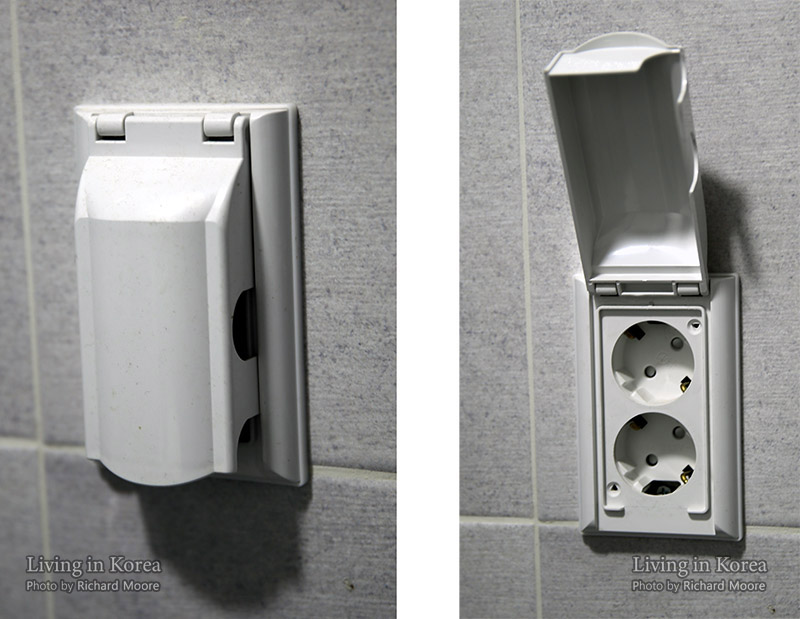 Sinks and Showers
There are two types of plumbing for hot water and it is good to confirm which type your home has. Some apartments and taller buildings typically have a shared hot water system where you simply turn on the hot tap and wait for hot water to reach you. In older style apartments this shared hot water system can be detected if there is a building resembling a smokestack which generates heat for both flooring and water for all tenants. The picture below is an older style unit outside of an apartment complex. Modern apartment buildings have a heating unit in the basement of each individual building; water is closer which reduces waste and waiting time as tenants wait for their hot water.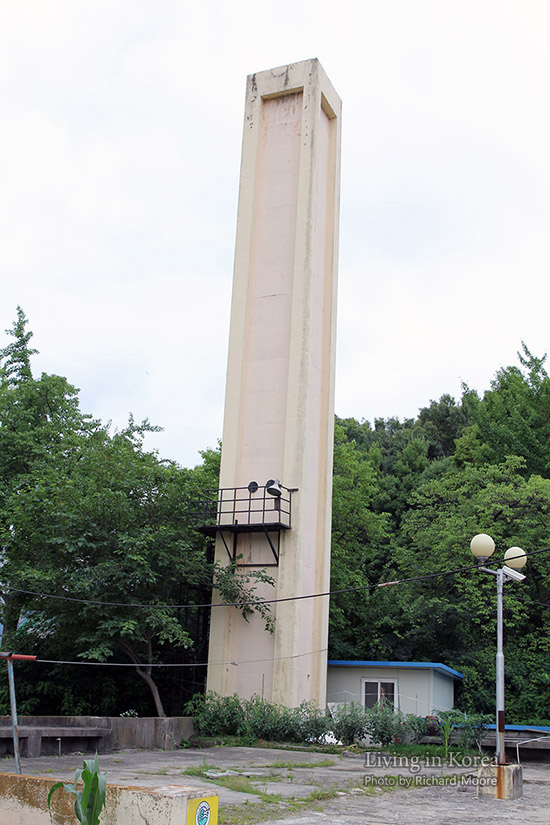 The other type are tankless water heaters which heat water on-demand for the shower and/or floor heating. These are controlled by a control unit in the bedroom and the water heating section is in your veranda.
The hot and cold taps in sinks are connected so a single stream of water comes out. If there is a bathtub, the shower nozzle is connected to the plumbing there. If there is no bathtub, the shower nozzle is connected to the sink with one of two styles; a usually twisty type that directs water regardless of water pressure or a pull type which only sends water to the shower head if there is sufficient water pressure in the system when it is pulled.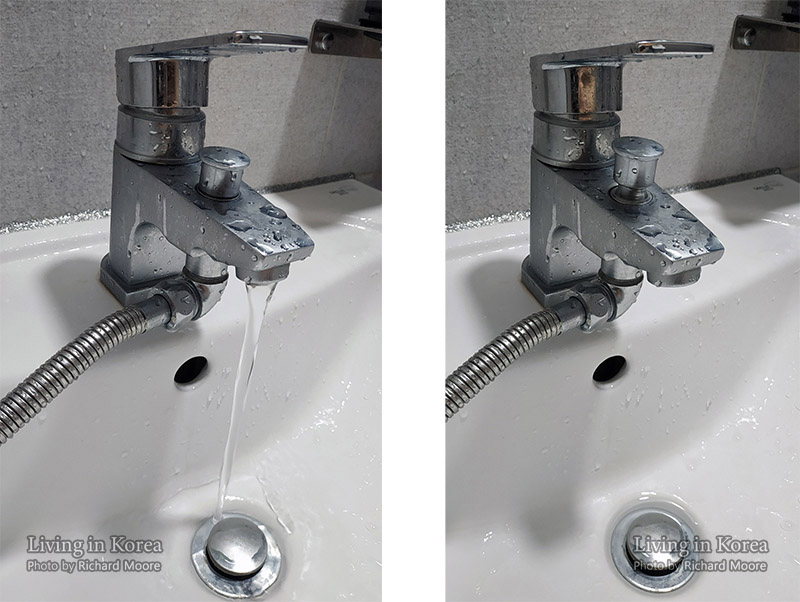 As the nozzle faces you, aka the middle of the bathroom during showers, when people finish their shower they simply turn off the sink taps. It is easy to then continue on your day getting your hair and clothing in order. If you pop back into the bathroom and wash your hands, it is easy to spray yourself with water when you turn the taps back on if your shower type is the binary on/off regardless of pressure. As a tip, regardless of which sink type you have, turn the nozzle away from you after you finish a shower as an easy way to spoil your morning is to be ready to leave home and then suddenly get sprayed in the face with water.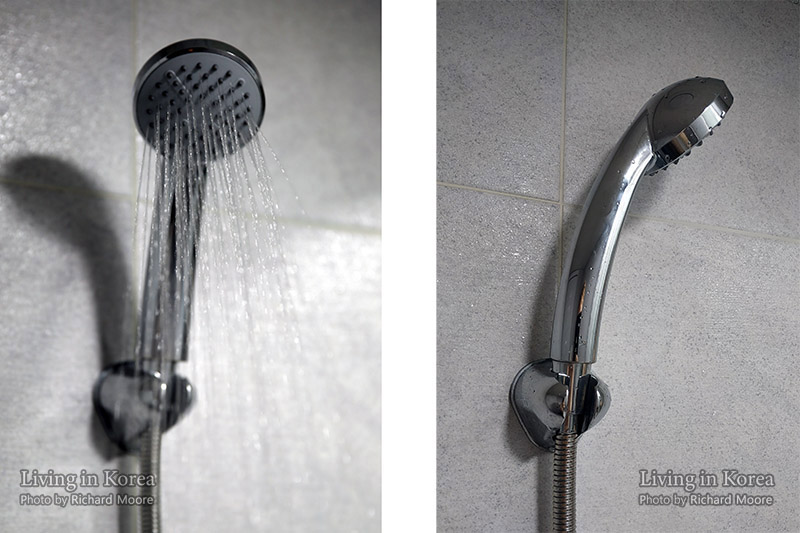 There are several kinds of shower accessories for scrubbing yourself. The most common are green scrubbing towels with a few black lines (이태리 타월, phonetically "Italy towel", 등밀이타월, deungmilli tawol, or 등밀이 목욕 타월, deungmilli mogyong tawol). They are commonly around 30 cm by 100 cm but also come in a basic mitt design for harder scrubbing (목욕 장갑타월, 沐浴 掌匣타월, mogyong janggap tawol). These are very rough and can take off a lot of dead skin. These are very common in public bath houses and you can also pay someone (때밀이, ttaemiri) to very thoroughly scratch off your dead skin.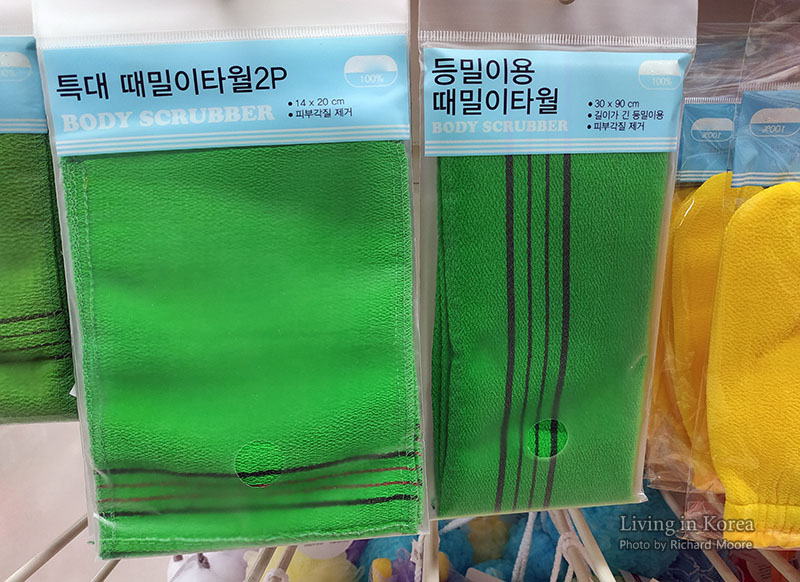 These are named "shower towels" (샤워타월) and are basically the same thing as "Italy towels" but with different colors, patterns, and degree of scratchiness.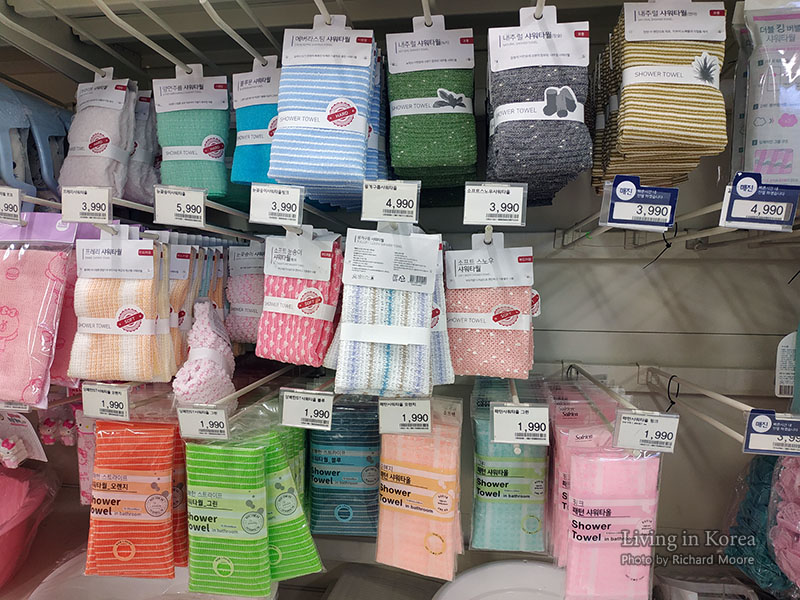 Less scratchy but nonetheless effective are scrubbing gloves with individual finger holes (때밀이 장갑, 때밀이 掌匣, ttaemiri janggap or shortened to 때장갑, 때掌匣, ttaejanggap). Blue and pink are the most common colors, they are fairly cheap, and come in pairs.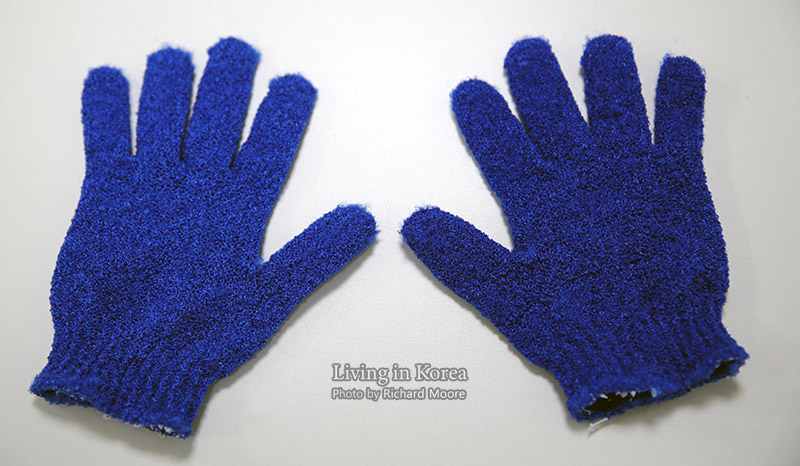 Shower sponges are "shower balls" (샤워볼). You can also find shower brushes (등때밀이, deung ttaemiri, literally "back scrubbing") but they are a bit harder to find.
Showers make the entire bathroom wet and bathroom doors are almost always closed, which means the floor is wet a significant amount of the day. If you keep the door to your bathroom predominately closed throughout the day, check for mold on occasion. If mold has already developed in this room, you'll need to dry the area and kill the mold. Mold killers (곰팡이제거제, 곰팡이除去製, gompangi jegeoje) are readily available in larger grocery stores and sometimes smaller ones. Spray, wipe/scrub, and dry. Be on the lookout for mold in other parts of your home during the colder winter months as a warm interior with a cold exterior can result in condensation which can result in mold.
To avoid slipping on the wet floor, people usually have communal set of rubber or plastic slippers that you can put on. If people wear them during a shower they'll be wet for hours as bathrooms doors are closed. Before slipping them on if you are wearing socks make sure to check if they are wet or not. Feet bigger than 280 centimeters (US 10, UK 9, Europe 43) are rare in Korea which means if your feet are bigger than 280 mm slippers won't normally fit you.
One method to dry a bathroom after a shower is to use a squeegee. Written 물기 제거 (mulgi jegeo, 물기 除去) this literally means "water removal". You can find this in cleaning sections of stores and sometimes in the automotive section.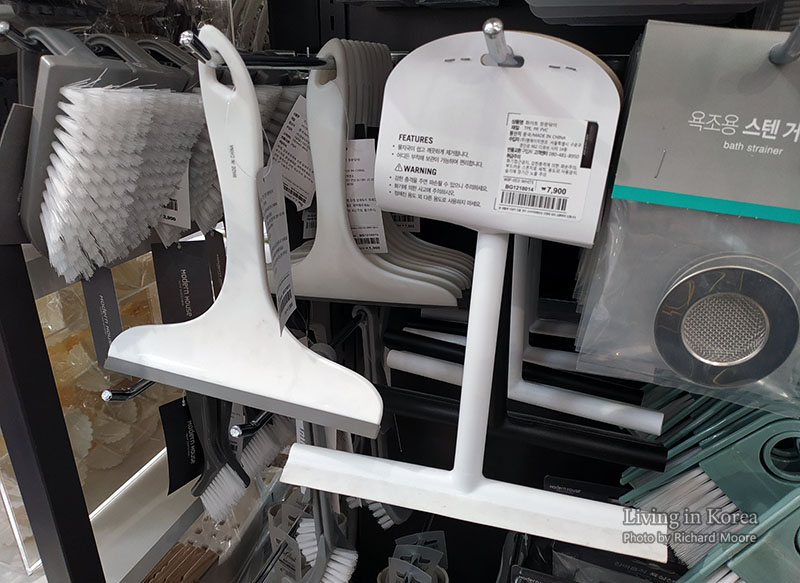 Towels
The standard size of shower towels (수건, 手巾, sugeon, or the phonetic 타월, tawol from "towel") in Korea is roughly 40 cm x 80 cm. Not to be confused with kitchen towels or kitchen cleaning rags (행주, haengju) which are normally white and usually 30 cm x 30 cm or 30 cm x 40 cm. The weight of shower towels is 120 to 200 grams and is frequently mentioned on packaging. Also mentioned is thread thickness with 20수 (su) being the thickest thread and the cheapest price, 30수 being the most common thickness, and 40수 being the thinnest thread which is the highest price, most absorbent, and better for people with sensitive skin. If sold in sets you'll see a number followed by 장 (jang) to indicate quantity. If you see the word "hotel" (호텔) on the packaging it is used to indicate a higher quality. Towels are a frequent gift item or souvenir for a special event such as a baby's 100 day birthday or first birthday. The name of the event is printed or monogramed at the end of the towel and the towel is sealed in a cardboard box and sometimes wrapped.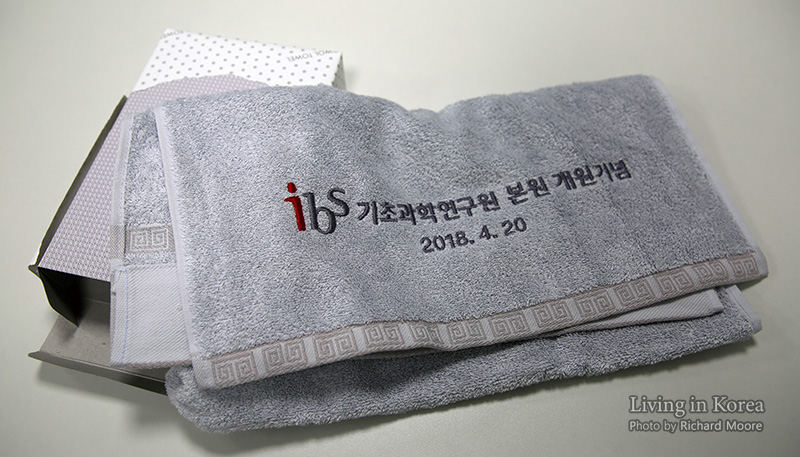 If you are studying Korean and learn the term 수건, it easy to learn "handkerchief" as it is "hand" + "수건" (손수건, 손手巾, sonsugeon). Larger towels are not the norm but you can find them. Commonly called 대형 수건 (大型, daehyeong sugeon), 대형 타월 (大型 타월, daehyeong tawol), or 비치 타월 (phonetically "beach towel"). Quick drying sports towels (스포츠타월, phonetically "sports towel") are more common than in the past and are sometimes sold in stores on university campuses with other university branded merchandise.
Toilets
Toilets in residences are Western-style. While you will find some squatting style toilets on occasion in public bathrooms, they are decreasing in number and are sometimes marked with a sign indicating which style is behind a door. Toilets in homes are predominately single-flush toilets, meaning a single button releases a standard amount of water for a flush. Some public toilets are dual-flush with a smaller oval button for smaller flushes or a larger crescent for bigger flushes (sometimes marked as 大). It is rare but you might see the hanja character 小 (소, so) for a small flush and 大 (대, dae) to indicate a bigger flush. While many toilets in Japan have a tap built on top of the water tank, this has not crossed into Korea.
Bidets are very popular in Korea but don't normally come with a home. Bidets (비데, bide) are toilet seats with various washing functions, meaning you can add bidet functionality by changing only the seat of a toilet. Older models were more analog with (cold) water and a knob to control the strength of the flow. While makes and models differ, modern bidets warm up the water to the temperature you select, warm up the seat, offer different kind of sprays with adjustable water strength, and have fans to speed up drying. Buttons are normally located next to the toilet seat but a few models have a remote control or have a panel installed on the wall. Common buttons include:
정지 – (停止, jeongji) Usually represented by a red square. This stops whatever process you initiated. If you pushed a button by mistake you'll hear motors whirling and that is the signal to quickly push this button.
세정 – (洗淨, sejeong) Cleaning a buttocks, is a wide stream of water, symbol is usually a buttocks.
비데 – (bide) Bidet, is a wide stream of water, symbol differs.
쾌변 – (kwaebyeon) Pinpoint cleaning, is a focused and directed stream, symbol usually shows several dots in a straight line.
전조 – (jeonjo) Drying function, symbol differs.
온수/온도 – (溫水/溫度, onsu/ondo) Temperature control, symbol is a thermometer.
강…약 – (强...弱, gang...yak) Strength of water from strong (강, gang) to light (약, yak)
Here is an example of a wall mounted panel with buttons. If you want a closer look, click the image to see a larger size. Unlike the rest of your restroom, if you spray down everything with the shower nozzle when you clean the room, be very careful not to hit the bidet or related buttons.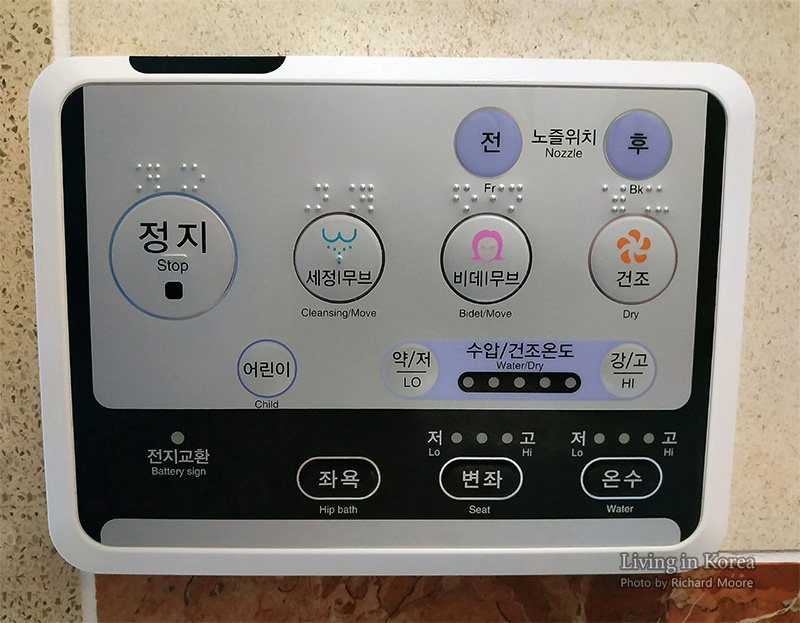 Individual units cost between 150,000 to 300,000 won to purchase and rental options also exist. New or used, it is a good idea to have someone come to your home, dissemble the unit, and do a deep clean of all components. The term in Korean seems to be 비데 관리자 (비데 管理者, bide gwallija) for a bidet cleaning person but there doesn't appear to be one unified term.
While the English term "toilet paper" includes the word "toilet" which limits usage to the restroom, the Korean term 휴지 (休紙, hyuji) does not have a "toilet" term included. This means 휴지 can also be used for facial tissue, but sometimes 미용티슈 (美容티슈, miyongtisyu, literally "beauty treatment + tissue") is used for facial tissue to avoid confusion.
If your toilet gets clogged you'll need a plunger (뚫어뻥, ttureoppeong). Standard models have a wooden handle. Some plastic units have a plunger that can get pumped, as shown below.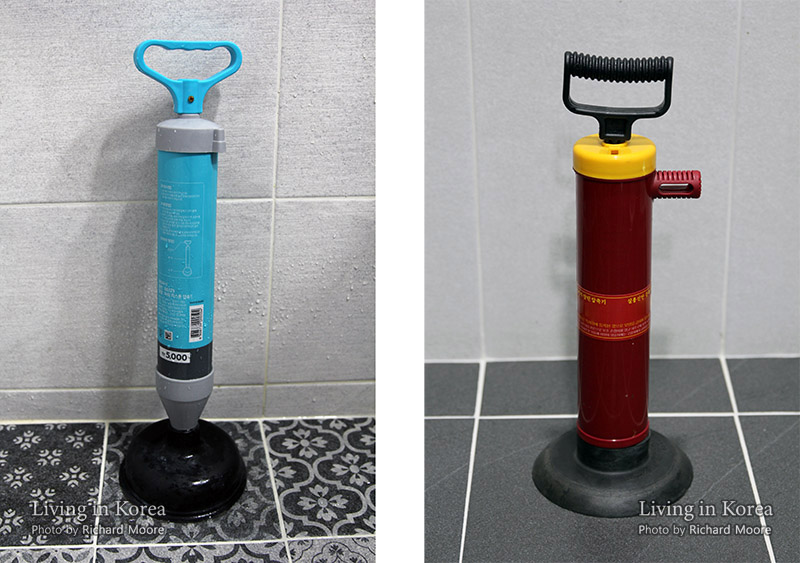 Several brands have a novel approach which is to lay a thick plastic sheet over the entirety of the toilet bowl. For it to stick correctly to the toilet bowl, the top of the bowl needs to be clean. After attaching, flush the toilet once to expand the sheet and the user pumps this air pocket until the clog is forced through the pipes. The small size of these single use sheets means they can be more discretely stored in a medicine cabinet and also as the toilet is sealed shut, dirty water doesn't have a chance to splash outside of the toilet bowl. A yellow color one is named 뻥투 (bbeongtu) but you might see 푸시뻥 (pusippeong) as an alternative brand in blue or pink.
Now that we've seen the bathroom, let's take a look at an enclosed veranda.