The cities of Songdo, Sejong, and some parts of Daejeon use automated vacuum collection (Wikipedia) for their food and general trash systems. Trucks still come around to collect recycling and large trashed items, but the staffing for waste management in those cities are significantly reduced compared to other cities. Users have a keycard that they tap on one of the vacuum trash collection boxes, then the metal door opens allowing you to toss in your trash. Large storage pits are located under these devices to hold the trash until the vacuum is remotely activated which pulls the trash to a sorting area in another part of the city. Sometimes they post a warning telling people not to place specific types of trash into these, for example a plastic bag filled with chunks of concrete, as the system was not designed to accommodate such weight. Here is a collection point in a business district of southern Daejeon with the food trash on the right, general trash in the middle, and part of the pneumatic system on the left.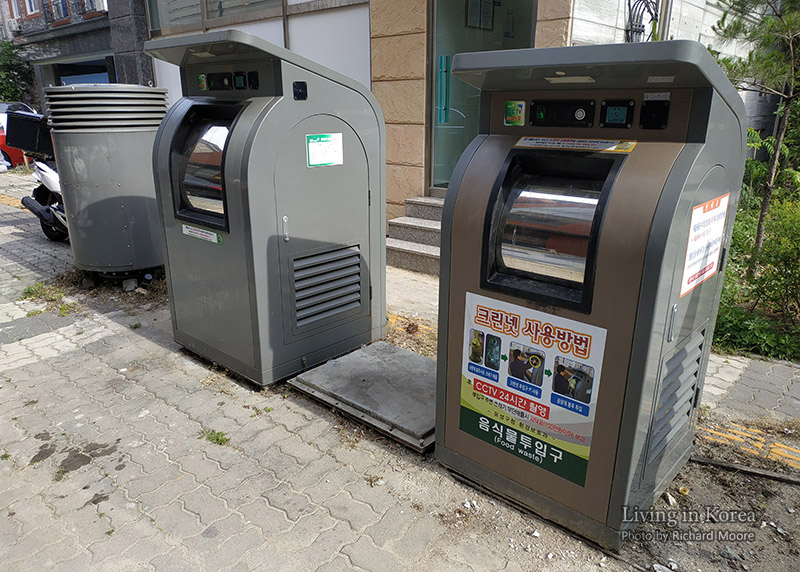 On the food trash receptacle on the right, we can see some directions. The directions show that trash should be placed into official trash bags; either general trash or food trash. Then the person is to scan their RF card, a large slot opens, and the person places the trash bag into the open slot. Keep in mind that the RF card isn't for payment, as payment is collected by purchasing the official trash bags. Lastly the sign warns people that these trash cans have CCTV cameras and fines will be issues for improper usage. If you want to see the words and images more clearly, click the image to see a larger version.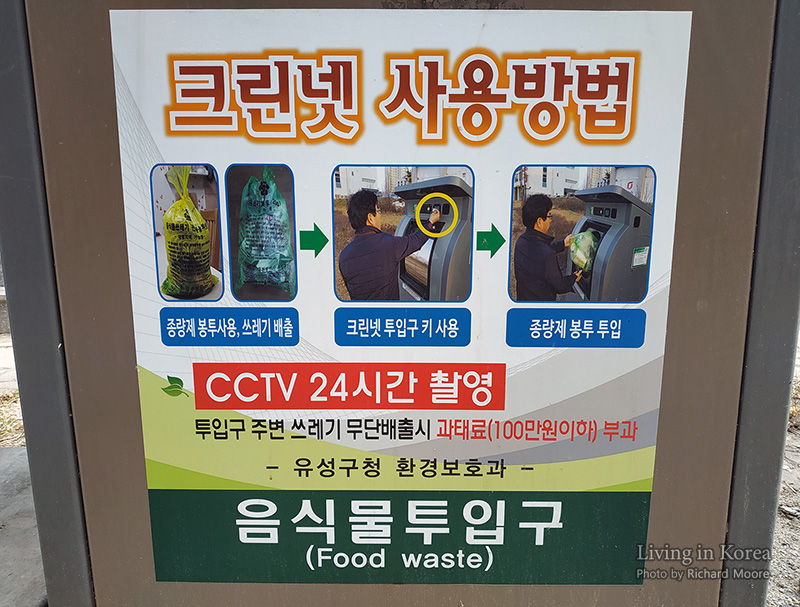 Walking up to the receptacle, we can see the slot that opens and also the RF card scanner. On the left, we have another reminder that we are under CCTV cameras.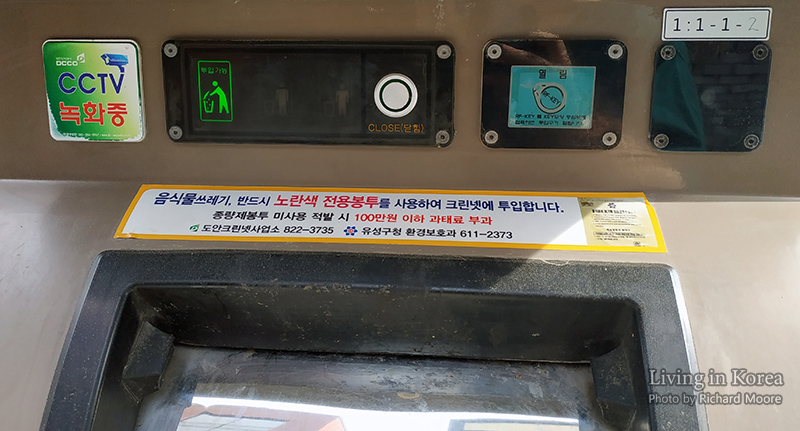 The general trash receptacle also has a sign on it. This is only a warning telling people to use the official trash bags or else they will receive a fine. If you want to see the words more clearly, click the image to see a larger version.

Sejong City has a similar system with minor differences. Let's take a look at some installed within an apartment complex. These are housed within a structure to protect it from the elements. We can see two receptacles in front of us; the left is for food and the right is for general trash. Both of these say 20L, indicating the maximum size of trash bag is 20 liters.
Across from these, and not viewable in this picture, are large bins for recycling. There are no time or day restrictions for disposing of trash and recyclables here, which is another benefit of the pneumatic system.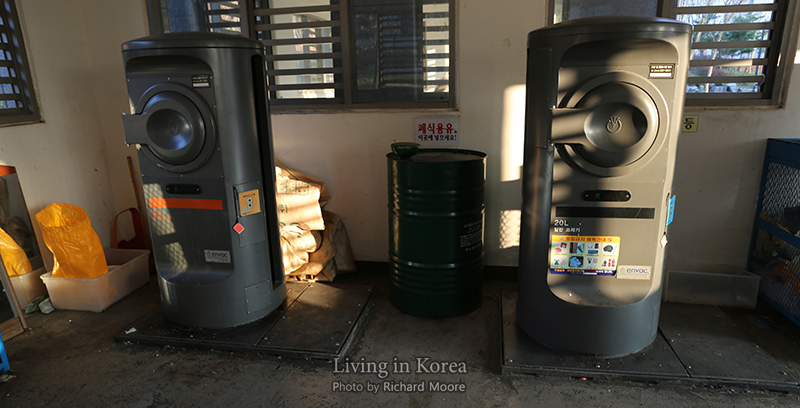 Going to a business district in Sejong, we can see a larger receptacle capable of accepting trash bags up to 50 liters.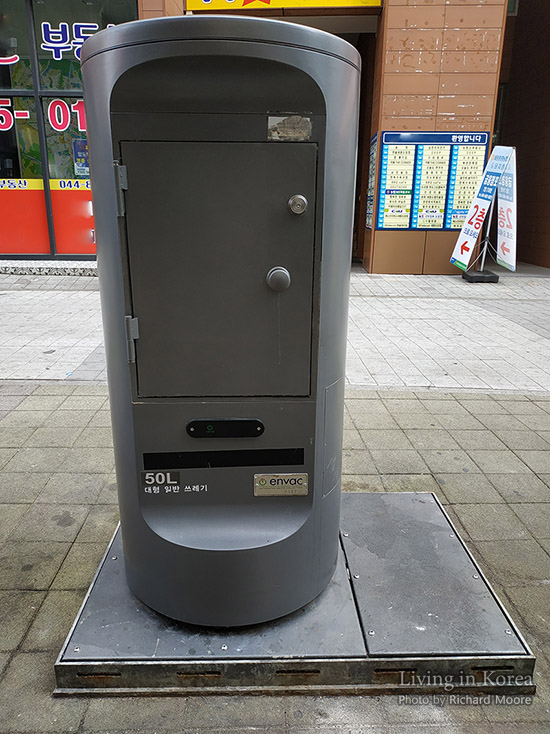 When this pneumatic system as first installed, everyone needed to remember to bring their RF card in order to open the trash bins. Enough people forgot or lost their cards that the city ended up installing cards on tethers; again, payment is not related to these cards but is connected to the purchase of the official trash bags.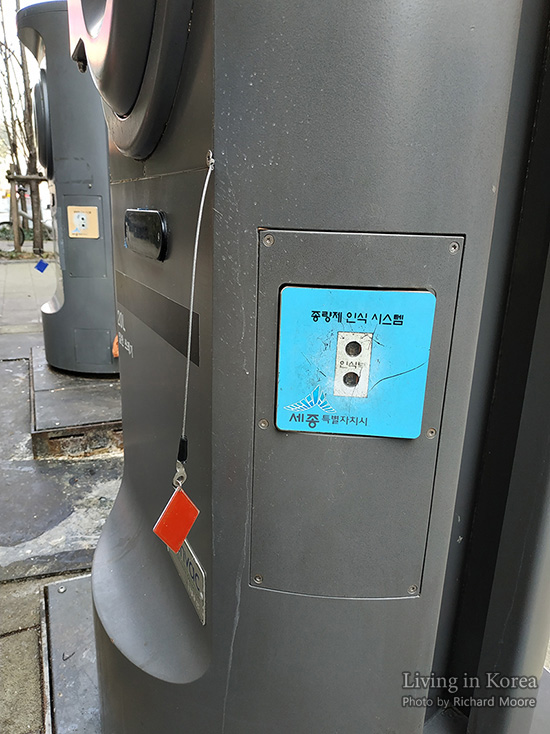 We also see a warning telling people to fully place their trash inside and not simply dump it in front of the units. Just like in Daejeon, this is enforced with CCTV. When the system first opened in Sejong there was a learning curve, part of which meant the large storage bins underground would sometimes be full and would be unable to receive more trash. With time this issue has largely been resolved but it started a habit with some people, hence the sign. If you want to see the words and images more clearly, click the image to see a larger version.