Even the largest of homes have a combined kitchen and dining space. It's common to see a hanging light to indicate where the table is meant to be placed and frequently you can find a dedicated space next to the kitchen counter or cabinets for a refrigerator to go.
Sinks and Cleaning Dishes
Sinks are usually quite large and contain a single open section. Often the water faucet is on the end of a hose to make cleaning easier. Their metal is stronger and more resistant to cleaning, even with the green scratchy side of kitchen sponges. Sponge is a loanword in Korean (스펀지, seupeonji) and to correctly pronounce it, add an "e" sound to the end of "sponge". The generic term for soap is 비누 (binu) and liquid soap is 물비누 (mulbinu) which is literally "water + soap". Bars of hand soap are usually in an oval shape. If you get a bar of soap that is a hard rectangle with no rounded edges, chances are you bought a bar of soap for doing laundry by hand (세탁비누, 洗濯비누, setakbinu). Laundry soap is much harsher on the skin, should not be used without gloves, and definitely should not be used on the body for bathing. Dishwashers (식기세척기, 食器洗滌器, sikgisecheokgi) are quite rare in Korea but you might occasionally see a dishwasher unit sitting on a counter top.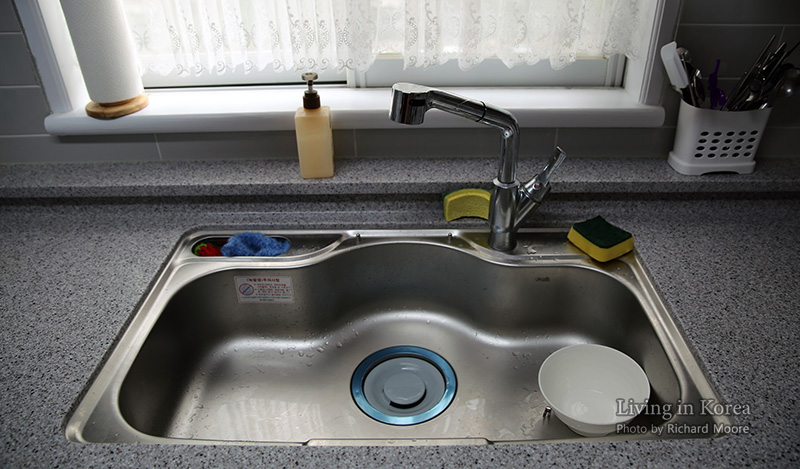 If you want to save on space and want a cheap option to dry dishes, you might want to buy a roll out style drying rack (싱크바, singkeuba literally "sink + bar"). The metal is rust resistant and the rubber is very flexible. These can be rolled up and stored and when used can be placed over any flat surface or even over part of the sink so excess water drips down the drain and you don't lose counter space.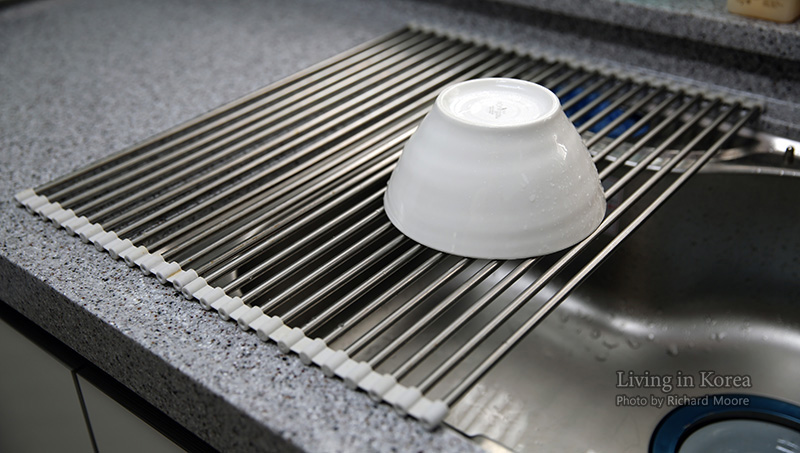 More common are a more square shaped drying racks made with hard metal. They won't rust, aren't big but still take up a lot of counter space. Called 싱크 건조 (싱크 乾燥, singkeu geonjo), they are fairly easy to find and are affordable.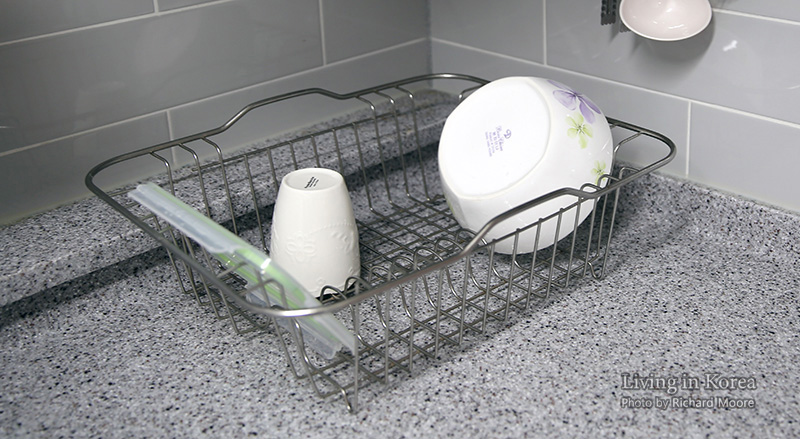 Hanging drying racks are the most expensive, you'll need to install them yourself, and might only be sold online, but are quite large and yet don't take up counter space. The "floor" of the unit is slanted so the excess water goes down an opening and into a small plastic container. Names might differ but searching for 싱크 선반 (singkeu seonban) roughly translates as "sink shelf" and copy-pasting that should point you in the right direction.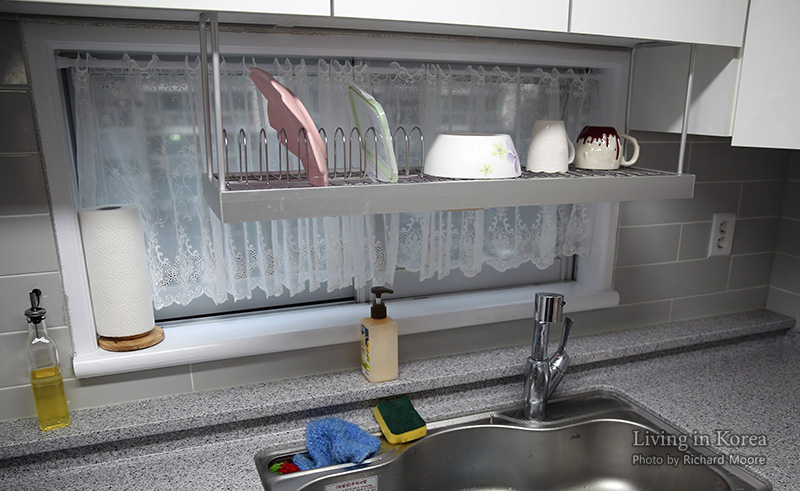 Towels
There are a few options for towels for the kitchen. Kitchen cleaning rags (행주, haengju) are normally white and usually 30 cm x 30 cm or 30 cm x 40 cm. 종이 타월 롤 (jongi tawol rol) are paper towels on a roll. 키친타월 (kichintawol) can also refer to paper towels on a roll, or can come in a box that resembles tissue paper. This is an easy mistake as the packaging looks very similar but the term in Korean and their softness/thickness are different. Wet wipes, baby wipes, or moist towelettes are all 물티슈 (multisyu) in Korean and are readily available in a number of stores. If you want to wipe the floor with a mop (물걸레, 대걸레, 청소대, mulgeolle, daegeolle, cheongsodae) you can use it with a rag or with a single-use wet cloth (청소포, cheongsopo). If you purchase the single use wet cloth, make sure you get the same brand and correct size otherwise you won't be able to use it. Also using standard wet wipes is difficult as they are thinner and tend to slip out.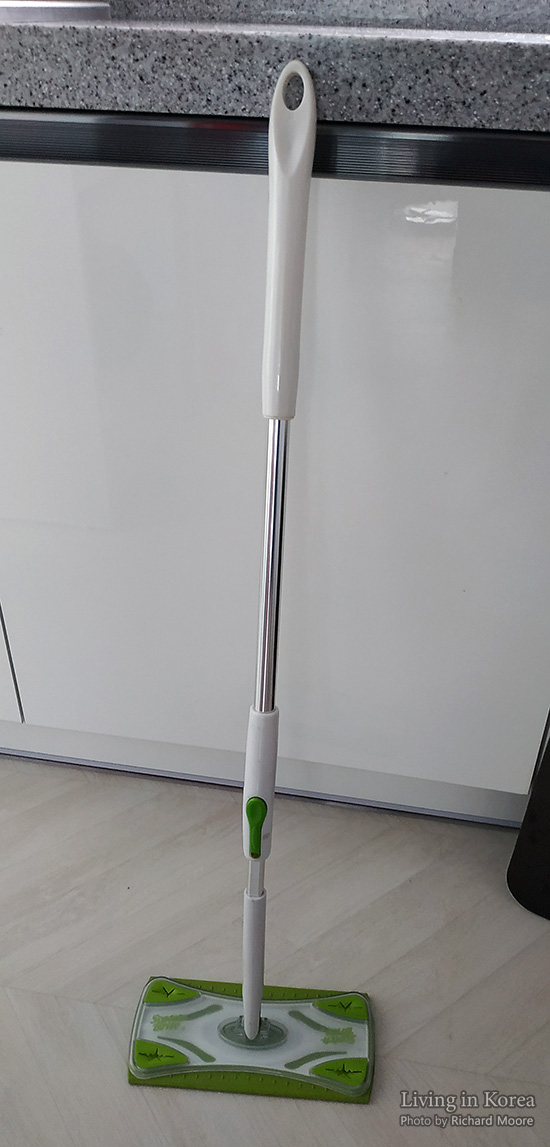 Stove Tops
While ovens are not common, stove tops are very common. Called gas range in Korean (가스 레인지), they usually have 2 to 3 burners and they are predominately gas powered. Induction stove tops are appearing in more homes and may eventually replace gas units in the future. If you checked with your landlord about pets, and you have a cat or are thinking of getting one, the soft jelly part of their paws can turn on induction burners. You'll need to be very careful they don't turn on a burner by mistake and burn themselves.
When you are cleaning your stove, be careful to not use the tough green side of a sponge or rougher cleaning utensil as the metal for stoves is very easy to scratch. Unlike sinks, you'll need to be gentle when wiping up.
The scratchier green side of a kitchen sponge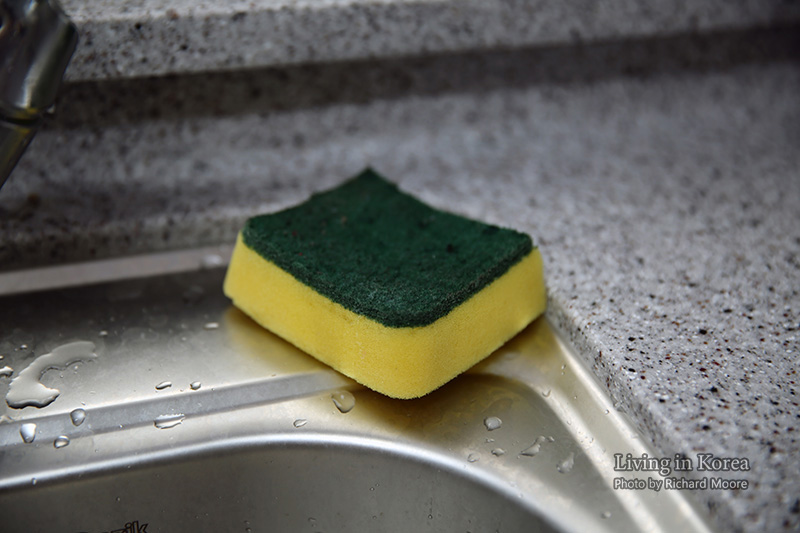 Scratches on a stove after cleaning with the green side of a sponge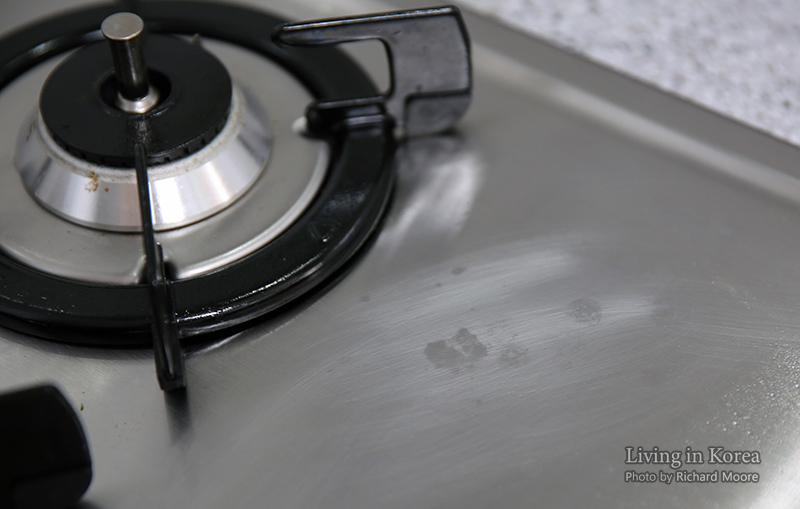 Next to the stove top you'll see a metal pipe, frequently painted white, and a flexible hose connecting it to the stove. If your home comes with a stove, it will already be connected. You may need to turn the plastic knob (blue in the sample image) if the gas doesn't come on. If the previous owner took their stove with them, you'll need to get a stove and contact the city gas group (도시 가스, 都市 가스, dosi gaseu) to get it connected. Don't expect them to speak English and do expect them to want to see your Residence Card so they can setup billing or maybe your housing contract or passport if you don't have an Residence Card yet. Check out our section on the gas utility and talk to your Center's admin staff to get your gas connected.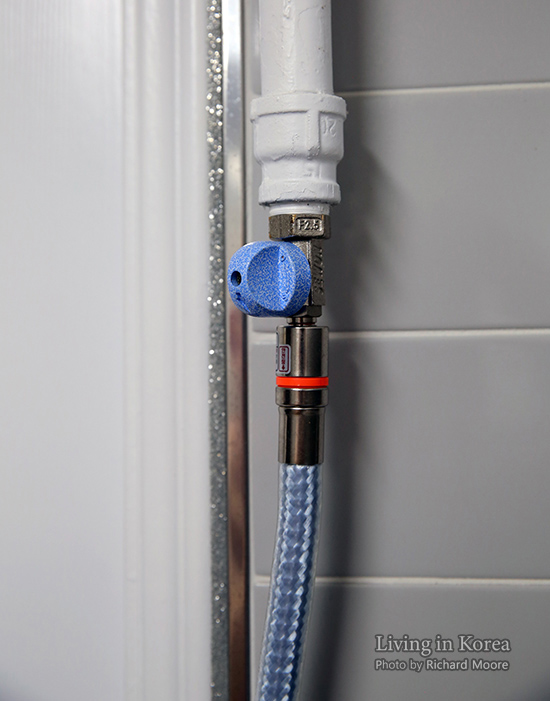 Ovens
Ovens are slowly becoming more popular but their size and price means most are toaster oven sized. You'll have more options for smaller sized units but bigger sizes can be found with more effort. Expect ovens to be plugin and to be mobile, i.e. not installed in your kitchen among the cabinets. This also means they are electric powered. If you have a high power bill, be careful how much you bake. The Korean language uses "oven" as a loanword, so pronouncation is easy to remember (오븐, obeun).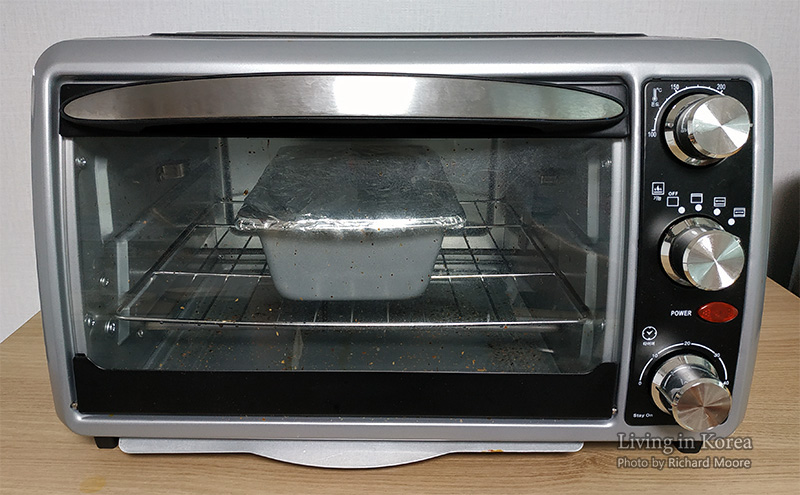 Now that we've seen the kitchen, let's take a look at a bedroom.