A lot of trash can be recycled, which is good for you financially and good for the environment. All recycling should either be sorted into the proper bins at apartment complexes, or placed into transparent or semitransparent bags, tied closed, and be placed along the side of the road with other trash bags.
Food and all other residue must be removed before recyclable items are disposed of. This is a big reoccurring issue as a number of people don't properly rinse these items before dropping them off for recycling. Enforcement has typically been pretty lax on this but expect it to change in the future.
Generally there are six categories of items for recycling and so we'll address these first before mentioning cooking oil, light bulbs, and batteries. If you wondering what to do with old but still usable clothing, please see the clothing and thrift store section.
Recyclable and non-recyclable items
Recyclable and non-recyclable items
Category
Recyclable
Non-recyclable

Newspapers, books, notes, wrapping paper, corrugated cardboard, paper bags, paper boxes

Plastic coated paper bags, plastic coated paper cups, cardboard with packing tape

Glass bottles
(유리병, 琉璃甁, yuribyeong)

Beer bottles, soju bottles, hard liquor bottles

Sheet glass, mirrors, milk-white bottles, cosmetic bottles, ceramic wares, broken glass shards

Beverage cans, spray cans, butane gas containers, aluminum, stainless utensils, steel tools, iron wire, scrap metal

Paint containers, oil containers, containers of noxious materials, sharps waste

Styrofoam
(발포합성수지, balpohapseongsuji)

Packaging, delivery containers for fresh fish or fruit, clean instant noodle containers

Plastics - solids
(플라스틱, peullaseutik)

Plastic, PET, HIPE, LDPE, PP, PS, PVC

Writing implements, buttons, power sockets, toys, baby-walkers, telephones, disposable cameras, electric heaters

Plastics - bags
(비닐류, 비닐流, binillyu)

Instant noodle packages, dirty or contaminated plastic bags
Styrofoam is a petroleum-based plastic. As the price of oil fluctuates, sometimes it is cheaper to throw away polystyrene than attempt to recycle it. For this reason, sometimes residents are not allowed to recycle polystyrene. Once the price of oil goes back up, recycling of it is again allowable. Another way that some people recycle styrofoam is by using them as planting pots. It is rarer to see them on a street as they are usually located on the roof of a residential building.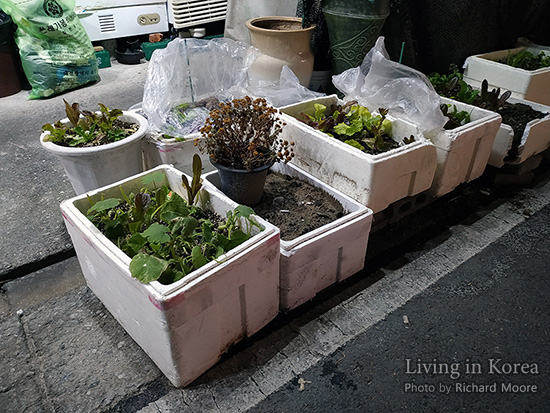 Plastics are separated into their more solid form and their plastic bag form and people do take this differentiation seriously. Plastic bottles are sometimes called PET bottles (PET병, PET甁, PETbyeong) as an all-encompassing term for plastic bottles which can lead to awkward labels on certain trash cans.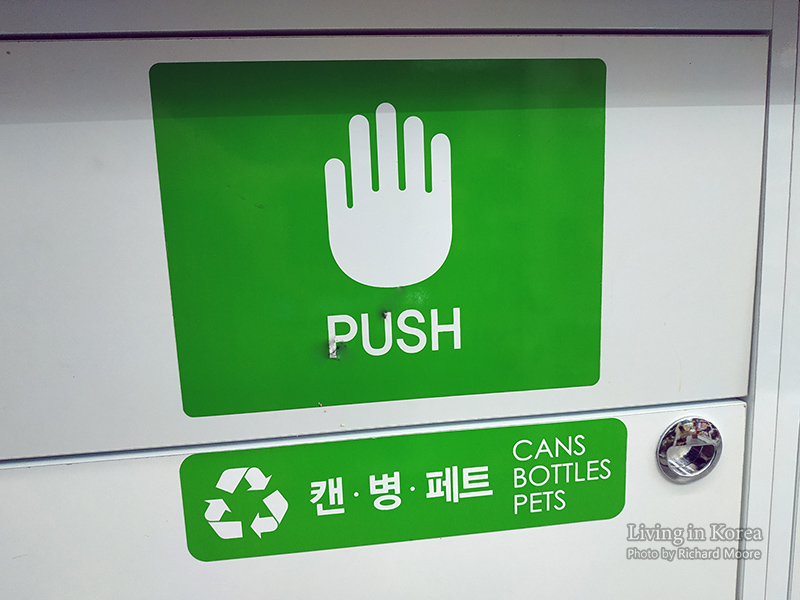 Trash rules and regulations and the related flyers giving relevant updates on these are rarely translated, even in the international districts in Seoul. If in doubt, or if you see a new flyer, take it or take a picture of it and get someone to translate it so you don't unknowingly break a garbage law and end up with an annoying fine. Here is a flyer explaining recycling rules. If you want a closer look, click the image to see a larger size.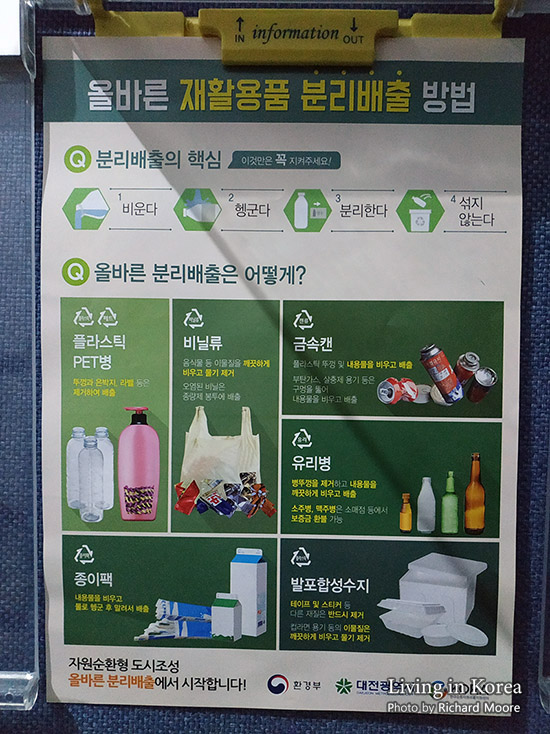 Pouring cooking oil down the drain results in the oil solidifying and clogging pipes. Sometimes apartments provide recycling for cooking oil, but this will vary depending on the apartment. Check with your landlord to see if there is appropriate disposal for cooking oil or if you should soak it up with a paper towel and then throw the towel in the trash. While the green metal barrel below is not labeled, residents at this apartment complex understand this is just only for cooking oil.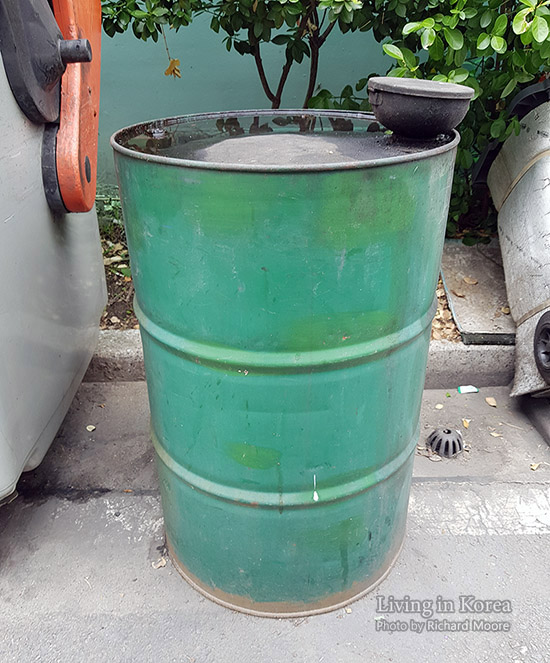 While we are on the topic of oil, if you are used to changing engine oil in your own vehicle, you will have difficulty finding an appropriate disposal option for it. Car repair isn't something people often do by themselves. Instead, people take their vehicles to service centers (카센터, kasenteo which is a loanword of "car + center") and have the staff there deal with changing oil and getting rid of the old oil. Additional side note, if you have an import vehicle you may have difficulty getting a service center to change the oil as they are concerned for breaking something on an expensive car and/or will not have the proper oil filter. In this circumstance, you may need to purchase your own engine oil filters.
Light bulb recycling is harder to find but can be located in apartment complexes and in some non-apartment residential areas. Top section is for straight fluorescent bulbs. Bottom left is for circular fluorescents, and bottom center for compact fluorescents, and bottom right is for drained batteries.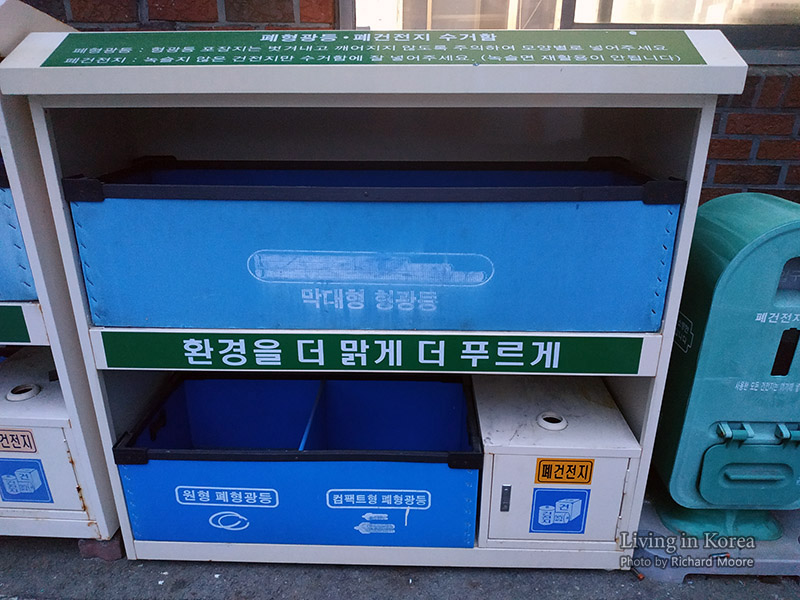 Pictures help to aid in knowing which bulb goes where and if there are no images, peering inside should help.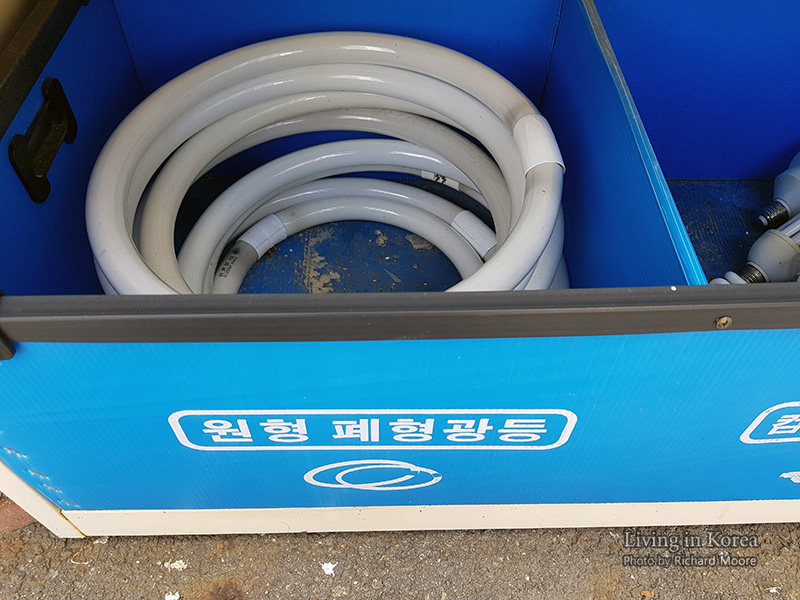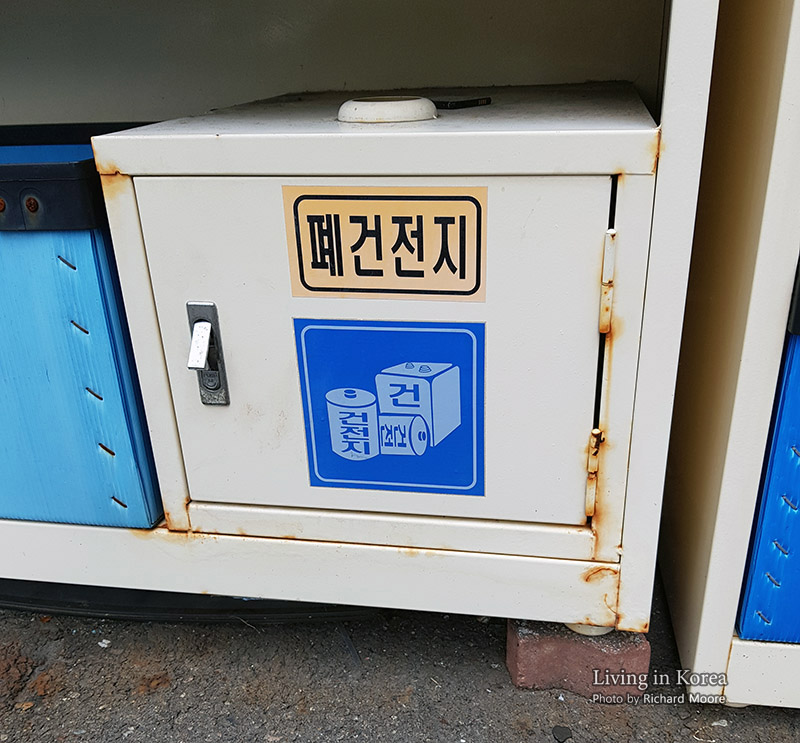 Here is another typical battery disposal container. The shape of the opening and the dropped batteries on the ground help to identify its purpose.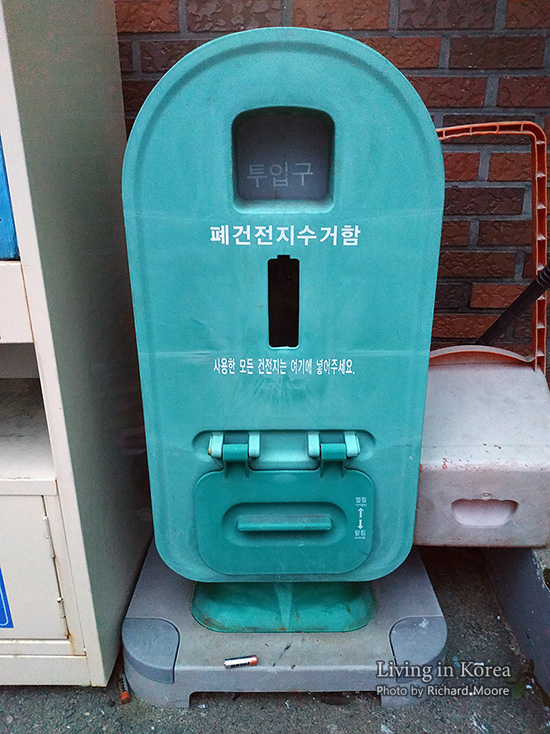 To aid in speedy sorting, some stores sell separate containers for different kids of recyclable items. While this would only aid those living in apartments, most of the population in Korea lives in apartments.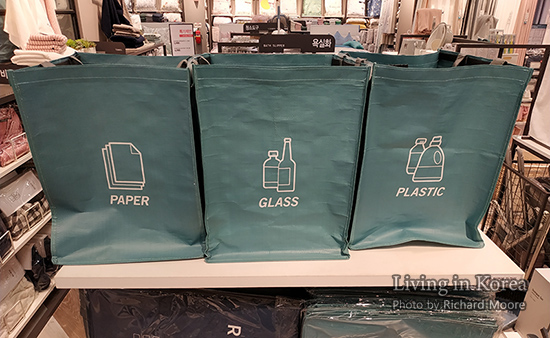 Separating trash is part of life in Korea. Even fast food restaurants have segregated trash for food waste, liquids, cups, and recyclable items. This will vary some from restaurant chain to restaurant chain, but the concept is the same.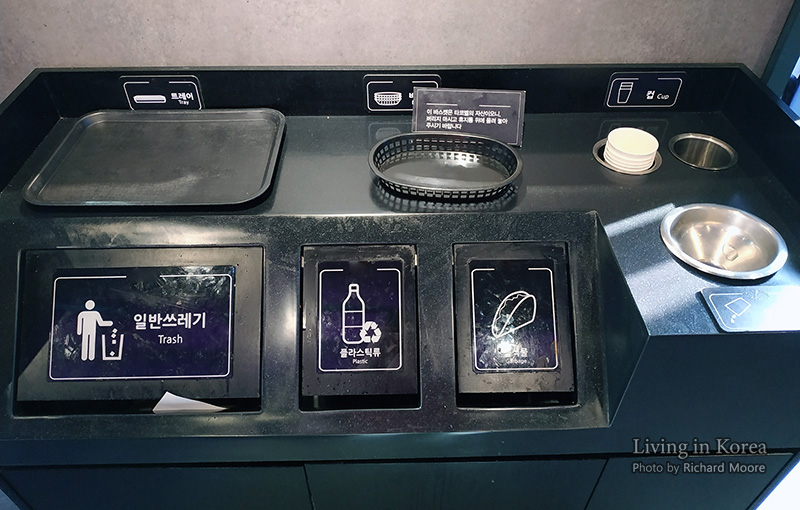 If you have a Brita water filter pitcher and want to recycle the filters, Brita has a recycling program called Brita Green Leaf Membership (Korean website).