One of the things that needs to get figured out fairly quickly after arriving in a new country is how to wash clothes. In the short term you may need to use a coin laundromat and later may end up purchasing a washing machine for your home. Even if you have a washing machine at home, a coin wash can be useful to do a bunch of laundry at once, use larger washing machines to more easily wash large blankets, or get access to a dryer. We'll talk about laundromats as well as getting clothes repaired, mended, doing ironing, and information on detergents and washing things by hand.
Home sized washing machines are normally 10 kg or 12 kg while laundromats can have upwards of 25 kg machines. Blankets fit into standard sized units, so don't worry if your king sized blanket will fit into a 10 kg washing machine. But if you are concerned and are planning to later get a washing machine for home, buy the larger 12 kg size which is a little deeper. In the meantime you can use a larger machine at a laundromat. And multiple machines means multiple loads can be done simultaneously so you spend less time doing all your laundry at one visit.
Sometimes the washing machines lock once the cycle has begun, sometimes not, this is more of a case by case basis. The purpose of the machine locking is to prevent people from stealing your clothes. Yet, Korea has very low petty theft crime, which is why you'll see people leave a purse or a smartphone on a table at a coffee shop or restaurant to claim the table and then walk away to give their order or go off to the bathroom. This is normal behavior as people don't steal these items, let alone laundry inside a washing machine. Even if the laundry machine does not lock, it is safe to wander off to a coffee shop and sip something sweet while your clothes are getting cleaned.
Dryers are not normal in homes in Korea but they are common in laundromats. So even if you have a washing machine at home, you might want to consider going to a laundromat during the humid summer so you can wash and dry clothes to avoid any mildew smell from developing.
One thing not found in laundromats is detergent – you'll need to purchase that separately and bring it in yourself. Do not expect them to sell laundry soap on site.
There are two terms you'll see for coin laundromats; 셀프 which is a loanword of "self" which implies you will be doing the washing, and 코인 which is a loanword of "coin". They are frequently paired with 세탁 (洗濯, setak) or 빨래 (ppallae), both of which mean to do laundry. If you copy-paste 셀프빨래방 or 세탁편의점 into a map program (Daum, Naver, Google), you should be able to find some locations in your area.
Although the brand name has been Photoshopped out, you can still see the store below is both a coin laundromat because of "coin wash" on the white and "코인세탁" on the green to the left. They also provide dry cleaning as 세탁편의점 is written on right side on the blue. They use the term 편의점 (便宜店, pyeonuijeom) which translates as "convenience store" to imply you can easily pop in and pop out and they'll have everything you need. While not as common as 셀프빨래방 as we saw above, 세탁편의점 fairly common and a good way to find coin laundromats in Korea.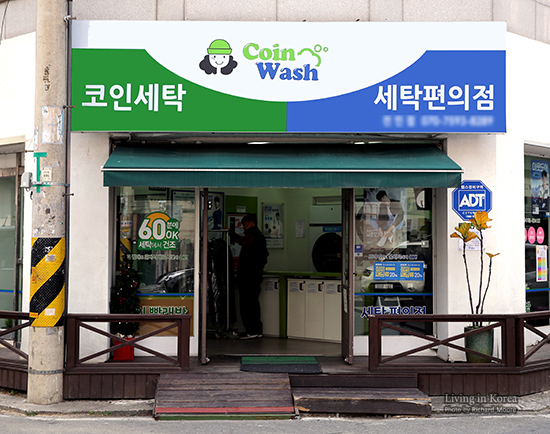 In the image below we have a 24 hour 셀프빨래방 (selpeu ppallae bang) with an extensive list of services listed on their window. If you want to see the images and words on their window more clearly, click the picture to see a larger size of that section.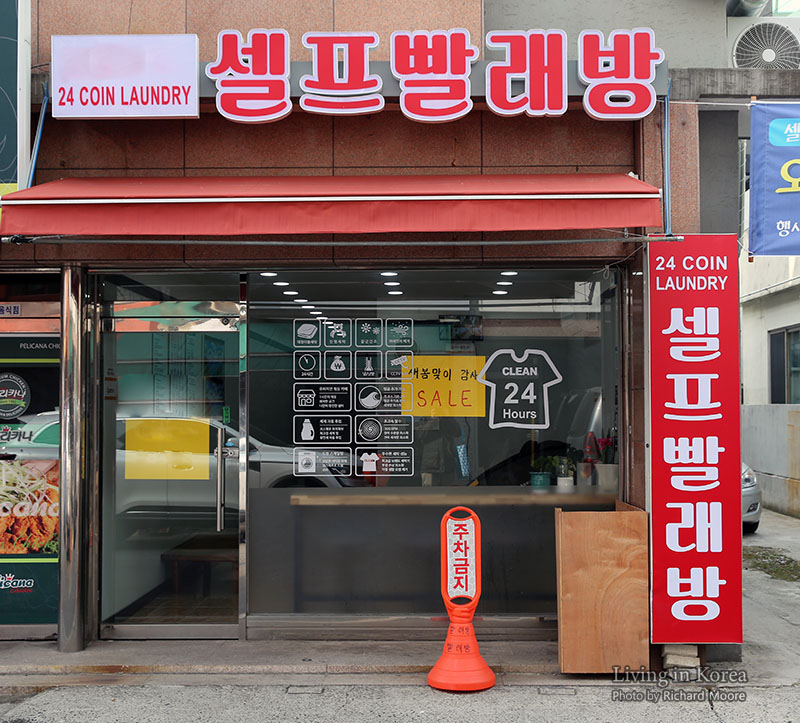 This next sign advertises 코인 세탁 (coin + 세탁) and at the bottom shows the price for 30 minutes of dryer time (건조, 乾燥, geonjo). This sign was spotted near a large university.