If you have a washing machine in your home, it'll be in the veranda. When a load of laundry is done on a home unit, expect to hear a music melody play to indicate the load is finished. Home sized washing machines are normally 10 kg or 12 kg while laundromats can have upwards of 25 kg machines. Blankets fit into standard sized units, so don't worry if your king sized blanket will fit into a 10 kg washing machine. But if you are concerned and are planning to later get a washing machine for home, buy the larger 12 kg size which is a little deeper. If you get thick mats which are designed to be slept on, and not slept under, expect to take them to a laundromat or to a dry cleaner.
Dryers have only been normal at laundromats, not within homes, so when they designed the shape of apartments they provided enough space for a washing machine but not washing machine and dryer. This home shown below has a groove designed for the washing machine to fit, but alternative designs have a slightly wider veranda with space at one end so the washing machine is lined up again a wall.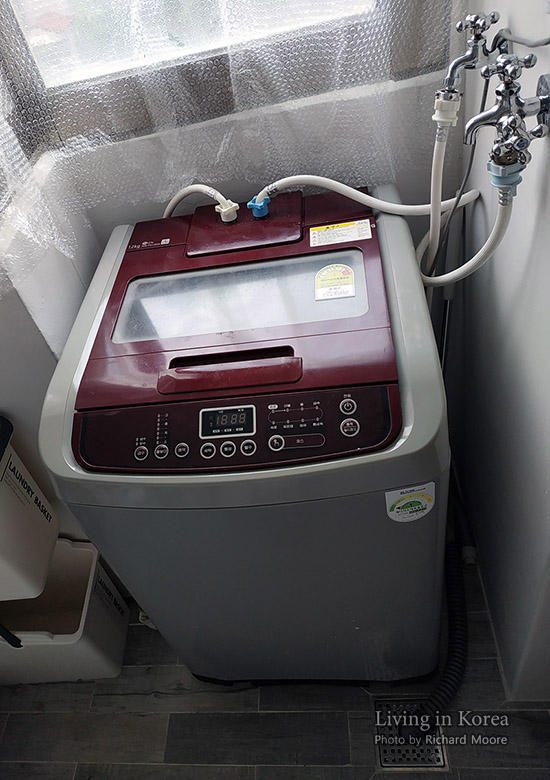 Setup
Whether purchasing one new or used, people sometimes are not home when the delivery person comes to bring in a washing machine. When this happens, sometimes the resident will change the front door code to something simple like 0000#, tell that code to the delivery person, and then change the code again once they get home.
There are two faucets next to where your washing machine is installed. The blue connection is for cold water and the red or white will be for your hot water. If you only want to wash your clothes with cold water you should consider turning off the hot faucet at the wall so you don't shrink your clothes by mistake. The first time the water hoses are connected to the faucets the process can be troublesome as a piece needs to be firmly attached with a screwdriver. Also note the covered power socket at the top right of this image.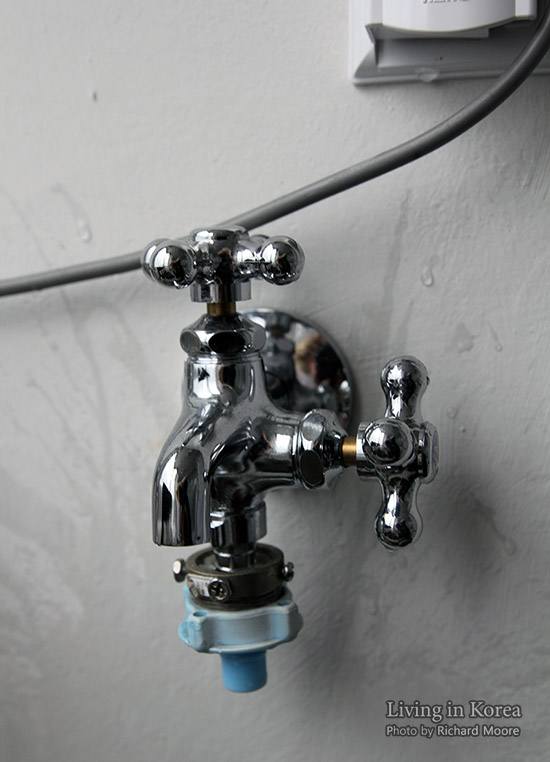 Once that is attached the process is easy and you can do the rest with your hands. At the end of the hose is a piece that you pull down with your fingers. Slide it down and plug it into the faucet. It should look like this when done correctly.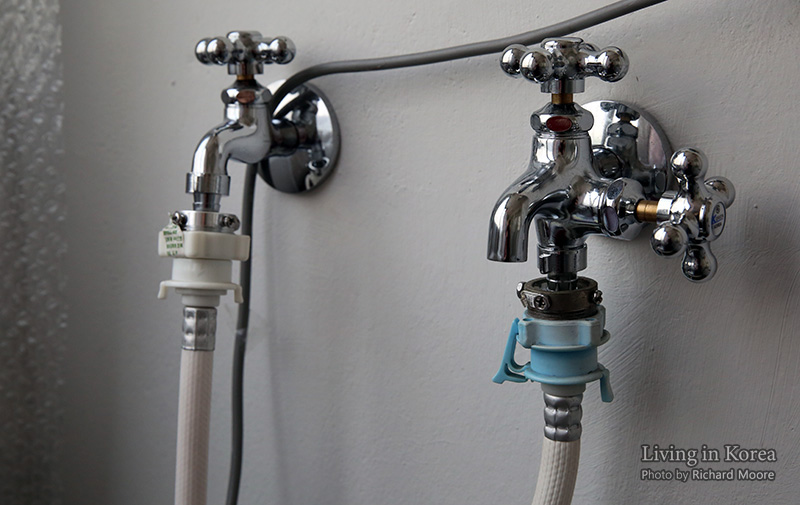 Go ahead and attach the other side of the hoses to the top of your washing machine. Screw and tighten with your hands; no tools required.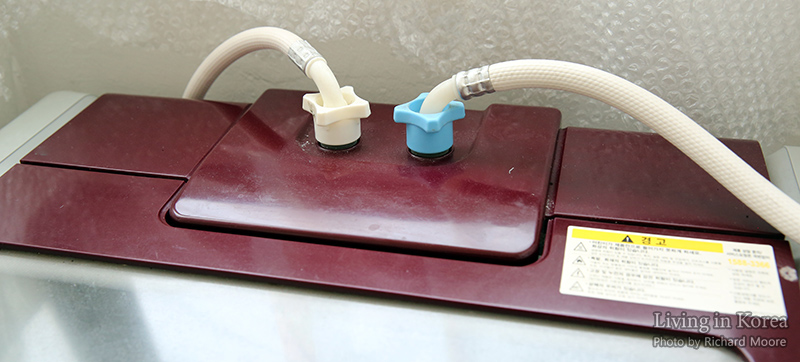 The power cable will get plugged in near the water faucets. You can see the corner of it in a previous picture a little up on this page. This should be the same style that you see in your bathroom. Do make sure that the electrical socket has this protective water cover with two holes just big enough for power cords to pass through them. If your socket doesn't have this water cover on it and you notice this while house hunting, tell the real estate agent you require it be changed before you agree to sign a contract. If you noticed after moving in, tell your landlord that it should get fixed for safety reasons.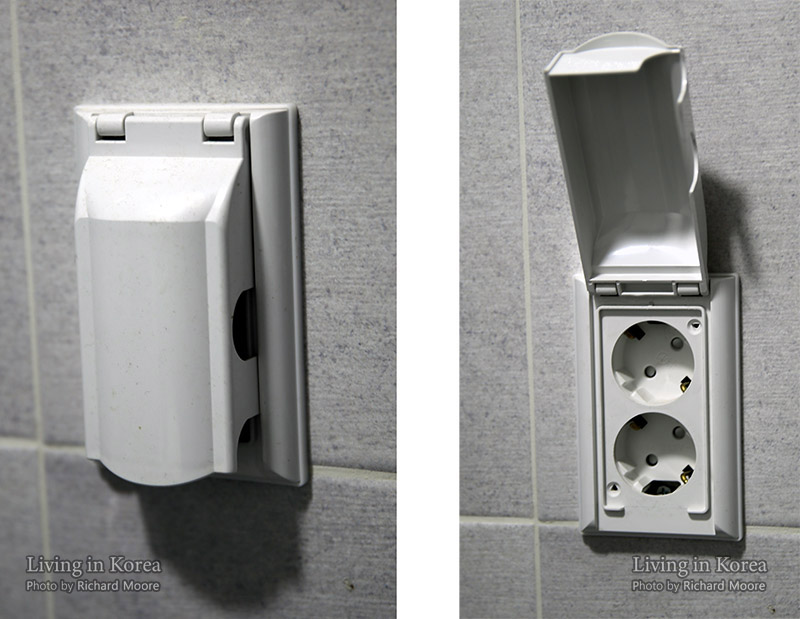 The floor drain has a hole in the center so the washing machine's drainage hose can be directly plugged in. If you see a puddle of water on the floor, check here first as the hose is probably not properly seated. Give the end of the hose a little push and see if it fixes the problem.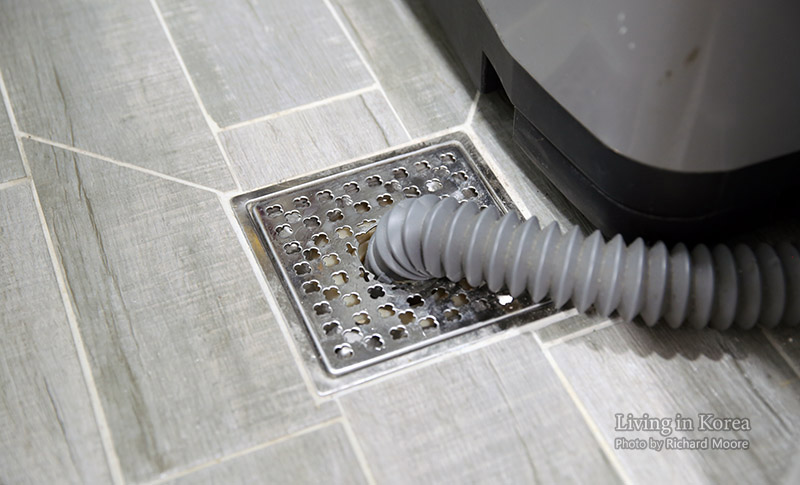 When you purchase electronics new, or sometimes used, you'll see a sticker with a 1 to 5 indicating how much power it uses compared to standards at time of production. Sticker designs have changed some over the years, but a 1 is the best and is in a green color and 5 is the worst and comes in a red color. Energy usage stickers can be on anything from AC units, TVs, water purifiers, and even some dehumidifiers.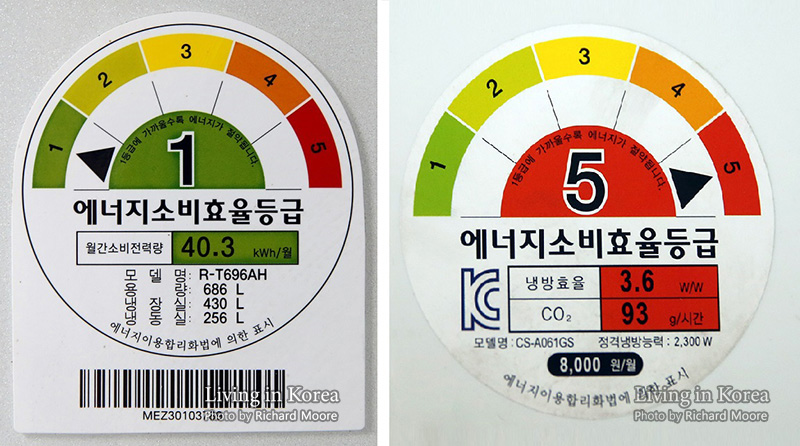 The style of these stickers has changed over the years and identifying the difference will help you know how old a used electronic item is which will directly affect the amount of energy used as standards have changed over time. Here is an example of an older sticker design of the washing machine in this website.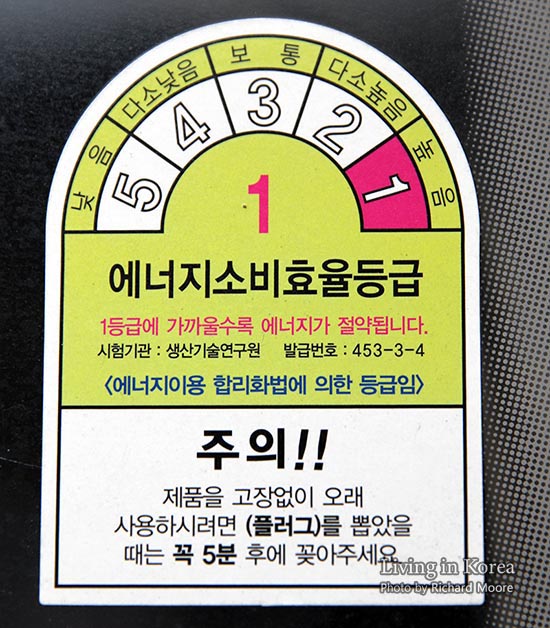 Buttons
There will be some variety between brands and models but this should give a good general idea as to what the buttons on the front mean. Here is the full display and then we'll break it down into sections. If you want to see the images and words more clearly, click the picture to see a larger size of this image.

Let's start with the right side where we have the power button, pause, and selecting what kind of load you wish to run.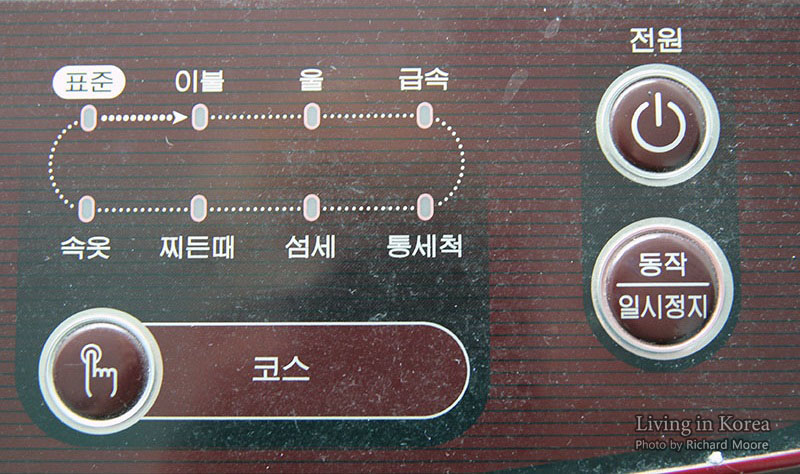 전원 – (電源, jeonwon) Power button
동작/일시정지 – (動作/一時停止, dongjak/ilsijeongji) Pause
표준 – (標準, pyojun) Standard
이불 – (ibul) Blanket
울 – (Ui) Wool
급속 – (急速, geupsok) Quick wash
통세척 – (桶洗滌, tongsecheok) Clean the washing machine
섬세 – (纖細, seomse) Delicate
찌든때 – (jjideunttae) Stains
속옷 – (sogot) Underwear
코스 – (Koseu) Select the type of load
The following are other buttons which you might see on your machine yet are not shown on this washing machine.
손세탁 – (손洗濯, sonsetak) Hand wash
란제리 – (ranjeri) Lingerie
침구류 – (寢具類, chimguryu) Sheets or linens
니트 – (niteu) Knitted items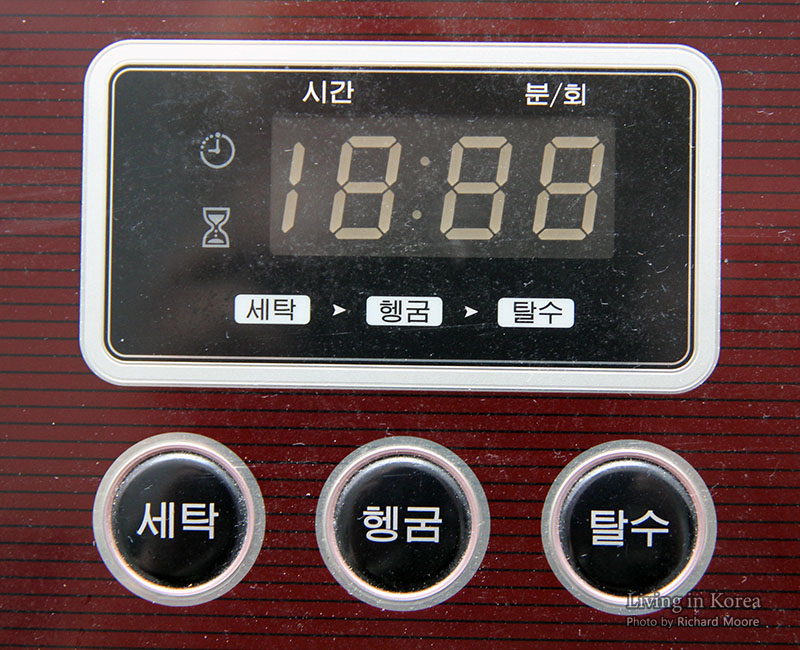 시간 – (時間, sigan) Hours remaining
분/회 – (分/回, bun/hoe) Minutes remaining
세탁 – (洗濯, setak) Wash
헹굼 – (henggum) Rinse
탈수 – (脫水, talsu) Spin-dry
The following are other buttons which you might see your machine yet are not shown on this washing machine.
배수 – (排水, baesu) Draining water
시간단축 – (時間短縮, sigandanchuk) Reduce time
남은시간 – (남은時間, nameunsigan) Time remaining
버튼 잠김 – (eoteun jamgim) Button lock
문 잠김 – (門 잠김, mun jamgim) Door lock
예비세탁 – (洗濯洗濯, yebisetak) Preliminary wash
본세탁 – (본洗濯, bonsetak) Primary wash
절약삶음 – (節約삶음, jeoryaksalmeum) Economical wash
탈수안함 – (脫水안함, talsuanham) No spin-dry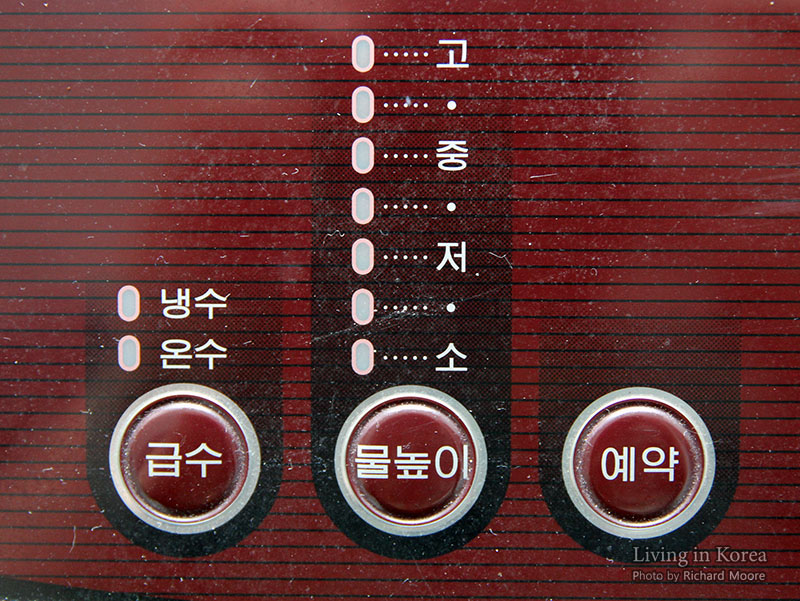 예약 – (豫約, yeyak) Timer
물높이 – (mullopi) Water level
고 – (高, go) High
중 – (中, jung) Middle
저 – (jeo) Mid-low
소 – (小, so) Low
급수 – (給水, geupsu) Water temperature
냉수 – (冷水, naengsu) Cold
온수 – (溫水, onsu) Hot
Winter Concerns
Verandas are typically the coldest parts of a home. One of the most frustrating things in winter is the inability to do laundry in home because the water pipes have frozen. If your washing machine water hoses are freezing then adding bubble wrap to the windows can be nice but doesn't guarantee you'll be problem free. Another trick is to place a few bricks just under the washing machine so it is slightly higher off the cold ground. If the hoses are still freezing you might want to turn off the water at the wall connection and then disconnect the hot and cold hoses where they connect to the washing machine itself. This will empty the hoses so there is nothing to freeze.
Frozen or overtightened hoses will be difficult to remove. If you noticed this problem only after the water is firmly frozen, you'll need to thaw the connection at the wall, disconnect and thaw the hoses, and probably thaw the hose connection at the washing machine. Two methods for thawing the frozen wall connection; holding an air dryer on the hot setting and waiting in the cold for water to flow, or boil a pot of water and place it under the frozen wall connection allowing the heat to rise. The second method might take more time, but you don't need a hair dryer and don't need to be waiting in the cold for ten minutes. Once you have removed the frozen hoses, which is easier said than done,they need to be warmed up enough for the ice to melt and be removed. A good method is take them to your bathroom and spray them with hot water with your shower hose.
For other seasonal information, check out the pages on spring, summer, and winter.