Please note that this is a list of all South Korean visas that exist. If you want to see the list of visa types commonly used by researchers working and/or studying at an IBS research center and their dependents, along with eligibility and maximum residence period, please see the list of South Korean visas for IBS researchers.
Only one visa type, the F-5, allows holders to vote in local elections. But all visa types are not allowed to participate in political activities in any other way, shape, or form. This includes, but is not limited to participating in political protests, speaking at political rallies, or holding placards about election candidates.
If you have visa or immigration-related question, please call Immigration directly. If you want to see more information on visas, but in a simpler format than the government website, Wikipedia has an overview page on South Korean visas and their number issued for certain years. If you want to talk to other people with F class visas, the closed Facebook groups F visa holders in Korea and F Visa Help - and ONLY Visa Help could help you. If you have questions concerning the F2-7 visa, the public Facebook group F2-7 Visa holders in Korea.
A visas
List of A visa types

| Type | Name | Variations |
| --- | --- | --- |
| | | |
| | | |
| | | |
B visas
List of B visa types
Type
Name
Variations

B-2-1: Tourist/transit (General)
B-2-2: Tourist/transit (Visiting Jeju Island within 30 days
C visas
List of C visa types
Type
Name
Variations


Temporary news coverage
(일시취재)


Short-term business
(단기상용)

C-3-1: General short-term
C-3-2: Group tourist
C-3-3: Medical tourist
C-3-4: Business Visitor (General)
C-3-5: Business visitor (Agreement with Korea)
C-3-6: Business visitor (Sponsored by company or organization designated by the Minister of Justice)
C-3-8: Overseas Korean
C-3-9: Tourist
C-3-10: Airside direct transit
C-3-11: Sailor


Short-term employee
(단기취업)

C-4-1 to C-4-4: Seasonal work short-term employment
C-4-5: Short-term employment other than seasonal work
D visas
List of D visa types
Type
Name
Variations

D-2-1: Associate degree
D-2-2: Bachelor's degree
D-2-3: Master's degree
D-2-4: Doctoral degree
D-2-5: Research study
D-2-6: Exchange student
D-2-7: Student invited by the government
D-2-8: Short-term study abroad

D-3-11: Industrial trainee
D-3-12: Industrial trainee (Technology)
D-3-13: Industrial Trainee (Agriculture)
D-3-14: Industrial trainee (Other)

D-4-1: Korean language trainee
D-4-2: General trainee (Other)
D-4-3: Elementary/middle/high school student
D-4-5: Korean chef trainee
D-4-6: General trainee (Private institute)
D-4-7: Foreign language trainee

D-8-1: Invest in a corporation
D-8-2: Venture investment
D-8-3: Invest in private company
D-8-4: Invest in technology start-up


International trade
(무역경영)

D-10-1: Certain job seekers for E-1 to E-7
D-10-2: Business startup
E visas
List of E visa types
Type
Name
Variations


Foreign language instructor
(회화지도)

E-2-1: Foreign language instructor (General)
E-2-2: Teaching assistant
E-2-91: Foreign language instructor (FTA)


Technology transfer
(기술지도)


Professional employment
(전문직업)

E-6-1: Artist under the Public Performance Act
E-6-2: Hotel and adult entertainment under the Tourism Promotion Acts
E-6-3: Athlete


Designated activities
(특정활동)

E-7-1: Professional
E-7-2: Semiprofessional
E-7-3: General skilled
E-7-4: Trained
FTA independent expert


Training employment
(연수취업)

D-8-1: Establishing local business
D-8-2: Venture capital
D-8-3: Unincorporated business
D-8-4: Technology-based business start-up


Non-professional employment
(비전문취업)

E-9-1: Manufacturing
E-9-2: Construction
E-9-3: Agriculture
E-9-4: Fishery
E-9-5: Service

E-10-1: Sailor
E-10-2: Fisherman
E-10-3: Cruise ship crew
F visas
List of F visa types
Type
Name
Variations


Visiting or joining family
(방문동거)

F-2-1: Spouse of Korean
F-2-2: Single-entry visa valid up to 90 days to an underage child of Korean national holding foreign citizenship
F-2-3: Single-entry visa valid up to one year issued to spouse of F-5 permanent resident visa holder
F-2-4: Refugee
F-2-7: Points-based system
F-2-7S: Science and engineering universities and government funded research institutes
F-2-99: 5 years on an E-2 visa w/conditions


Accompanying spouse or child
(동반)

F-4-11: Overseas Korean
F-4-12: Descendent of Overseas Korean
F-4-13: Former D or E visa holder
F-4-14: University graduate
F-4-15: Permanent resident of OECD country
F-4-16: Corporate Executive
F-4-17: Entrepreneur of $100,000
F-4-18: Multinational company
F-4-19: Representative of overseas Koreans organization
F-4-20: Government employee
F-4-21: Teacher

F-5-1: General Permanent Resident
F-5-2: Spouse of Korean citizen
F-5-3: Minor children of Korean citizen
F-5-4: Spouse or minor child of permanent resident
F-5-5: Investors
F-5-6: Overseas Koreans who stayed more than 2 years
F-5-7: Those who could acquire nationality
F-5-8: Overseas Taiwanese born in Korea
F-5-9: Ph.D. holder with certain major and employed
F-5-10: BA in technology, MA in general field
F-5-11: Special talent
F-5-12: Special merit
F-5-13: Pension beneficiaries
F-5-14: 4 years on H-2
F-5-15: Ph.D. from Korea and employed
F-5-16: 3 years on F-2-7
F-5-16S: STEM-based researchers
F-5-17: 5 years real estate investors
F-5-18: Spouse of child f F-5-16 holder
F-5-19: Spouse or child of F-5-17 holder
F-5-20: Those born in Korea with permanent resident parents
F-5-21: 5 years investors
F-5-22: Spouse of F-5-21 or F-5-23 holder or unmarried children
F-5-23: Specific retired investors
F-5-24: Specific technology startup investors
F-5-25: Potential large-scale investor
F-5-26: Essential R&D professionals
F-5-27: Refugee who stayed more than 2 years


Marriage to Korean citizen
(결혼이민)

F-6-1: Spouse of Korean national
F-6-2: Child raising
G visas
List of G visa types
Type
Name
Variations

G-1-1: Medical treatment due to industrial accident and family members
G-1-2: Medical treatment for diseases or accident (or are guardian of the individual)
G-1-3: Involved in a lawsuit
G-1-5: Refugee status
G-1-6: Humanitarian status
G-1-10: Treatment and recuperation
G-1-11: Victim of prostitution, sexual assault/harassment, human trafficking, etc.
H visas
List of H visa types
Type
Name
Variations

H-2-1: Work and visit (Family)
H-2-2: Work and visit (Parent/spouse of D-2 student)
H-2-5: Work and visit (Visa lottery)
H-2-7: Work and visit (Expired visa)
M visas
List of M visa types

| Type | Name | Variations |
| --- | --- | --- |
| | | |
T visas
List of T visa types

| Type | Name | Variations |
| --- | --- | --- |
| | | |
Sample of South Korean visa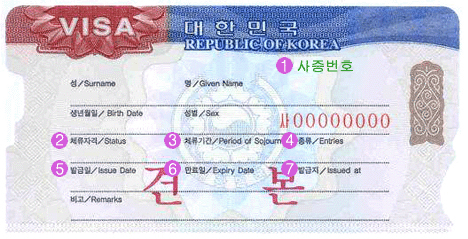 Image provided by Korea Tourism Organization.
① Visa number
② Status: Visa type
③ Period of Sojourn: Permitted term of stay starting from the date of entry
④ Entries: Single or multiple
⑤ Issue date: Visa issuance date
⑥ Expiration date: Date visa expires
⑦ Issued at: Location where visa was issued