The most common way to get a taxi is to go to the closest road, preferably a larger road with a lot of vehicle traffic, stand by the side of the road and extend your arm out with your hand open and palm down or palm facing traffic. While it might be common in other countries, do not shout out "taxi!" as that can be seen as rude, don't whistle as whistling is a sound reserved for getting the attention of a dog, do not use a single finger as that action is reserved for someone under you or an animal, and do not signal drivers with your leg or foot as the foot is seen as the dirtiest part of the body.
Taxis congregate near transport hubs, places with a lot of foot traffic, larger stores and bigger streets, etc. Keep your eyes open and you'll notice patterns, for example you'll notice that rainy days are very difficult to find a taxi. Maybe during weekdays after the morning rush hour there might be a spot in your neighborhood where taxis frequently congregate in a queue waiting for passengers, yet weekends they are busier so there is no queue of waiting taxi cabs. And prior to the opening the department store next to IBS headquarters in Daejeon, despite being located next to a major street there was minimal foot traffic which means taxi drivers looking for fares stayed away knowing it was a bad area for picking up passengers. Yet one block east is the Daejeon Convention Center, which always has a queue of taxis waiting and those are usually the first to respond to people requesting a taxi via an app.
There are some spaces reserved for getting taxis. These are located near locations where a number of people want to get into a taxi, such as Seoul Station. In front of train stations there are usually several lanes for taxis. One is for dropping off passengers and the other is for picking up passengers. Some stations, such as Seoul Station, also have a dedicated lane for deluxe taxis. As not all cities have this kind of taxi, you won't find this lane in most cities outside of Seoul.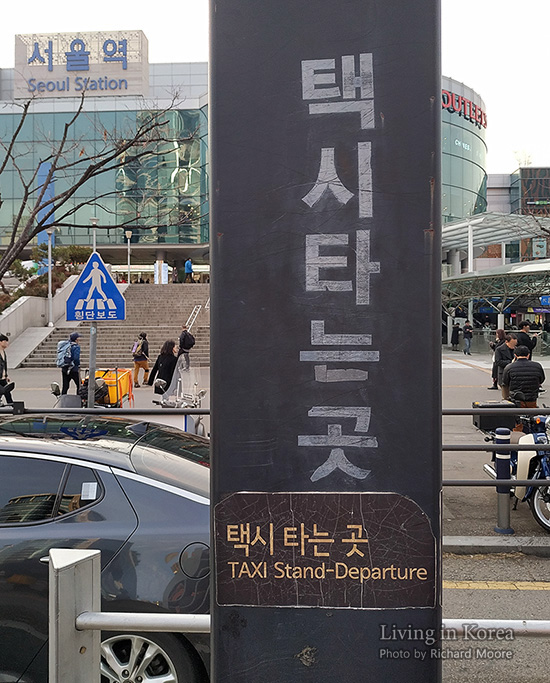 This image was taken near a bus terminal. On the ground it says 택시 (taeksi, literally "taxi") and so taxis are the only vehicles allowed to part in this area. If there are no taxi cabs, it is a good idea to wait here. Usually writing on the ground is meant to reserve space for city bus stops and are marked 버스 (beoseu, literally "bus"). In these instances, taxis will often park themselves just outside of the spaces reserved for city buses as people might want to skip waiting for a bus and just jump into a taxi so they can depart immediately.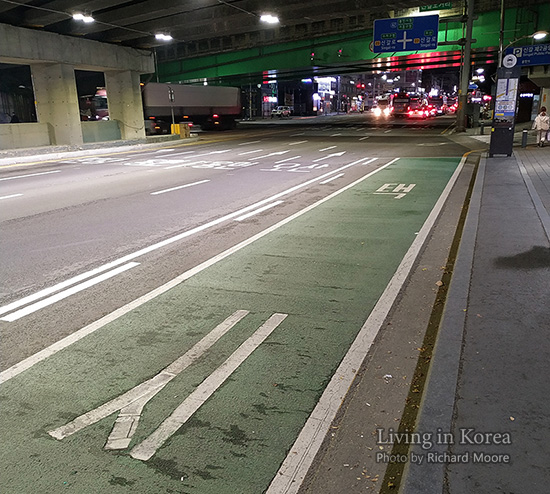 On the reverse side of the rear view mirror is a simple LED that displays one of two messages. Their placement ensures visibility for the driver is not blocked, and frequently a dash cam (블랙박스, beullaekbakseu, literally "black box") shares the same space. Most privately owned vehicles have a front facing and rear facing dash cam and taxis frequently have an additional camera recording inside the vehicle as well. Here is the view from inside a taxi showing the rearview mirror (left) and the rear side of the LED sign (right). Note that we needed to be at a rather extreme angle in order to see both.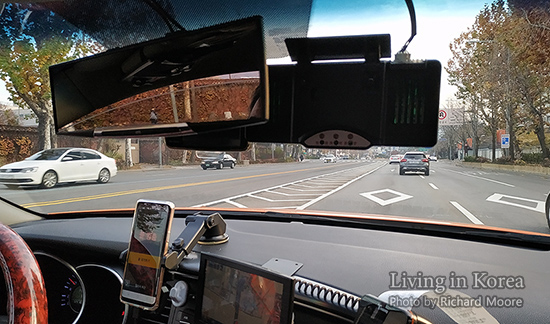 If the vehicle already has a passenger, nothing on the LED display will be shown. The message 빈차 (빈車, bincha) literally translates as "empty + car" and will be shown in red. Look for these vehicles, try to make eye contact, and use your open hand to indicate you want to ride in their vehicle. If you are successful, they will park close to you hopefully lining you up with the rear door.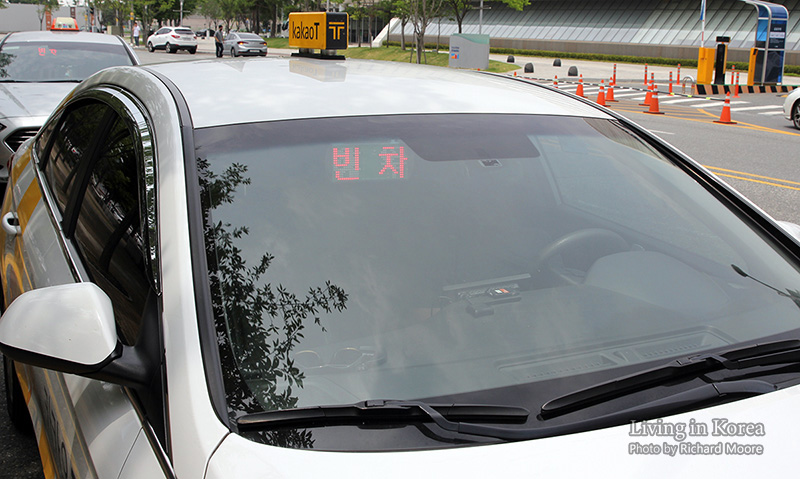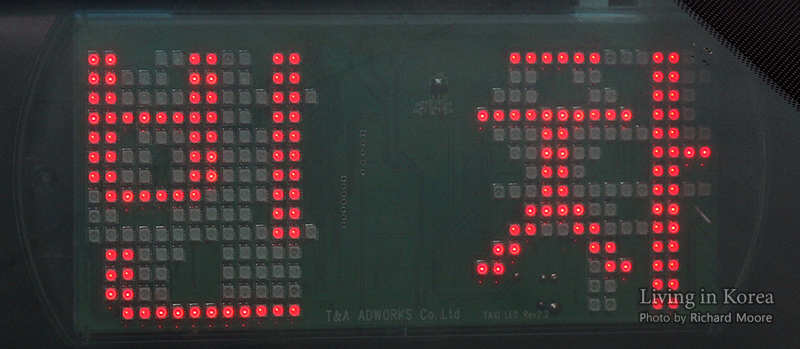 The other sign that the LED displays will frequently display is blue in color and says 예약 (豫約, yeyak). This indicates the vehicle has been reserved either by the passenger who called the taxi driver or company directly, or they used a ride hailing app like Kakao T. If you are staying in Korea short term, you can ask the hotel reception desk to call a taxi for you if you wish.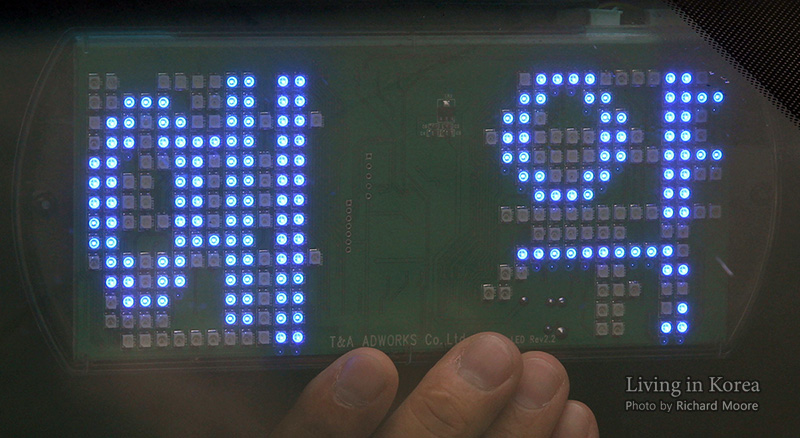 Less commons is another blue colored message saying 휴무 (休務, hyumu) to indicate they are not picking up fares at this time.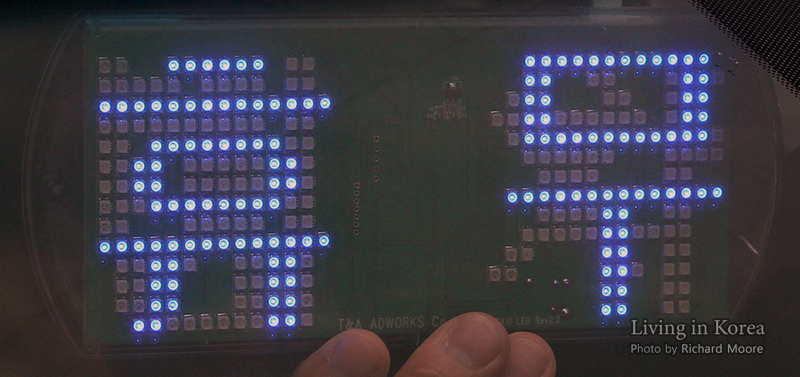 The app Kakao T (Google Play, App Store, website), "T" standing for "taxi", will show you the driver's face, name, car model, and their license plate but they will not have access to your face, so you'll need to let them know you reserved the ride. The easiest way to do this is to flag the taxi with smartphone in your hand. This app currently supports Korean, English, and Japanese. Currently, it is the only known Korean taxi calling app to offer multilingual support.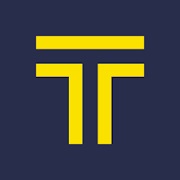 Now that you've gotten a taxi, let's go inside the taxi for details on what to say, how the meter works, and other odds and ends.