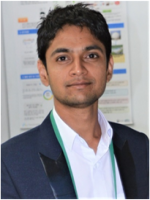 Dr. Amol R. Jadhav

Team Leader
Center for Integrated Nanostructure Physics IBS, Sungkyunkwan University

E-mail:amolchem@skku.edu
Our research is on both fundamental and applied aspects in Novel semiconductor materials and their application in photo-catalysis. In nature, the photosynthesis of green plants plays an indispensable role in maintaining the carbon/oxygen cycle, which is vital for the maintenance of life on earth. Inspired by this, we are trying to develop artificial photosynthesis methods, with the help of semiconductor photocatalyst for several photocatalytic applications (water photolysis, CO2 reduction to value-added products, N2 reduction to NH3). We particularly interested in the narrow energy bandgap semiconductor materials, because it allows the absorption of visible light and infrared light.
Our research team is working on reduced transition metal oxides (e.g., Disordered TiO2) and transition metal chalcogenide compounds; they have the advantages of small energy bandgap and energy bandgap control. The reduced transition metal oxide and the transition metal chalcogen compounds are capable of absorbing not only 5% ultraviolet light but also 40% visible light and 45% infrared light, thereby improving solar photoconversion efficiency. TiO2 is the most widely applied oxide photocatalyst. The suitable alignment of electronic structure (conduction band and valence band edges) of TiO2 and the redox potentials of various chemical reactions making it a potential candidate for photocatalytic applications. However, its inability to harvest visible light (since its wide bandgap of 3.0 – 3.2 eV) and fast photogenerated charge carrier recombination limits its use under solar light efficiently. To overcome this problem, we recently developed a unique approach to improve the photocatalytic activity of TiO2 for several photocatalytic applications) via phase selective disordering of commercialized mixed-phase TiO2 (P-25, Dagusa) by solution process under ambient conditions. By using Na-EDA and Li-EDA as reducing agents, we can selectively make disorder Anatase or Rutile phase, respectively, in the mixed-phase P-25 TiO2 (Anatase - Rutile interface TiO2). From a sharply enhanced solar absorption and efficient charge separation, the tailored blue TiO2 nanocrystals exhibit the sharply enhanced performance for various photocatalytic applications.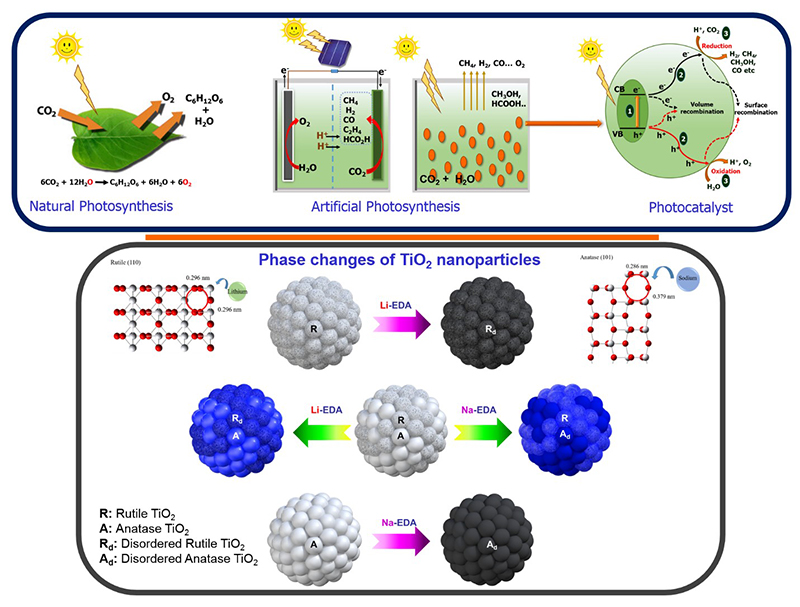 Related Publications
1. An order/disorder/water junction system for highly efficient co-catalyst-free photocatalytic hydrogen generation. (Energy Environ. Sci.)
https://doi.org/10.1039/C5EE03100A
2. Efficient and Stable Solar Hydrogen Generation of Hydrophilic Rhenium-Disulfide-Based Photocatalysts via Chemically Controlled Charge Transfer Paths (ACS nano)
https://doi.org/10.1021/acsnano.9b07366
3. Highly efficient nanostructured metal-decorated hybrid semiconductors for solar conversion of CO2 with almost complete CO selectivity. (Materials Today)
https://doi.org/10.1016/j.mattod.2019.11.005