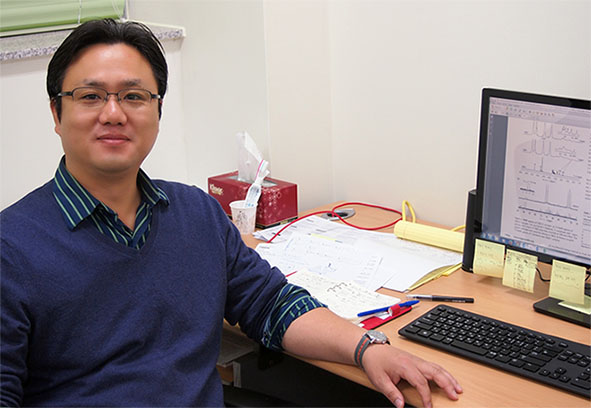 The CSC is pleased to welcome its new IBS research fellow, Dr. Joon Ho Roh.

Dr. Roh earned his Ph.D. in Polymer Science at the University of Akron in 2006, where he studied molecular dynamics of protein and glass-forming polymers under the direction of Prof. Sokolov by primarily using neutron and light scattering spectroscopy. His post-doctoral research was conducted in the NIST-funded joint program with University of Maryland and Johns Hopkins University until 2012. He was committed to development of understanding of folding kinetics of RNA by employing time-resolved Small Angle X-ray Scattering (tr-SAXS) spectroscopy in collaboration with Advanced Photon Source, BioCAT.
For 2 years before he came back to South Korea, he held US National Research Council Research Associateship term-tenured at U.S. Naval Research Laboratory, D.C. where he studied molecular dynamics and dynamic mechanical behaviors of rubbery materials. His works have been published in prominent peer-review journals including JACS, PRL, Macromolecules, Biophysical Journal. Dr. Roh's future research interest at CSC lie in 1) folding kinetics of biological macromolecules into biologically important 3D nanostructures and 2) their conformational dynamics under complex cellular conditions, and 3) preparation of novel biopolymer-conjugated nanocomplex suitable for next generation drug delivery system.

CSC is actively searching for a post-doc and graduate students who will be self-motivated and dedicated to the research subjects mentioned above.