The first circular on the 17th international symposium on Nuclei in the Cosmos
(NIC-XVII – September 17-22, 2023)
https://indico.ibs.re.kr/event/nic2023/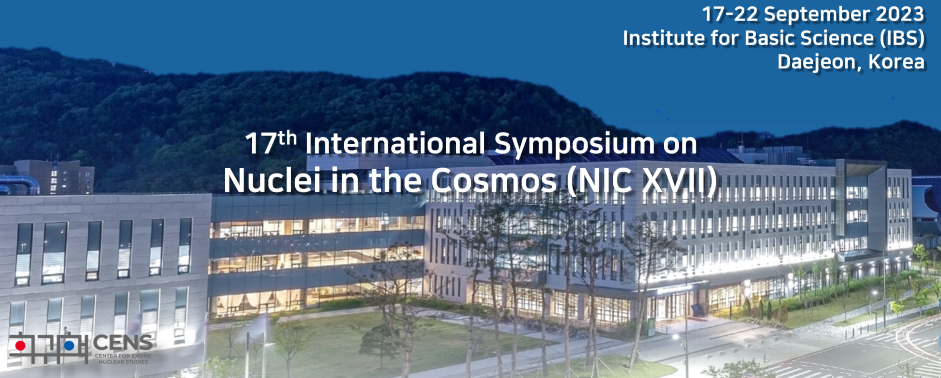 Nuclei in the Cosmos (NIC) is a major bi-annual conference in nuclear astrophysics, covering nuclear physics, astrophysics, astronomy, cosmo-chemistry, and other related fields.
This conference aims to survey the recent achievements in the aforementioned subjects, and promote stimulating exchanges of knowledge, expertise and progress in this interdisciplinary field. Future research directions and collaborative efforts to solve key questions, ranging from the origin of the elements to stellar, galactic and cosmic evolution, will be encouraged.
The NIC symposia are regarded as one of the most relevant international conferences in nuclear physics and astrophysics.
Most recently, the International Advisory Committee has chosen NIC-XVII to be hosted in Daejeon, Korea by the Center for Exotic Nuclear Studies (CENS) and the Rare Isotope Science Project (RISP) at the Institute for Basic Science (IBS).
The subjects to be discussed in this symposium will include, and not limited to:
• Nuclear reaction rates and stellar abundances
• The s-process
• Nuclear properties for astrophysics
• High-density matter
• Novae and X-ray bursts
• Type Ia supernova and the p-process
• Core-collapse supernovae, mergers and the r-process
• Underground nuclear astrophysics
• The early universe
• Galactic evolution
• Radioactivity and meteorites
• Inputs for astrophysics
Inquiries related to the NIC-XVII 2023 Symposium can be sent to :
nic2023@ibs.re.kr